It's What I ate Wednesday and I didn't even need a reminder!
I'm very aware of what day it is this week because I'm looking forward to a fun weekend celebrating my mom's 50th birthday!
For now, let's get to the food.  There was some yummy eating going on!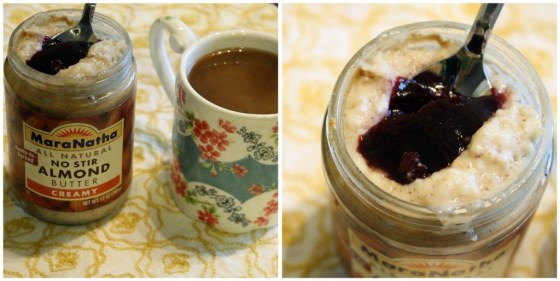 Breakfast –
I thoroughly enjoyed oats in an almost empty Maranatha jar.
I made my oats with:
1/2 cup almond milk
1/2 cup water
1/2 cup rolled oats
1/2 sliced banana
1/4 cup egg whites
pinch of sea salt
I topped it with some Crofter's Superfruit Asia jam and let's not forget the delicious almond butter waiting on me inside the jar.  My favorite part comes at the bottom of the jar when you finally find where most of the AB has been waiting forme. 🙂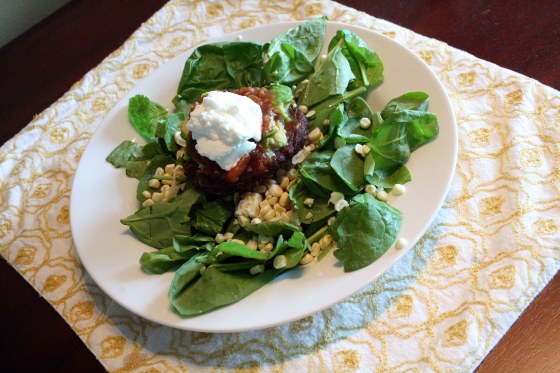 Lunch –
I had a salad with heaps of spinach, a Morning Star black bean veggie burger, raw cut-off-the-cob corn, avocado, salsa, and Greek yogurt.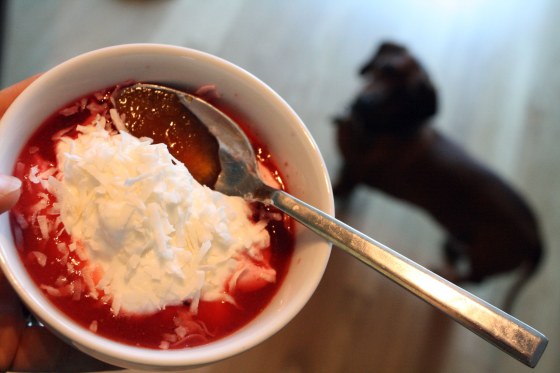 Lunch Dessert –
Needing something sweet, but not too sweet, I nuked some strawberries in the microwave and topped them with Greek yogurt, unsweetened coconut, and a bit of honey.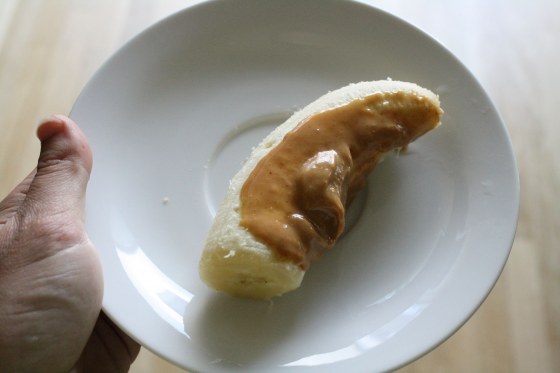 Pre-run Snack –
I had a whole banana yesterday but wasn't quite as hungry today, so I settled on half of a banana with a tablespoon of organic peanut butter.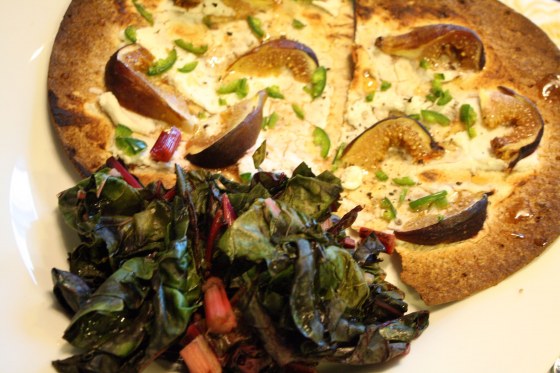 Dinner –
Remember figs a la Claire?  I took the taste combinations from this fun treat and put it on a Flatout flat bread.  I toasted it a bit too much under the broiler, but will post this quick and easy recipe when I have a less-burned version.
I also had some maple and spice chard on the side.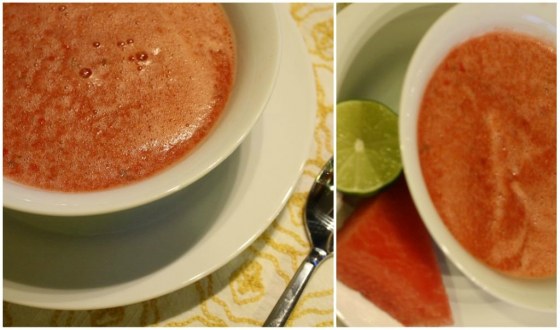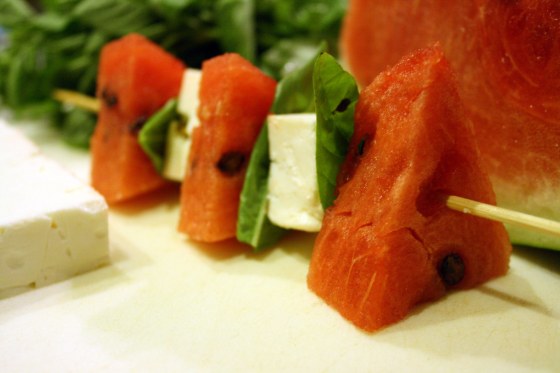 I ended the night with a sweet treat, eating quite a bit of un-photographed watermelon while working on my latest SavorNC blog post.  You should check it out if you love watermelon as much as I do (which is a lot!).
I'm always curious about the thought process that goes behind people's eating habits, so here's a question for you:
Do you consciously make sure the meals in your day are well balanced by planning ahead or do you eat what you want and most of the time it turns out what you wanted was well balanced? I personally go back and forth between these two different strategies.  Breakfast is always what I want, lunch is typically whatever can be made quickly and includes plenty of veggies, then usually I try to think how I can balance the day out with dinner (extra veggies if I haven't had enough, easy on the carbohydrates if both lunch and breakfast were very carb-centric, etc.)