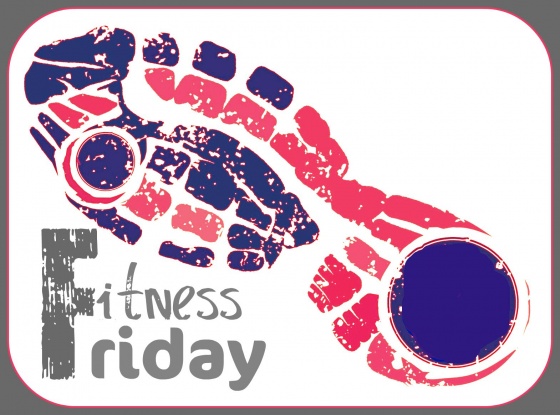 Yay! It's Friday!
It's Fitness Friday!
This week has been a great week for fitness and I. Don't get me wrong; I'm oh so very happy to be taking a rest day today (especially since I stayed out way too late last night), but when I look back on my week of fitness, I like what I see.  Some of my workouts weren't great, but it feels good to look back and know that I consistently make an effort all week.
Last Friday ended up being yet another rest day (in a week full of them), but I got right back on the saddle the following day.
On Saturday, I had one of the worst runs of my life.  Jen and I realized via Twitter that we were both planning to head out for a run around the same time, so we met up to run together.  I was fine until were were almost four miles in.  Then after running up a big hill and having to stop for a car, I got really dizzy.  This happened several more times, especially after climbing a hill.  Towards the latter part of the run, my breathing got really shallow when I stopped to walk because of the dizziness.  I sounded like I was gasping for my breath, and I was! It was a bit scary and more than a bit aggravating.  I hate it when my body does things that I don't understand and this has never happened before.
Jen was so patient and assured me that I should walk when I needed it.  We ended up doing about 6 1/2 miles total, although I walked at least half a mile altogether.  It was so weird!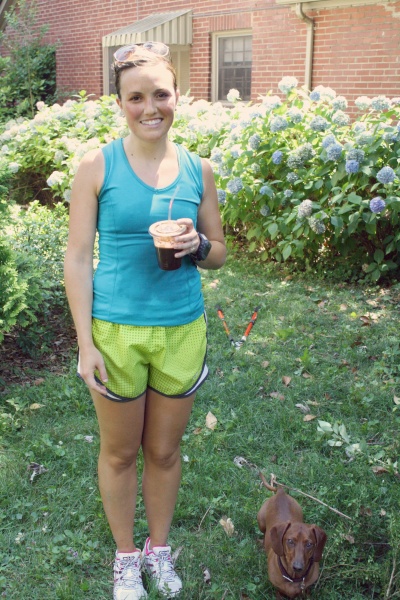 Don't let that smile fool you.  I was not happy about this run, but I brushed it off and decided not to worry about it unless it happened again.  The only thing I can pinpoint as being different was the weather.  I've been running in the heat, but it was particularly humid that morning.
Sunday was an entirely different story!  Brad was at the house, planning to walk back to the condo, so I ran a very speedy 2.5 miles to get there, then walked back with him.  I didn't wear my Garmin, but I felt so fast! It made me feel so much better about Saturday's run. 🙂
I also took my butt to hot yoga, where they proceeded to hand it back to me.  Will yoga ever get easier for me? It's too bad that I don't love tons of attention lavished on me, because that's what I get in yoga: a lot of correction to my poses, a lot of adjustments, a lot of alternative easier poses suggested to me.  I really appreciate it when an instructor helps me but lately I've been getting a little bummed out about it.  Should I continue to do something I'm just so bad at?
On Monday I did 30 minutes on the elliptical and then three leg heavy circuits, repeated twice.  I did two leg exercises (variations of squats and lunges) then an ab exercise in each circuit.  My butt muscles hated me the next day.  Thank you jump lunges (plyo lunges).
Back to running I went on Tuesday and I managed to snag a running buddy for the second time that week.  My friend Michelle met me over at our new house, where we planned to run six miles total.  It was supa' hot!
Thank goodness Michelle requested a bathroom break, because I was dying for water.  Good to know for you Charlotte runners: The Harris Teeter on East Blvd. has a water fountain.  This made me very happy.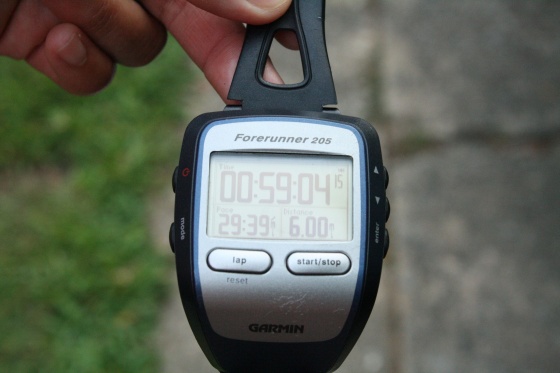 We started off at 9:30 minute miles feeling just a bit sluggish in the heat, then progressively got slower.  I was dragging at the end.
Did you know that running in insane heat will make you have a crazy look in your eye?
You can't argue with facts.
On Wednesday I focused on upper body during my workout.  I mixed two upper body exercises with one ab move to create four different circuits that I did twice each.
I got up early Thursday morning and ran 4 miles on the treadmill.  I kept the incline at 1.0 and did two minute intervals ranging from 6.3 to 7.8 mph, then sprinting at 8.0 mph for the last two tenths of a mile.
On Friday (today) I rest.
Remember my fitness goals for this week?  Let's see how I did!
1. Workout at least five times a week. Check! I worked out six times.
2.  Get to bed by 10 pm or earlier. It was more like 10:15-10:30ish, but overall an improvement.
3. Make at least one running date. Check! I had two!
4. Go to yoga at least once. Check! I did this on Sunday.
5. Strength train twice for at least 30 minutes. Check! I strength trained on Monday and Wednesday.
Four out of five ain't bad.  I'm claiming success and going for the same goals next week, except I'm going to be a little more flexible on the 10 pm bedtime and say that I'm going to get at least seven hours of sleep every night.  I get bonus points if I can get in eight hours on a week night.
Do you have any fitness goals for this week? I count related goals as well, such as getting to bed at a certain time, because that has a direct relationship to whether I work out. Tell me yours!