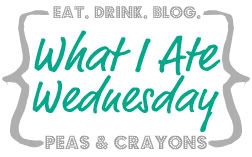 Welcome to Sugar Detox Day 6, otherwise known today as What I ate Wednesday.
Can you believe I completely forgot about What I ate Wednesday last week?  I am such a space cadet all the time sometimes.
Today has been full off all kind of good eats.  But I feel like everything has been consumed at warp speed.  It's been a crazy day!
Breakfast –
Oat bran (made with 1/2 cup water, 1/2 cup almond milk, sliced strawberries (1st fruit) and almond butter, plus coffee and a splash of skim milk, as usual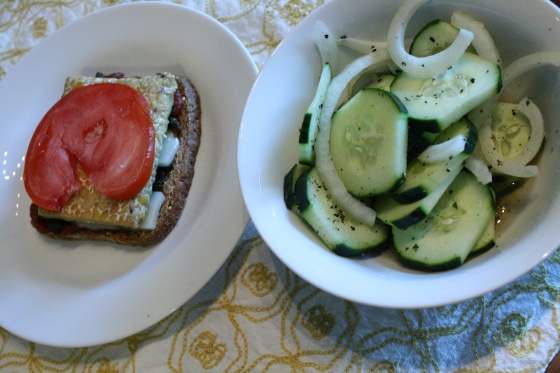 Lunch –
Open face sandwich of Ezekiel toast smothered with  spicy balsamic tomato spread, pesto, toasted tempeh (I put it right in the toaster), and a slice of tomato; on the side cucumber, vinegar, and onion salad
This salad is so very southern.  My grandmother makes it pretty much every time we eat at her house, unless we're having barbecue.  Serving it with barbecue would clearly be in poor taste. 😉   Basically, you just combine cukes (my grandmother completely peels hers), a few slices of white or Vidalia onion, and a few glugs of apple cider vinegar.  Add plenty of salt and a lot of pepper and let it marinate.  My salad only marinated for five minute tops, but it needs an hour if you want to do it correctly.
Snack #1 –
2 Wasa crackers, avocado, tomato wedges
This may be my new favorite savory snack.  I'm obsessed with tomatoes right and have been eating one bigger than my fist almost  every single day.
Snack #2
…went unpictured, but I can explain.
I was asked to join the Charlotte Carolina Club Leadership Team early this week and we had a kickoff meeting.  I had just a few bites to tide me over until I got home around 9 pm: 1 cube of cheese, 1 tiny piece of sopressata, and a sliver of flatbread (like two fingers width wide) and a glass of white wine.  I don't know if I'll ever be confident enough to whip out my monster of a camera in front of complete strangers.
When I got home, I threw together the quickest dinner ever.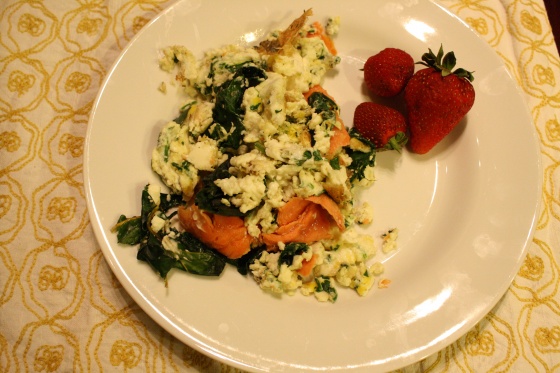 Dinner –
Egg hash made with 1 egg and 2/3 cup egg whites, one huge chopped piece of rainbow chard, smoked salmon, chopped parsley, and a Laughing Cow, plus three very ripe strawberries on the side  (2nd fruit although this is only half a serving really)
What's the best thing you ate today?
If you could wake up tomorrow with the breakfast of your dreams waiting on you, what would it be?