Welcome to my sugar detox day 2. 🙂
I'm going to refrain from showing you all of the photos from last night's amazing dinner.  But you can click on the link to see what I ate.  I'm well aware that this looks far from a detox dinner, but I already knew this meal was coming when I decided to do the detox.  I didn't eat any dessert and ate a minimal amount of bread.  I'm not eliminating bread from my diet, just no white bread (which I rarely eat) and any bread with added sugars.  I'm sure I ate some added sugars last night, but I really can't imagine going to a tapas restaurant and avoiding tasting most things.  The intention of my week of detox is to reduce, not restrict.  And so far, I've stuck to all my guidelines.
Now onto today's eating.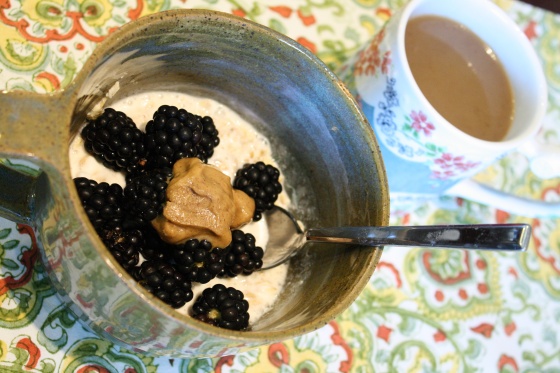 Breakfast –
30 minutes oats made with kamut flakes, Greek yogurt, and unsweetened almond milk, topped with blackberries (1st fruit) and almond butter, plus coffee with a splash of skim milk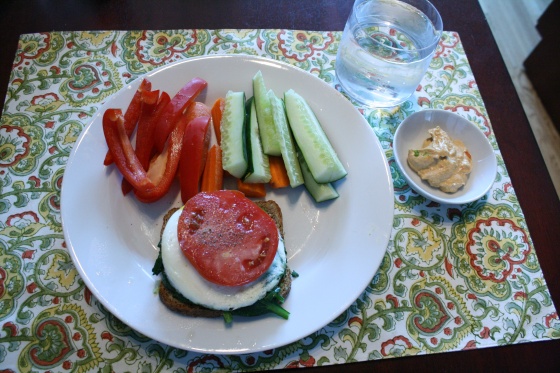 Lunch –
A piece of Ezekiel toast, one egg, tat soi, avocado, and a slice of tomato, plus cucumbers, carrots, red bell pepper, and red pepper hummus
Now get ready for some randomness.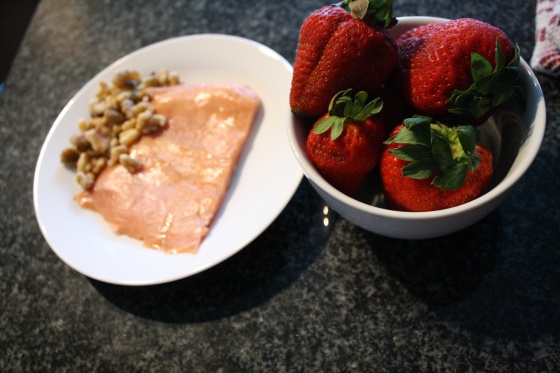 When I got home from yoga at 6:15, I was STARVING.
Randomness ensued.
Snack #1 and probably #2 as well –
Smoked salmon, walnuts, and strawberries (2nd fruit)
I also had a handful of pistachios and a sliver of pecorino romano.  I never ate my first snack of the day since I slept until 8 am this morning, but don't worry.  I managed to eat two snacks in one sitting.  😉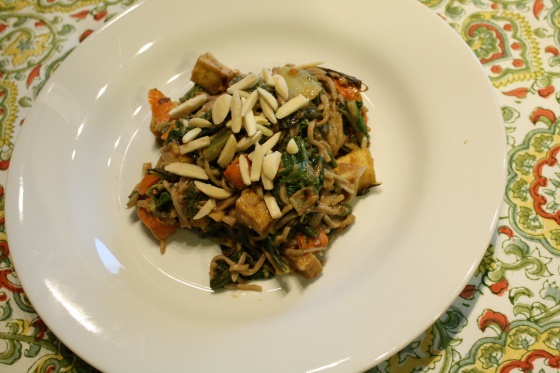 Dinner –
Tofu and CSA greens stir-fry with spicy peanut sauce and noodles
Oh this was good.  Brad thought it was really really good.  I'll be sharing the recipe tomorrow.
So how is the detox going? Really well.  Obviously, it's not extremely restrictive.  For the most part, what has been eliminated is…
– protein powders
– bars
– my 3rd and sometimes 4th serving of fruit for the day
– dried fruit
– cereal
– most processed breads
– sugary condiments (ketchup!)
– desserts
I sit here typing this while Brad eats chocolate ice cream, so it at least feels a bit restrictive.
I guess I'm a bit sensitive to someone saying that this isn't a "real" detox because to me, it looks a lot less restrictive than some of the other detoxes I've witnessed.  However, these no-added-sugar guidelines has set the stage for me to clean up my diet and focus eating foods that make me feel good, rather than things that make me feel out of control and gloomy, which is exactly how the things in the list above make me feel.
It's only day two and way too soon to tell how my sugar reduction will affect me, but only time will tell.
***
I didn't get to see my dad today on Father's Day because he and my whole family are at the beach.  I haven't been to the beach with my family since I went off to grad school and started working summers (I was a teacher prior).    I'm a tried and true daddy's girl, but Father's Day is always a little weird since I rarely have spent a Father's Day with my dad.  When I was younger, we would leave for the beach and my dad would join us later in the week.   So I plan to take my dad out to eat when he returns and also ordered a small but special gift for him last week that I think he'll love.
How did you celebrate Father's Day?