After forgetting to set my alarm last night and sleeping through my intended workout (Urgh!), I decided that if there's one thing I could succeed in carrying out this morning,  it was breakfast.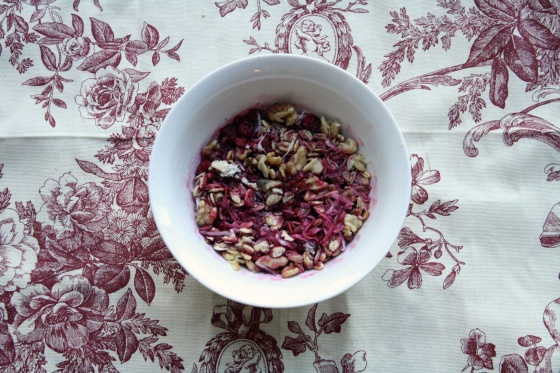 Success!
Raspberry Coconut Breakfast Crisp (serves 1)
1 cup frozen raspberries
1/4 cup oat or kamut flakes (I used kamut)
2 Tbsp. unsweetened shredded coconut
1/2 Tbsp. Earth Balance (or butter)
1 teaspoon. NuNaturals Stevia Baking Blend (or sugar)
1/8 tsp. sea salt
2 Tbsp. chopped walnuts
In a bowl, combine oat or kamut with coconut, Earth Balance, Stevia, and salt.  Stir, then mash with a fork to make sure Earth Balance is incorporated throughout the mixture.
Put raspberries in a separate bowl.  Top with oat mixture.  Scatter walnuts on top.  Cook in the microwave for 1 minute 40 seconds.
*You could also bake in the oven at 350 degrees for 15-20 minutes, but I'm all about quick and easy!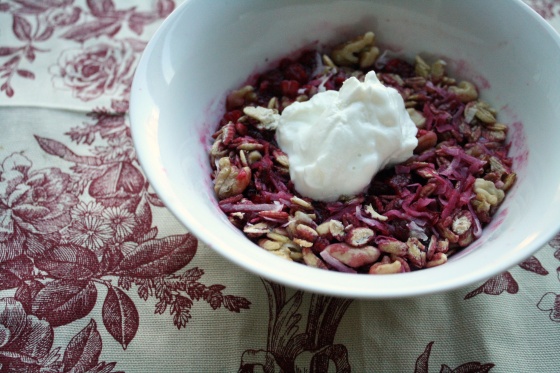 I topped my breakfast crisp with a dollop of Greek yogurt.
It was delicious!  Perfectly sweet and complimented so well with the rich and tangy yogurt.  This would also be wonderful as a dessert.  It could easily be halved to make it smaller, if you wished.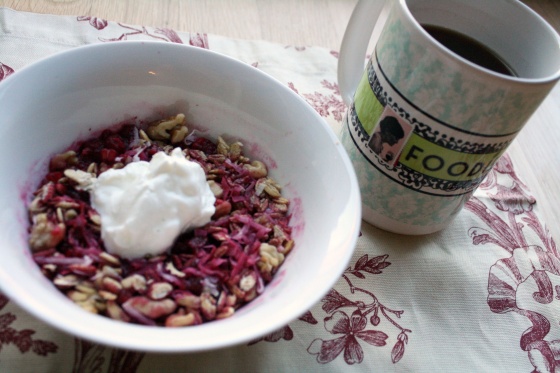 Notice anything interesting in the picture?

Look what my wonderful husband had made for us!  Foodie Fresh mugs!  Aren't they cute!?
Gosh, I miss him.  He comes home tomorrow evening and I can't wait to see him. 🙂
What's the last thing someone did for you that was incredibly sweet and totally unexpected? Everyone needs and deserves those experiences every once in a while.