I've been flying solo for the past couple of days with Brad being out of town for work and haven't felt like cooking at all.
My CSA greens are kind of overwhelming me.  I thought purchasing more of a variety of fruits and veggies at the farmer's market would inspire me to cook, but that didn't help much either.
When I don't feel like cooking or don't have time to cook delicious healthy meals, I often fall back on smoothies to make sure I'm getting plenty of veggies, fruit, protein…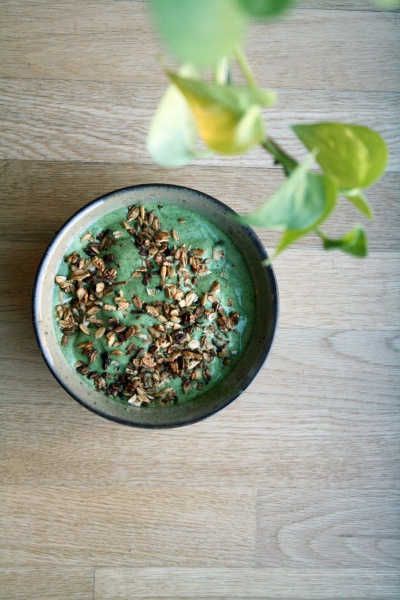 …or plenty of sweet, cold, and creamy goodness.
Plus it's fun to combine delicious flavor combinations with the flip of the switch on my Vitamix.
Look at what my cooking aversion created. 🙂
Combine, blend, and enjoy!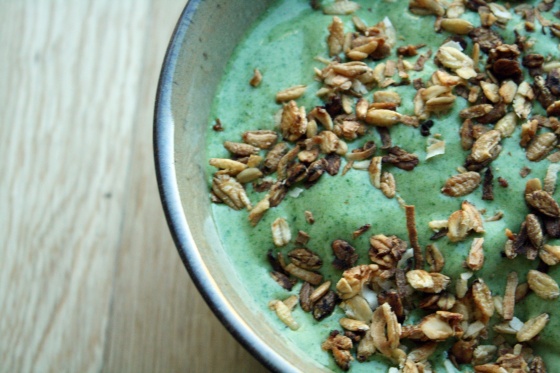 This was so thick that I couldn't finish it in time for work and had to resort to dumping it in a plastic container to eat at my desk.
I topped it with some coconut granola I'm working on.  It's not ready to share yet because, although it's good, I think I can perfect it with one more try.
If at first you don't succeed and all…munch on your "just okay" granola and hope for a better result next time.
What healthy and quick meals to you fall back on when you don't feel like cooking? I'm partial to veggie burgers too.  I know they're processed but I figure they're better than some other options.