About a week ago, I had a really delicious appetizer at a restaurant that basically consisted of goat cheese and ricotta with lemon zest on toasted crostini.  It was heavenly — rich, tangy, crunchy, and savory.
What a simple and delicious hor d'oevres to serve at a dinner party!
But, would some of these flavors also work in a bowl of oatmeal?  I answered this question yesterday morning and the answer was YES. 🙂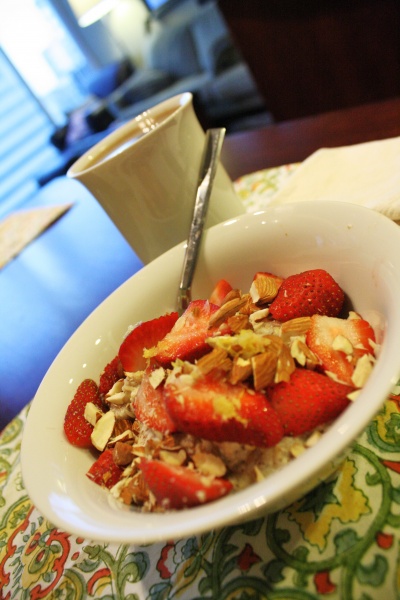 I made my oats sans goat cheese and went the slightly sweeter route.
Creamy Lemony Oats (serves 1)
1/3 cup oats (I used Bob's Red Mill 9 Grain Cereal)
1/3 cup almond milk
1/3 cup water
1/4 cup fat free ricotta cheese
1 tsp.  honey
juice of half a lemon
zest of half a lemon
3/4 oz. chopped almonds
1/2 cup of another fruit of your choice
Bring water and milk to a boil and add oats.  When oats have almost completely absorbed liquid, add ricotta, lemon juice, and most of the zest.  Pour into a bowl and top with almonds, fruit of your choice, and the last of the zest for garnish. Eat immediatly piping hot.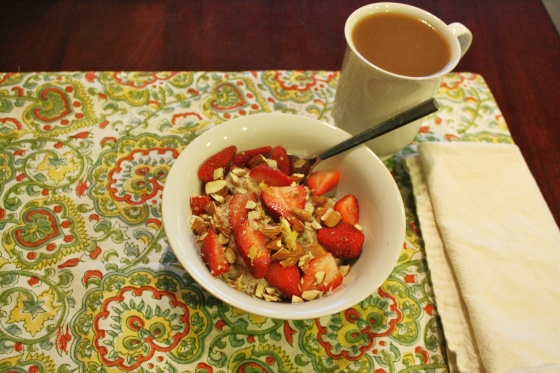 I used strawberries as my additional fruit, but I also think blueberries, blackberries, banana, raspberries, or mango would also work here.  Maybe even kiwi or orange segments…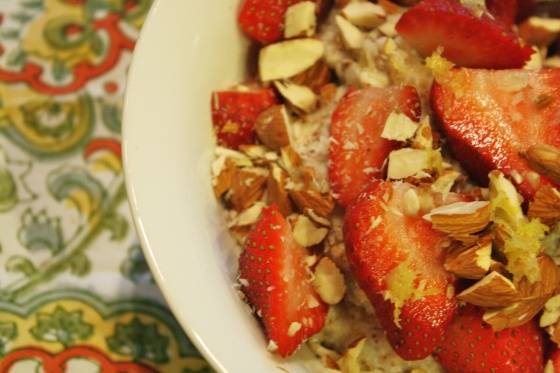 Different, delicious, and very very pretty. 🙂
Red is the most appetizing color, which is a good thing, because it is strawberry season here in North Carolina.
What is in season in your part of the world?