Have you ever had one of those mornings where you think you heard your alarm clock go off, so you get up, get started on your day, but then you glance at the clock and realize you dreamed the alarm? 
That's what happened to me this morning.  I did a double take when I saw 4:35 am on the oven clock.  For a second, I shrugged it off as one of the clocks I forgot to change since "springing forward" yesterday.  But then I specifically remembered changing the clock.  I checked my phone and my computer, and sure enough, I must have dreamed that the alarm went off. 
By this time, I was more than awake, so I started my morning circuit training.  I had planned to do Jillian's 30 Day Shred, but I left my yoga mat in the car, so I couldn't do the ab work.  Here's what I threw together for a quick circuit x 2. 
– Sumo Squats x 20 (20 lb. dumbell)
– Upright Rows x 20 (8 lb. dumbells)
– Single leg squats x 20 (bodyweight)
– Tricep extensions x 20 (8 lb. dumbell)
– Lunges x 20 (8 lb. dumbells)
– Bicep curls x 20 (8 lb. dumbells)
– Tricep bench dips (bodyweight)
– Single leg squat with foot on chair (bodyweight)
– Front raise x 20 (5 lb. dumbells)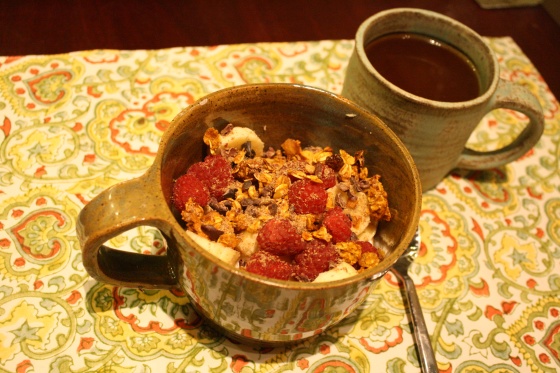 After a shower and ironing my clothes, I was more than ready for breakfast. 
My first day of work called for a cup of coffe, but I didn't really care for this decaf.  Maybe I'll do half caf tomorrow or maybe I'll just go back to the real thing. 🙂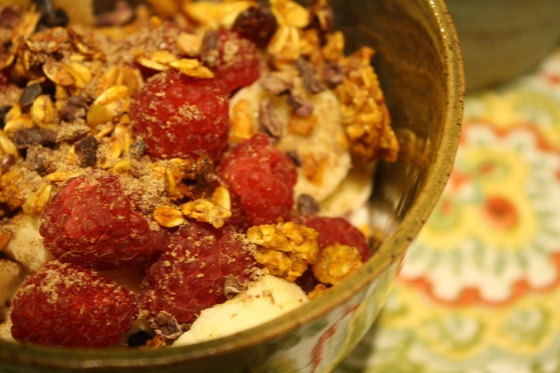 I made a delicious yogurt bowl as the star of my breakfast. In my bowl:
– 1 cup fat free Greek yogurt
– 1 sliced small banana
– ~1/4 cup raspberries
– the last of my almond crunch granola
– a sprinkle of ground flax seed
– a sprinkle of cacao nibs
About a quarter way into my breakfast, I realized that something very important was missing from this equation…
Peanut Butter!
So of course, I added about a tablespoon. How could I have forgotten?
What's your favorite go-to breakfast topping? Mine is sunflower butter, but we're out. 🙁
 ***
Today is my first day at my new job! Wish me luck! 🙂