Sorry guys, I did not fall off the face of the earth today.  I just tend to be a little more laid back in my weekend blogging.  You'd think that I would have more time to blog on the weekends, but extra time to me, just means extra opportunity to get more done.  And by more, I mean more fun.  🙂
This weekend has been a bit of a blogging photography fail for me.  I completely forgot to photograph dinner Saturday night.  You didn't miss a thing.  My massaged kale salad was only a 5 out of 10.  Not worth your time.
Meanwhile I took a bunch of photos with my point and shoot, but completely forgot to put the memory card back in.  And since I haven't seen the camera cord in months, these photos were a bit of a FAIL.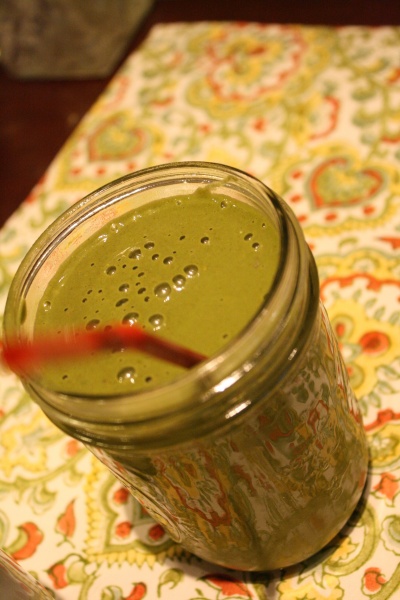 This morning I made a bubbly smoothie…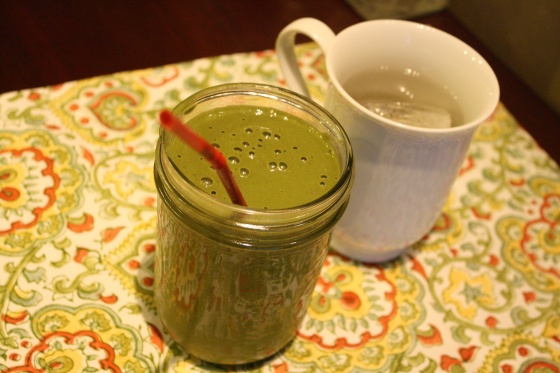 …with some hot lemon water.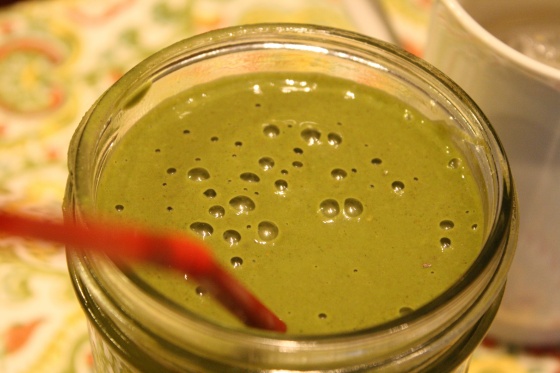 This one was thin enough to drink through a straw.  It had:
1 small frozen banana
1 cup frozen strawberries
1 cup almond milk
1 scoop Amazing Grass
sprinkle of cinnamon
bit of Stevia
heaps of spinach
Yum, yum, drink it up. 🙂
***
So, for the past four days (Wednesday through Saturday) I've eaten mainly a raw diet.  I didn't set out to do that.  I've been very curious about raw food since going to Luna's Living Kitchen and wanted to try it out in my own kitchen.  I started by making a few raw things, then just decided to stick with it as long as I didn't feel like I was restricting what I wanted to eat.
Raw foods was a culinary adventure for me.  It's almost if anthropologists found some island that had never been discovered, and the people there were eating this very different type of cuisine.  I would want to try it out for myself.  Learn how to prepare it myself.  Cooking is an adventure to me.  I never get tired of being challenged (and often am very challenged) and trying new things.  Preparing raw foods tapped into my creativity, like learning a new language, or picking up a new instrument and learning to how to play it.
Plus it was delicious.  I really enjoyed almost everything I ate (besides the kale salad).  Raw foods are very appetizing, especially if you don't shy away from raw fat and creative combinations of flavors.
But raw food is more than that, isn't it?  Raw foodists claim that it is nutritionally superior over other types of "diets".  *And by diets, I mean ways of eating, not diets to lose weight.*  So I guess the looming question is, how did I feel eating the raw diet?
Now, granted, I only ate mostly raw for about 4 days so I can't speak to people who try it for years or months, or weeks.  I felt great on the raw diet, but did experience some of the detox symptoms (mainly a headache), which may have been caused by lack of caffeine.
But I'm not completely convinced that I wouldn't have felt as great if half of those vegetables I was consuming were cooked.  I was eating a whole lotta vegetables.  And how could that make you feel anything but great? Vegetables are so healthy! I feel great just knowing that I'm eating plenty of nutritionally dense natural foods like vegetables.  So in a couple of bulleted points, here is my summary of eating raw, in my opinion.
Eating raw made me feel great

Preparing raw foods was completely doable and fun

I missed cooked foods on day three

I believe that any diet with a heavy focus on vegetables and fruit (both cooked and raw) is much more healthy than the standard American diet (SAD)

Kudos to everyone who can stay on a raw food diet (or high raw), but I'm sticking to everything in moderation

I'm going to up my vegetable intake to continue the great feeling I have when I subsist on a mainly plant-based diet (my fruit intake is already pretty high)
End scene. 🙂
***
I was super active today and it felt great.  It was a gorgeous day in Charlotte and I took full advantage of the awesome weather.
I started off with a bike ride over to the new house.  Then ran for 40 minutes without my Garmin, just to make sure I was running completely for fun.  If I had to guess, I would say I probably ran about 4.25 miles altogether.  Then,
Brittney
and Clyde joined Rascal and I for a walk around the neighborhood.  We also stopped by Starbucks for a tea for me and a coffee for Brittney.  We sat outside and chatted for a while while I munched on a snack.  I was starving after my run.  We finished up our fun walking doggy date and I biked back to the condo to shower quickly and head over to our friends' house to watch Duke beat up on Carolina in the ACC tournament. 🙁
What a foul game.  It was just bad.  So bad.  And that's all I have to say about that.
We got take out at Big Daddy's to eat during the game and I ordered my usual small salad with a black bean burger, opting for avocado, tomatoes, carrots, and red peppers on my salad, with a balsamic vinaigrette.
After the game came to a slow and painful death, I biked back home and chopped up veggies for salads for my lunches all week and even prepared four days worth of salads and two days worth of sandwiches to pair with them.  I also cooked up four sweet potatoes in the oven to eat throughout the week.  Baked sweet potatoes taste soooo much better than microwaved so I tend to do them in batches.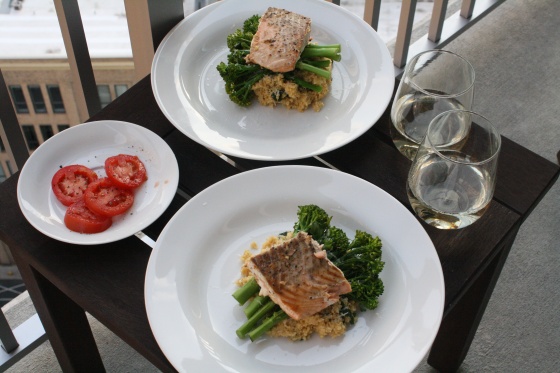 Dinner looked fancy, but it was actually very quick and easy.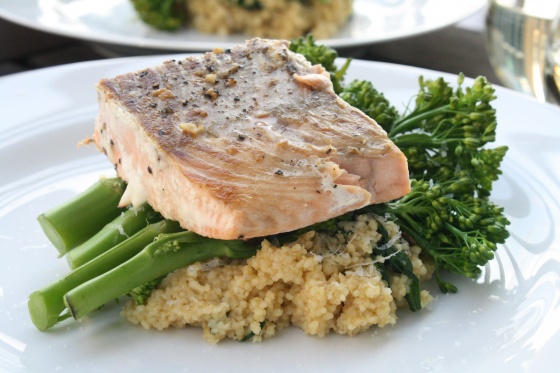 I made whole wheat couscous the same way I made spinach parmesan millet.  I prefer this recipe with millet over couscous because couscous tends to soak up every bit of liquid you add to the pot so it gets fluffier, but the dish never gets creamy.  It was still very very tasty.
I also steamed some broccolini, which got a fresh sprinkle of Parmesan Reggiano.  Last, I topped the whole dish with lemon pepper salmon.  Basically I sprinkled salt and fresh ground pepper on a big salmon fillet (that I halved between Brad and I).  I cooked it on medium high with one clove minced garlic and when it was almost done, I squeezed half a lemon over the salmon and poured about 1/4 cup white wine over it to finish cooking.
I also made another large salmon fillet to be enjoyed as leftovers later in the week.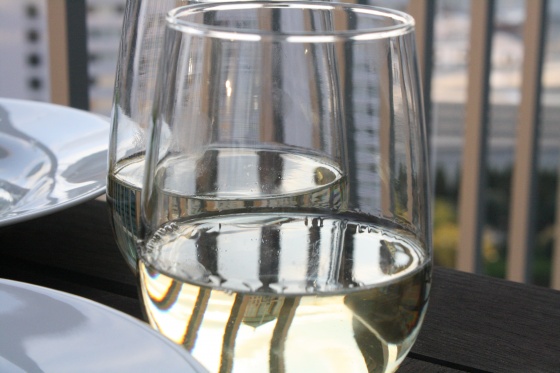 Of course, there was white wine for drinking as well. 🙂 Perfect warm spring evening drink.
***
Tomorrow is my very first day at my new job!  I'm so excited!
Have you ever tried a new way of eating, even for a little while?  Would you go raw for a small amount of time?  Do you have any questions about my "going raw" experiment?