Happy Saturday! I was up and at 'em at 6:30 so I could have some breakfast before running the Corporate Cup5K this morning in Uptown Charlotte.
I usually have toast before a run but since it's a short distance and I've been on a roll with smoothies for the past several days, I mixed up this gloppy green beauty and enjoyed every last bite of it.
Strawberry Mango Green Monster

1 cup almond milk (I made homemade almond milk.  Posting about this soon! :))
1/2 frozen banana
2/3 cup frozen strawberries
1/2 cup frozen mango
1 tsp. chia seeds
2 Tbsp. coconut flour
heaps of spinach (~3 loosely packed cups)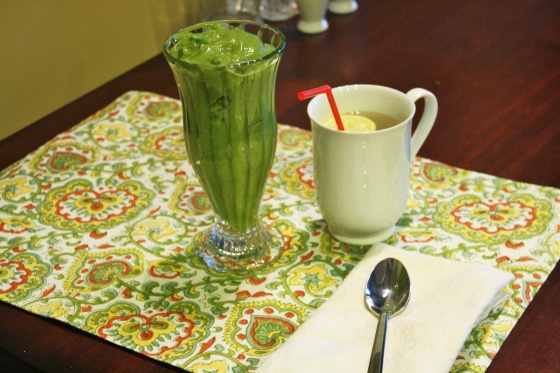 Technically, hot lemon water is more effective in encouraging proper digestion if drunk along 30 minutes before eating (according to what I've read).  But I had no time for that this morning, so I drank it with my smoothie.
My cousin April, who was running the 5K with me (her first race ever! :)) soon arrived with my aunt and my uncle.  I coerced Brad into joining us.  The race start was only 4-5 blocks away from our condo.
Brrr, it was cold at the start, but warmed up very quickly.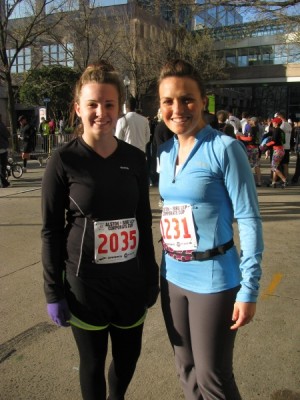 Here's April and I all smiles at the beginning.  I was so excited for her!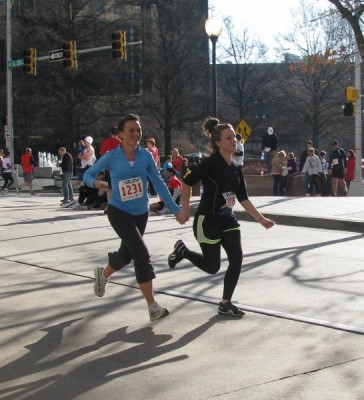 I told her that I was going to grab her hand and make her sprint when we say the finish line and I did not tell a lie.  But she was totally up for it when she saw the end in site.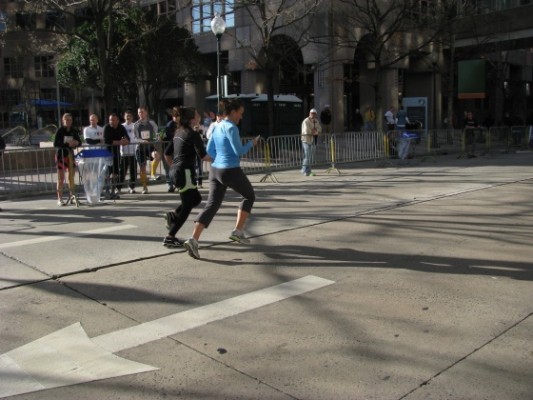 I am not texting or checking my email (haha), I'm actually making sure I have the stopwatch on the screen of my to record our time.
She was awesome!
We clocked in at 34:14, which I thought was so great for her first time!
It is so incredible to be able to run a race with a first-timer.  Racing is totally addictive so it's quite a treat to see someone get turned onto racing.  I think we have another runner in the family.  🙂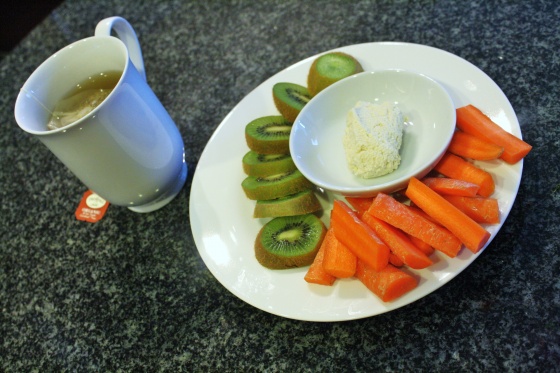 After seeing them off, I grabbed a snack of two kiwis, two carrots, some cashew cheese, and a cup of chamomile tea.  This hit the spot!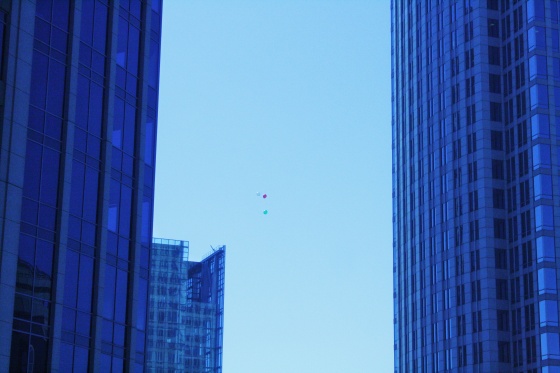 I saw some balloons float by our window this morning.  I know that when people let go of balloons it is technically "littering", but there's something so nostalgic and whimsical about seeing balloons floating through the air.  It reminds me of being a kid, when anything was possible.  I always wonder who let go of the balloons and would anyone ever find them.
Maybe I'm back to believing that anything is possible, or maybe I'm just in a really good mood. That's what running (for fun!) + family + love + health will do to ya. 🙂
I'm meeting my Aunt Tonya (April's mom) for lunch.  I'm so excited to spend time with just the two of us.
Have a lovely day!