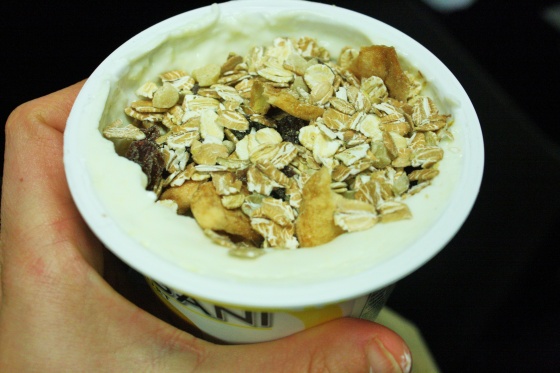 I had one of the best snacks at the end of yesterday's workday: lemon Chobani and 1/4 cup of my apple strudel muesli.
Oh yeah, this was good.  But I think pretty much anything accompanied by lemon Chobani would be delicious.
I scooted out of work a bit early so I could head over to Arrichion for some hot yoga.  When I arrived, a guy walked up to my car, asked me if I was there for yoga, and told me that they had moved locations to just around the corner while the building was under construction.  I immediately thought, 'weird, especially since they just opened.'
I was greeted by one of the yoga instructors when I arrived to the other facility and told that they would be extending their Living Social deal (which I bought) for another month and that my 20 yoga sessions would start over as soon as they were back in their new building about 1 1/2 weeks.  I thought that was very nice of them to extend our Living Social coupons, but then I looked around me at the huge room, probably used for kickboxing and martial arts, and had only one thought.  "This isn't going to be hot, is it?" I asked.  "No," she replied.
"Oh."
Now that I've gotten used to hot yoga, I really prefer it over "cold" yoga as I like to call it.  I stuck with the class, but I think until Arrichion is back in their yoga studio, I'm going to make other yoga accommodations.  One of the reasons I love hot yoga is that feeling you get at the end when you're completely drained of water, of energy, of everything.  It's almost euphoric.  I miss that in a "cold" yoga class.  So it looks like I'm going to have to get my hot yoga fix somewhere else in the mean time.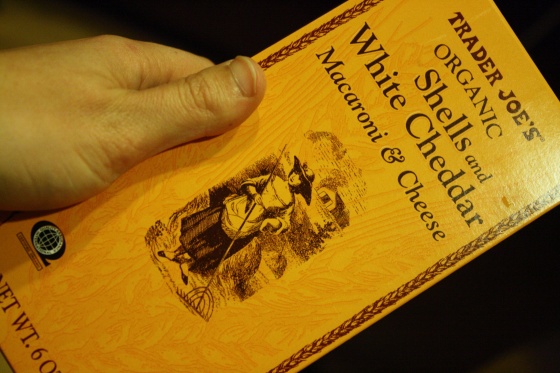 Brad and I were in a time crunch last night when I arrived home, so I thought it was the perfect time to try this box of organic shells and white cheddar macaroni and cheese from TJ's.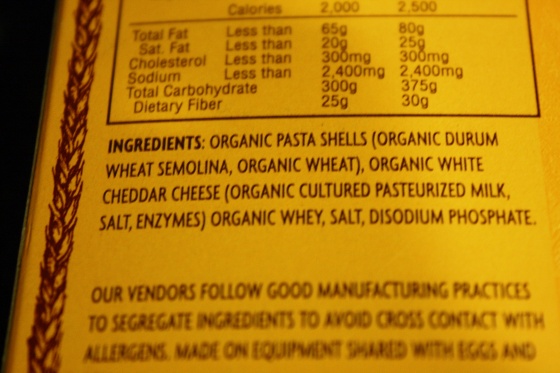 The ingredients are surprisingly less scary than most. It basically has the same ingredients as Annie's Shells & White Cheddar, which does not help dispel myths that Annie's Homegrown is making products for Trader Joe's, which are being sold under the TJ's brand.
I cooked up the macaroni, according to the box directions, except I used almond milk to make the cheese a little creamier.  In two bowls, I split a can of white albacore tuna between Brad and I, plus a bunch of roasted broccoli.  I spooned about 2/3 of the total macaroni split evenly between us into our bowls and stirred the whole mixture together.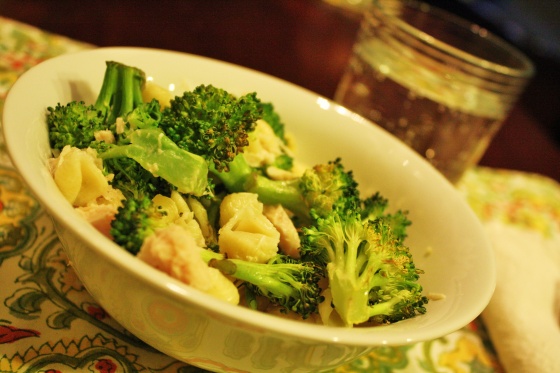 Tuna, broccoli, macaroni and cheese.  Who knew it could be so good together.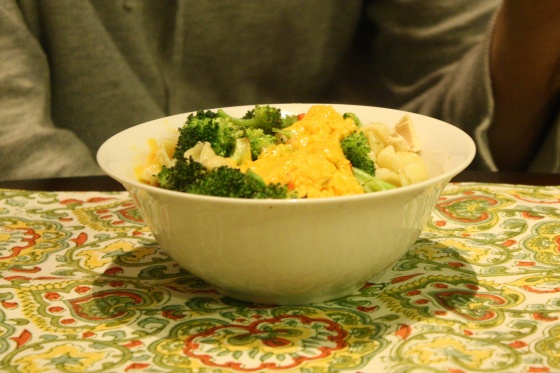 Of course, Brad had to top his with pimento cheese.
Is anyone really surprised by this? 😉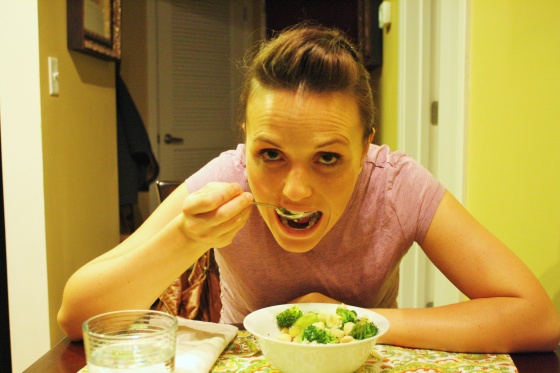 Nom, nom nom.
The good part about not doing hot yoga this afternoon was the fact that it took me much less time to get ready.  I needed a shower, but my hair wasn't dripping from sweat so I could skip the hair washing that I usually find a reason to avoid anyway.
Brad and I have been discussing getting bikes for a while, so we had planned to swing by our favorite outdoor equipment store, REI to check out their bicycle selection.  They close at 9 pm, hence the time crunch.
We were in the market for commuter bikes; something I could ride to my new job Uptown, that I could pack with groceries; something Brad could use to get back and forth to the new house, that we could use to go to restaurants and stores just outside of Uptown.
When we arrived, Brad found a bike he had been eying online.  It was a Raleigh commuter bike.  He liked it a lot, but then we learned that it was a small…
…perfect for me. 🙂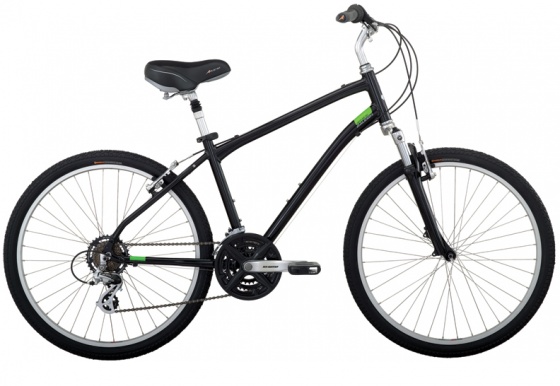 So we bought it and this is, more or less, what it looks like…except mine is way cooler.  It has a lot of add ons, including:
– tire flaps to keep me from getting muddy, 
– headlights that automatically switch on as you ride
– a rack on the back
We bought panniers to transport groceries and my workday lunch, which sometimes resembles groceries.   I also got a road bike helmet and am currently in the market for a new backpack.  I really like the North Face Jester backpacks, but I can't decide on a color.  Help!
What a lifestyle change, going from community about 2 hours and 20 minutes everyday in a car to biking to work!  I'm so excited to start my new job. 🙂
I feel like everything is finally falling into place, except for a few items like the deconstructed kitchen in our new house, and I felt like celebrating a little.  I told Brad I wanted to take him out for a beer.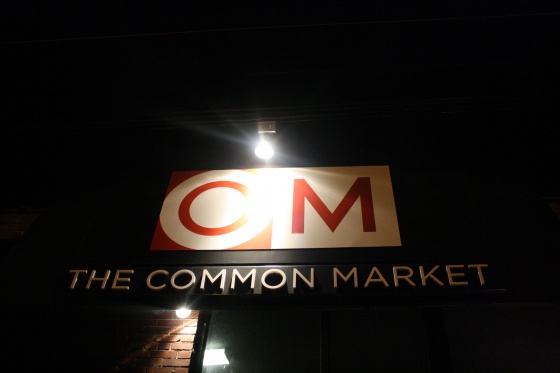 We made our way over to The Common Market on South Blvd.  We've been to the one in Plaza Midwood a hundred times, but rarely visit this location.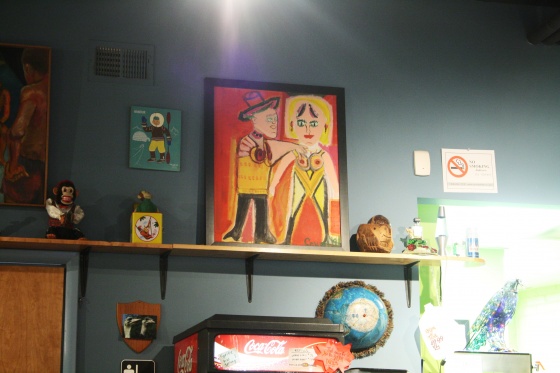 Common Market has such interesting artwork and things to look at.  Definitely one of the best places in Charlotte for people-watching too.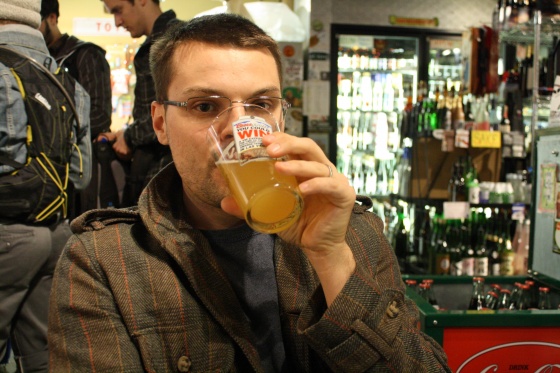 Brad got a Hefeweizen per my suggestion.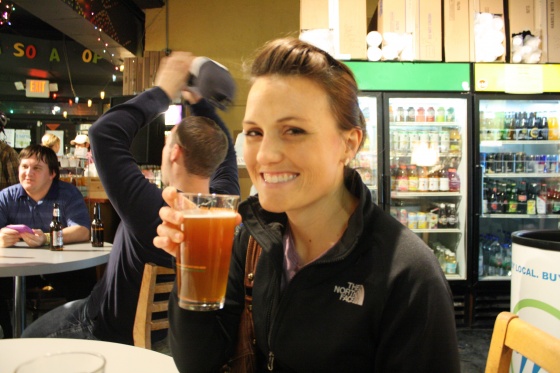 I went with the Blue Star Wheat Beer.  Yum, beer.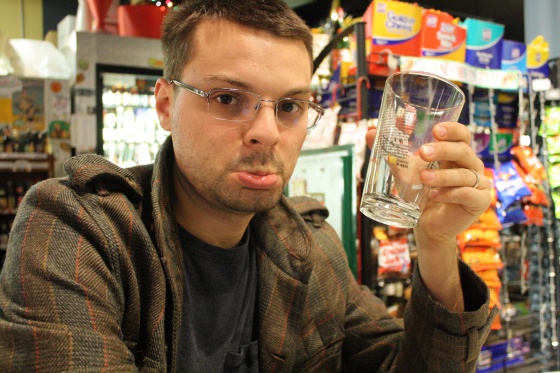 Brad finished his beer before I was nearly done with mine.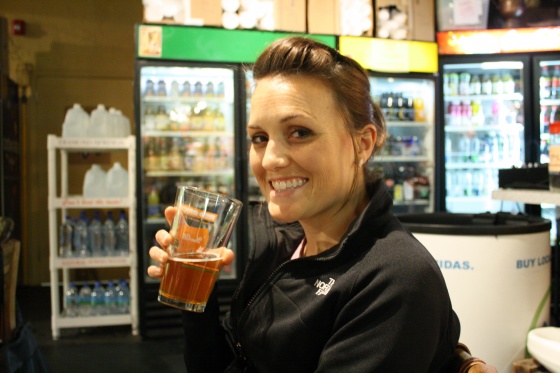 "Yum, this beer is delicious! Don't you wish you still had some beer left to drink, Brad?"
Don't worry.  I'm a nice wife.  I didn't really taunt him, but I did offer to buy him another round.  He said he was good, I finished my beer and we headed home.
I soon remembered that last night was Friday, or as I like to call it, "the day the new Jersey Shore is available on MTV.com".  Yes! So, you know how we ended the evening. 🙂
***
I'll pick my Tropical Traditions Virgin Coconut Oil Hair Treatment winner in my next post! You still have time to enter! 🙂