Yesterday afternoon I was psyched to try out my two week membership at the YMCA thanks to Allison who was so sweet to get me a pass.  I planned to go to a cycle class which I have not done since junior year of college…so about seven years ago.
Damn, I'm old.
And even then, I only went once.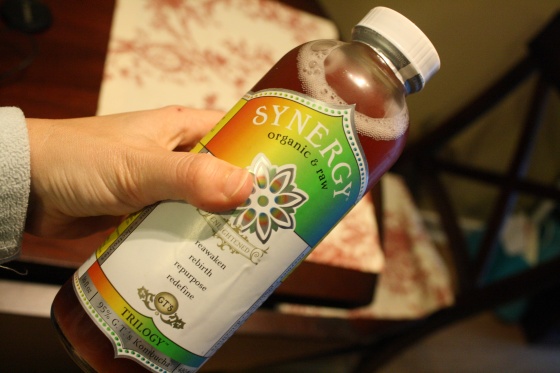 I usually need an afternoon snack, especially if I'm going to exercise.  But I wasn't feeling very hungry.  Instead, I  broke into my Kombucha I had snagged the day before at the Healthy Home Market.  I drank about half, packed a small gym bag, changed clothes and headed on my way with plenty of time to get to the Dowd YMCA, which is the closest to Uptown Charlotte.
It only took about 7-10 minutes to get there so I arrived 10 minute before class.  After circling the parking lot and finding no spaces, driving up and down the street to find that all of the on-street parking was taken, noticing all the "NO YMCA PARKING" signs on the nearby businesses, I was very frustrated.  There was nowhere to park.  I spent almost 10 minutes trying to find parking and there was no way I was going to make it to the class on time if I had to drive several blocks away.  Urgh.
I declared defeat and headed home.  Cycle class fail.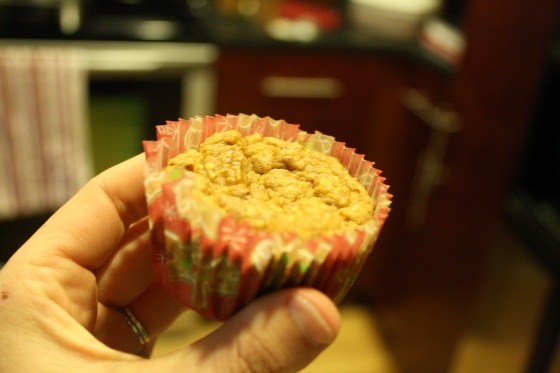 Frustration and searching for parking sure works up an appetite, so I had one of these little muffins I made earlier in the day.  Still feeling snacky, I broke into a Laughing  Cow wedge, which I ate with five Wheat Thins.
I was not going to let my cycle class fail get me down.  I contemplated going down to the condo gym to hop on the elliptical, but I think I'm elliptical'd out.  Instead, I decided to do No More Trouble Zones, which is a great workout and really good for weight training, which I have been neglecting.
I set up my typical at-home video workout space.  My workout DVD goes into my laptop on the kitchen counter.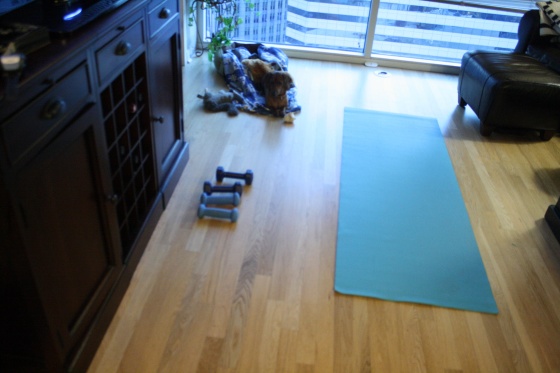 I push back the coffee table, roll out my mat, and set out 3's and 5's for this particular workout series (a lot of reps with low weights).  I have my spotting partner on stand-by.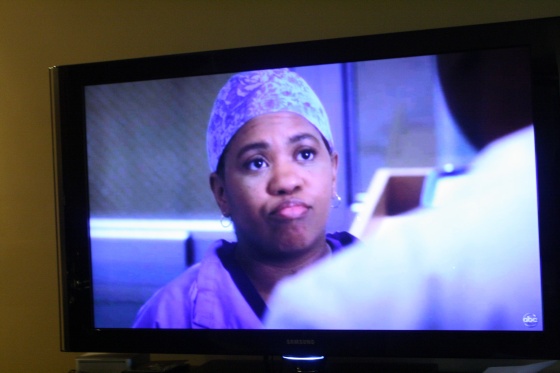 Then I turn on some show I've missed watching in the past week.  That evening, Grey's Anatomy was my show of choice.
Does anybody else absolutely love Bailey?  She's my favorite, for sure.
I started my workout, but about five minutes in, I realized that some sort of exercise hex had been placed on me.  My DVD stopped every few minutes and refused to start over until I stopped and restarted it.  After the longest warm up ever, it seemed to finally be okay.
I got to the part of the video that gets really difficult for me (near the end) and it stopped again! Luckily, I've done this video so many times (obviously) that I knew what exercises were left so I just did them by myself without the help of Jillian.  I wasn't sure how many reps to do since I never count, so I settled on doing 20 of everything that was left.
Instead of the stretching, which I usually skip anyway, I went into pigeon for a little while.  I assure you, I do not look like the person in the link's photos.  I am not that flexible.
After finishing my workout, I started on dinner.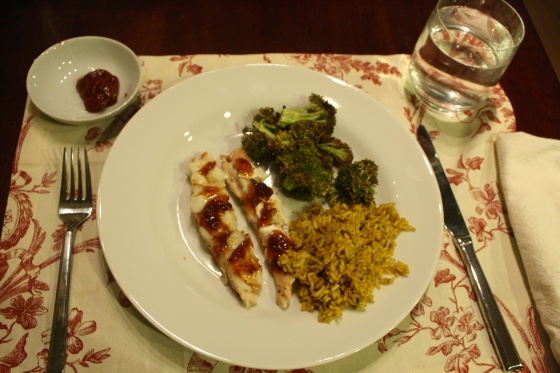 This meal was made up on the spot.  I pounded some chicken breasts with a meat mallet, then cut them into thin strips.  Next I cooked them with some salt and pepper on each side.  Once they were cooked through, I smeared on some goat brie and some spicy mango chutney.  I also roasted some broccoli which I love to dip in ketchup.  Try it, it's delicious.
So why the pounding and the small slices?  Well, I thought I could roll the chicken up and secure them with tooth picks, but they completely refused to roll up without breaking.  This combination tasted delicious even if it looks a little strange.
But I think the best part of this meal was the yellow rice.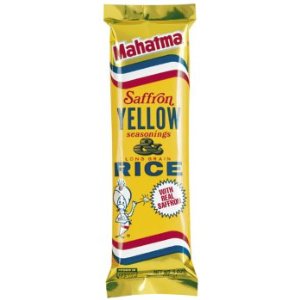 Did anyone's mom used to make this rice?  My mom did occasionally and I loved it.  But, I have to say that my yellow rice is better and you know why?
Because it had five ingredients instead of this:
Ingredients:Enriched Long Grain Rice [rice, niacin, iron (ferric orthophosphate), thiamin (thiamin mononitrate), folic acid], Saffron Yellow Seasoning [Salt, Sugar, Dehydrated Onion, Monosodium Glutamate, Turmeric, Garlic, Corn Starch, Spices, Safflower, Saffron, Silicon Dioxide (Prevent Caking)].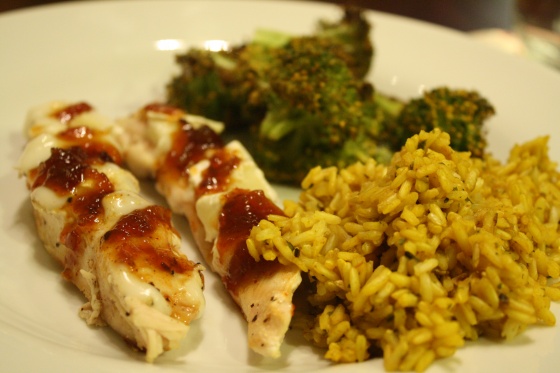 Not Yo' Mama's Yellow Rice
2 1/2  cups vegetable stock
1 cup brown rice
1 tsp. tumeric
1 tsp. dried parsley
1/2 tsp. sea salt (more to taste if preferred)
Bring stock to a boil and add rice.  Cover and allow to simmer until broth is almost completely absorbed.  Add tumeric, parsley, and salt and stir well.  Taste and add more salt if desired.
Serve and enjoy…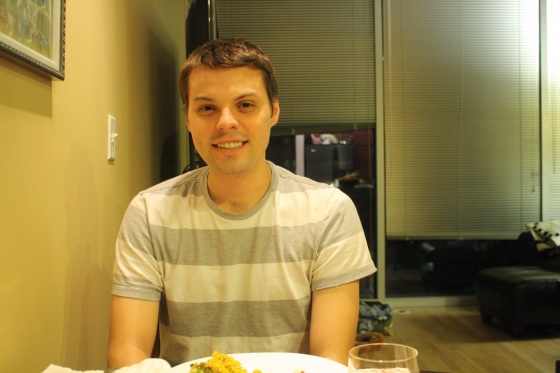 …preferably with the handsome dinner companion of your choice.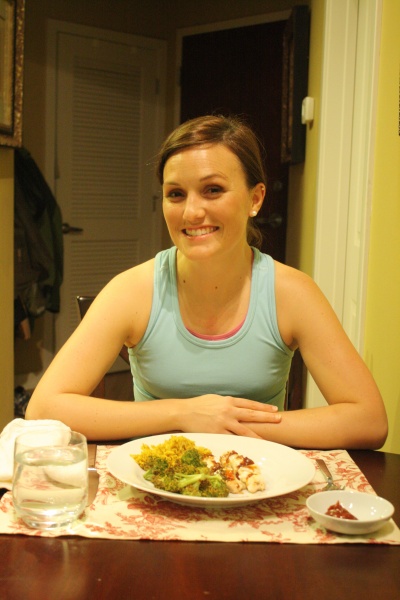 Shower optional. 😉