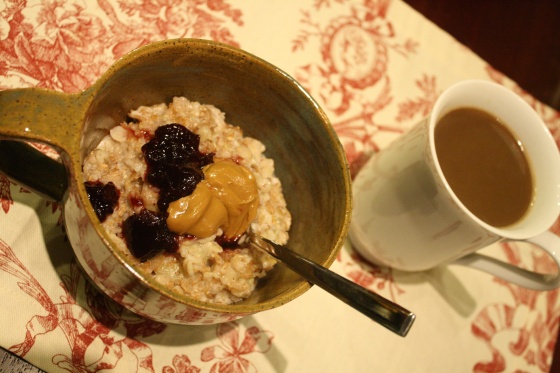 This morning, I couldn't think of anything better than a big ol' bowl of banana oats with sunflower butter and jam.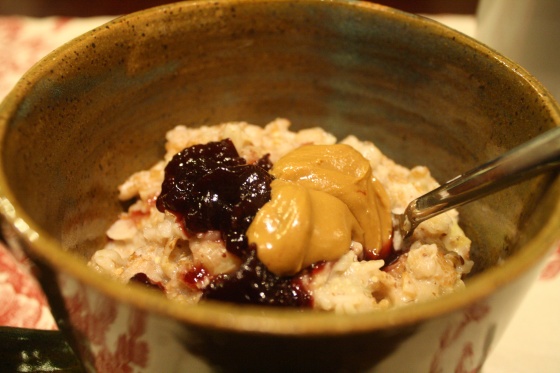 I made my banana oats with:
1/2 cup Bob's Red Mill 5 Grain Cereal
1/2 sliced banana
1/2 cup almond milk
1/2 cup water
pinch of salt
Topped with: 1 Tbsp. sunflower seed butter and 1 Tbsp. jam
I needed a super yummy breakfast because this morning I had interview number two.  Not the second interview from my job opportunity from last week, but a whole new interview with a different organization.
The interview went very very well and I actually think I'll find out something tomorrow.  Wish me luck!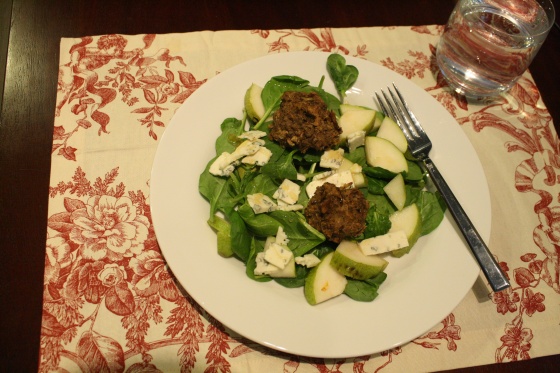 I was very hungry by the time I got back from my job interview and decided to use up some more of the vegan sausage balls I made a while back.  The batch makes so many.  I feel like I'm never going to finish them.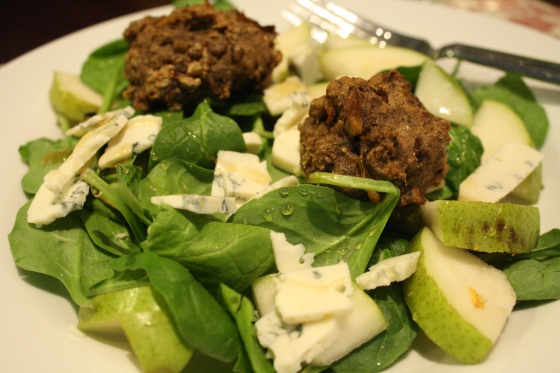 My salad also included some gorgonzola, pears, spinach, and a drizzle of lemon juice and honey.
I ate about half of a sausage ball before I realized that I just can't eat any more of these things.  I'm vegan sausage balled out.  Instead, I ate a bit of naan a friend left at my house with some hummus.  Naan is so good, but clearly I like bread in all forms.
***
It's time for the second week of February coconut giveaway month and this time the giveaway is a very new-to-me product.
It's organic coconut flour!
Tropical Traditions organic coconut flour is fiber from the coconut meat after most of the oil has been extracted to make Virgin Coconut Oil. It is certified organic, unsweetened, and has not been treated with sulfites. Tropical Traditions organic coconut flour is high in dietary fiber and protein, and is gluten-free. It has more fiber than gluten-based grains. Tropical Traditions organic coconut flour can be added to standard wheat-based recipes to add extra fiber, by substituting 10-30% of the grain-based flour with our coconut flour. Some recipes, such as muffins and quick breads, can be accomplished with 100% Tropical Traditions organic coconut flour and therefore be 100% gluten-free! (See some free recipes below.) Since organic coconut flour contains natural sugar from the coconut meat, baked goods need less sugar added. The organic coconut flour has a mildly sweet coconut taste!
Tropical Traditions organic coconut flour also contains over 19% non-gluten protein! Therefore, it makes an excellent addition to shakes and smoothies where fiber and protein are needed. Or simply dissolve a spoonful in water as a high-fiber drink with a coconut flavor! This organic coconut flour is very versatile and very tasty. Sprinkle it over your favorite dishes to add a wonderful coconut flavor, use it as a thickener in soups and sauces – the possibilities are endless!
How to enter:
1st Entry: Leave a comment telling me what baked good you would like to try substituting coconut flour in for regular old flour.
2nd entry – Tweet "@Foodiefresh is giving away @TropTraditions coconut flour! #giveaway http://foodiefresh.com" and tell me you tweeted in the comments.
3rd entry – If you have your own blog, tell your readers about my giveaway and link back to this post.  Please tell me in the comments if you do this.
4th entry – Subscribe to the Tropical Traditions mailing list by clicking here, where you will receive notification of all kinds of great deals on all of their products.  They have some seriously good deals on all kinds of things, coconut and otherwise (For example: 40% off organic maple syrup).  Please tell me if you did this in the comments section too!
The cut off for the giveaway is this upcoming Saturday morning at 9 am.  I will then pick a winner and announce it here.
Please note: Tropical Traditions will only ship to the U.S. and Canada, so only residents of these two countries are eligible for the giveaway.  Tropical Traditions also requires that I provide the email address of the winner.  This allows them to contact you and make sure you receive your winnings.
Happy entering! 🙂