See our architectural plans below!  Or, now that we are *in* the house, see the before and after photos!
---
Whew! I was super busy this morning. Between reviewing architectural plans, passing off the phone with Brad to give our feedback (you know I had at least 10 comments and suggestions), work, phone calls for work, and the all important breakfast, I got things done like a champ.
I'm so excited about our kitchen plans being done.  After much deliberation, these are the final plans.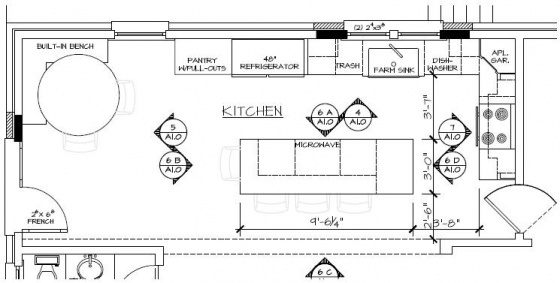 Brad jokes that 1/3 of our house is dedicated to food, as you can see here.  The room to the right of the kitchen is the dining room.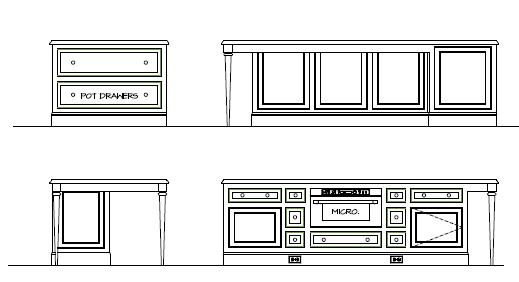 This is the island from four different views.  I don't love how pencil thin the table leg is on the end of the bar so we're changing that so the bottom looks a little more substantial.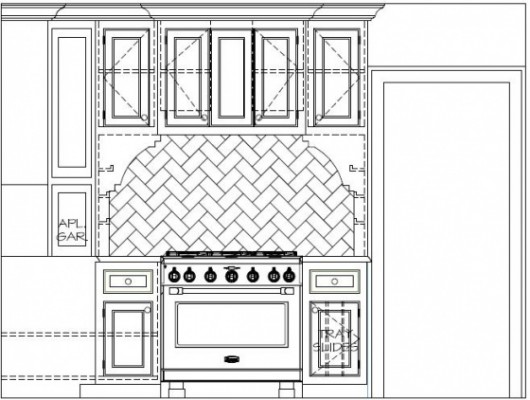 This view shows the stove and to the right is the door to the dining room.

This is the exterior wall of the kitchen, which (from left to right) shows the built-in bench for the breakfast nook, the pantry, the fridge, and the sink.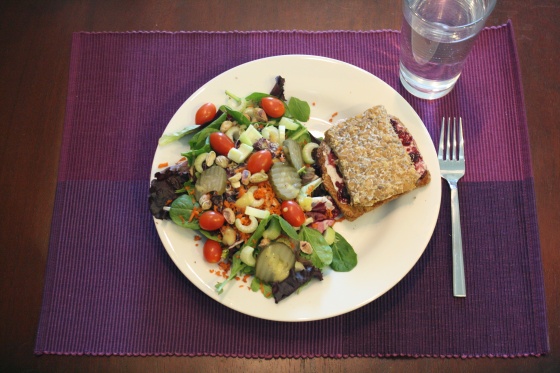 All this talk about our kitchen made me very hungry.  Eating breakfast at 8:00 meant I didn't get hungry until 1 pm.  Usually my stomach is audibly growling at 11 am.
My salad might sound a little weird, but I loved it.  We had some purple cabbage leftover from the fish tacos several nights ago so I mixed it with a teaspoon of Canola mayo and about 1/2 a teaspoon of dijon mustard, plus salt and pepper to make a really fast cole slaw.
I topped salad greens with the cabbage, then added pickles, chopped celery, grated carrot, cherry tomatoes, pistachios, and a drizzle of sweet onion vinaigrette.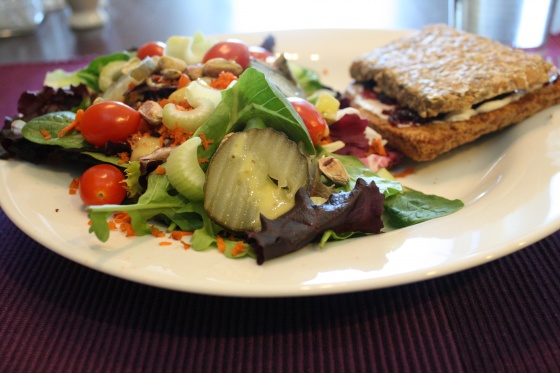 I also had a piece of Ezekiel toast topped with a swiss Laughing Cow, jam, and some tempeh I made in the toaster as well.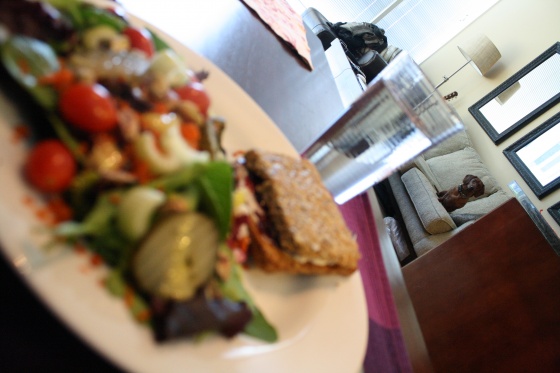 Do you ever feel like you're being stared at?
I don't think I've ever fully described how weird my dog is.  He is totally obsessed with Brad and I.  He always wants us to be together, sitting as close together as possible so he can be near us. He doesn't know what to do when we're apart.
After lunch, Brad decided to go in the bedroom to do some work, while I stayed on the couch.  Rascal stood in the doorway that separates the bedroom from the living room and paced nervously.  He looked at Brad.  He looked at me.  He looked at Brad.  He looked at me.  What a ridiculous dog I have!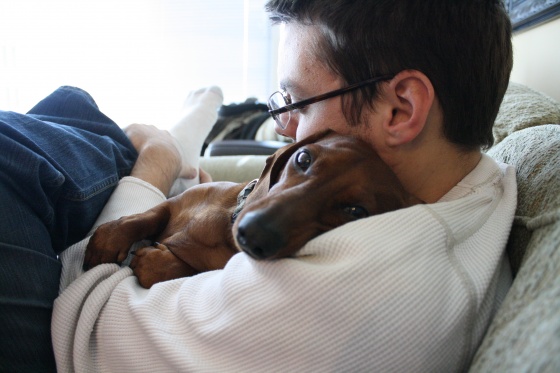 Even when he's with one of us, he's not content.  When he sits on Brad's lap, he stares at me longingly, wishing I was closer to him.  The same goes for Brad if I'm holding Rascal.
Is anyone else's dog this needy or strange? Is it just me?