Happy Martin Luther King Day!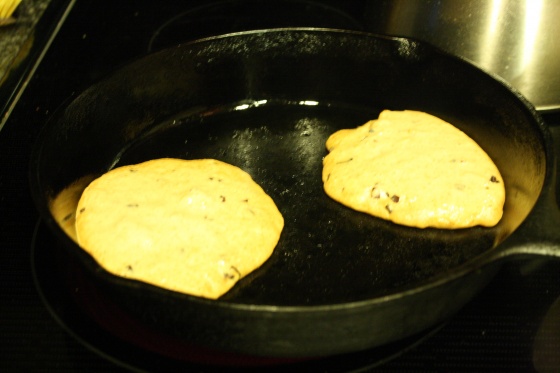 Since I didn't have to go to work today, I got the day started off right with some pancakes.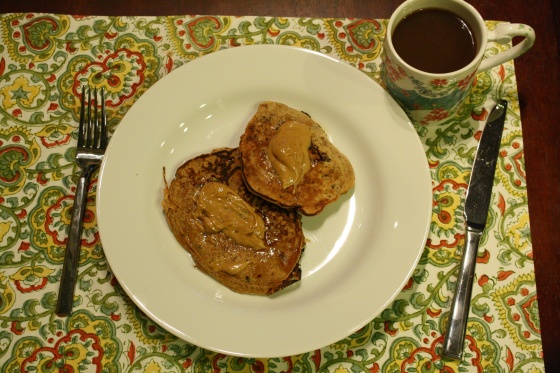 Chunky Monkey Pancakes (makes 8 medium pancakes, serves 4)
3/4 cup spelt flour
3/4 cup peanut flour
1/2 tsp. baking powder 
1/4 tsp. salt
1 cup almond milk (or milk of choice)
1/4 cup egg whites
1 mashed banana
1/3 cup cashew pieces
3 Tbsp. cacao nibs (or chocolate chips)
Combine dry ingredients in a medium bowl and mix well: flours, baking powder, and salt.  Add in wet ingredients: milk and egg.  Stir all ingredients well.  Add mashed banana, cashew pieces, and cacao nibs and mix well.
Put a cast iron skillet or pan on medium high and spray with non-stick spray.  Use a measuring cup (I used 1/2 cup) to spoon pancake batter on pan.  Cook until golden brown, then flip and repeat for other side until pancake is cooked through.
I always turn my oven on warm (170 degrees F) and store the finished pancakes there until I am completely done cooking the entire batch.
Brad said these were the best pancakes I've ever made. I think he prefers the lighter density of spelt flour and peanut flour to the more dense, heavier consistency of whole wheat flour.
These pancakes turned out light and fluffy,which is different than my typical whole wheat + oats combination.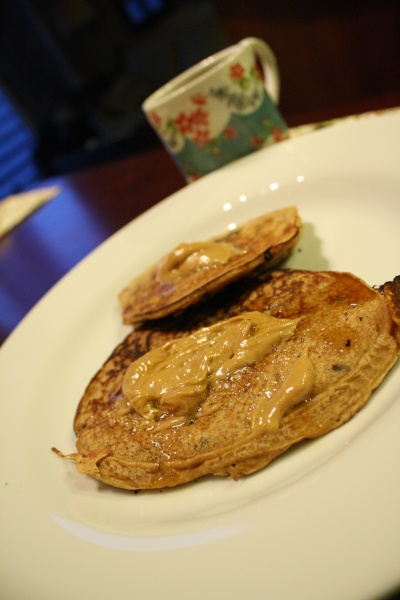 I ate mine with 1/2 Tbsp. of peanut butter on each and a small drizzle of real maple syrup. I loved the crunch the cacao nibs and cashew pieces added to the doughiness of the pancakes.
I can't wait to make this variation with other add-ins.  The possibilities are endless, but coconut definitely comes to mind.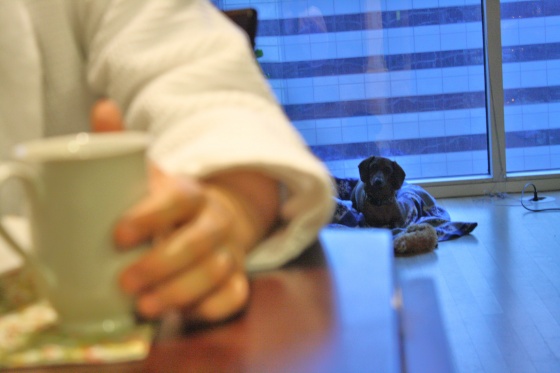 I felt like we were being watched during breakfast.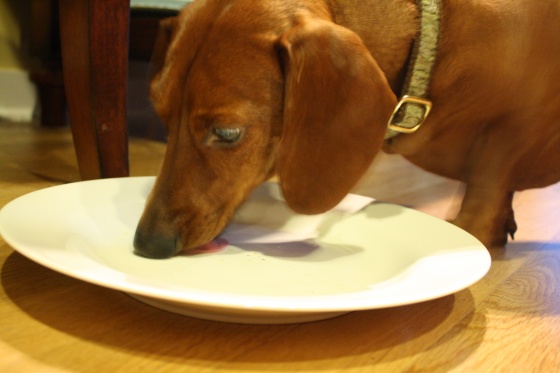 Rascal always gets rewarded when he doesn't beg during breakfast (or at least tries to beg from a distance).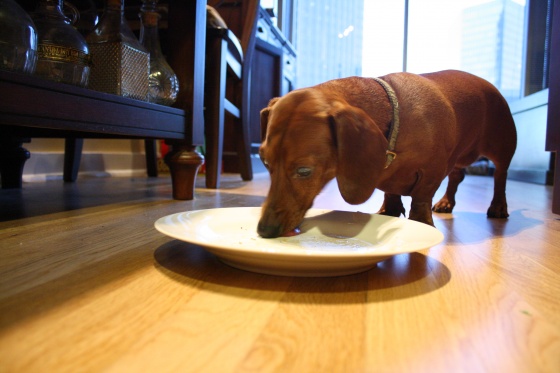 Disclaimer: no cacao nibs were left on either of our plates.  Since cacao is concentrated cocoa, no dog should ever eat it.
After breakfast, we let our food digest a bit, sipped some water, then got ready to head out for a brisk run.  Thank goodness I washed my running tights yesterday, because I needed them again in the cool weather.
It was hard to run with Brad.  We've been training for different things.  He trained for a speedy half marathon and I trained to get through a full marathon.  Since I mostly neglected my speed workouts, I've definitely gotten slower.  We ran about 2.24 miles together than branched off so he could run back to the house to get ready for work.
I wanted to run as long as I wanted.  I haven't had a run like this in ages! You know, the ones where you don't have a certain distance in mind and you have the time to just play around with figuring out how far you want to go and where you want to go.  Those are my favorite kinds of runs.
I settled into an easy stride after I split from Brad but after running up a hill, running faster on flat and downhill roads, felt easier.  I mostly kept our 9:20 pace without deviating too much.  On my way back, I challenged myself to run up Morehead Rd.  It's a steep and long incline.  I mostly trained on very flat paths for the Disney Marathon so I need to get used to hills for the next race I'm planning.  I'll say more about that next week. 😉
My final time: 7.48 miles in 1:08 plus some change in seconds. When I was all done, I felt amazing. 🙂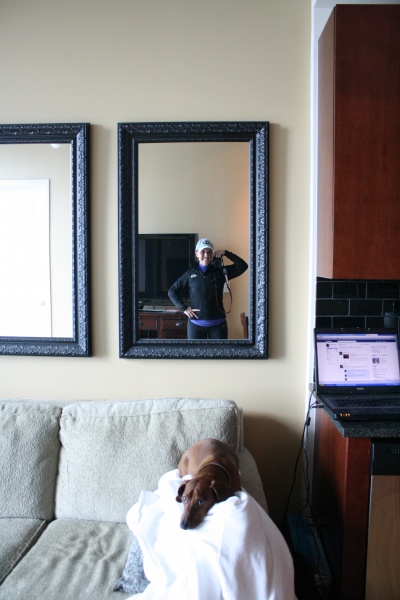 Picture in picture.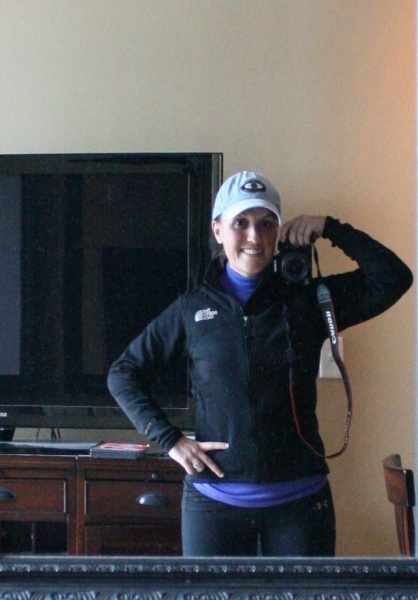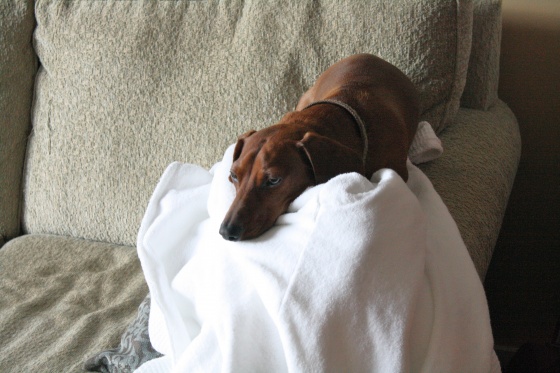 This is what happens when Brad leaves his robe out.  Rascal loves our clothes.  He's very partial to our scents.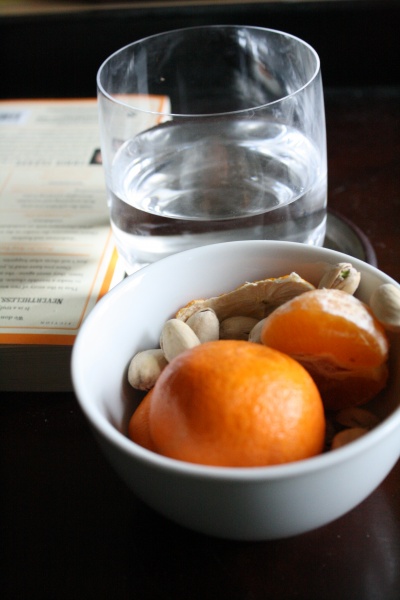 After a quick shower and getting ready, I snacked on two clementines (my last) and a small handful of pistachios.  I'm meeting some fun girls for lunch in Fort Mill, SC (only about 25 minutes away) so this should hold me over until then.
I hope most of you are lucky enough to have today off! 🙂