Good morning!
It's a very good morning.  Brad and I finally made it back to NC last night and you don't know how happy I am to be back; back in my own bed and especially back in my own kitchen.  I can't eat another bite of restaurant food.  Seriously.  After five days of almost nothing but restaurants, I need a break.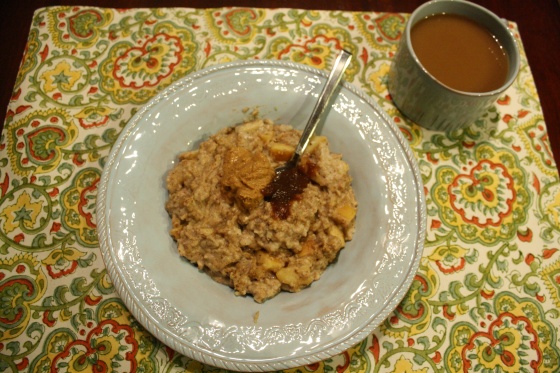 Also, we have a two-hour delay at work so I got to enjoy this leisurely breakfast, blog, and press and bake tofu for tonight.  I got my pretty blue dishes out, which always makes a meal more special.  🙂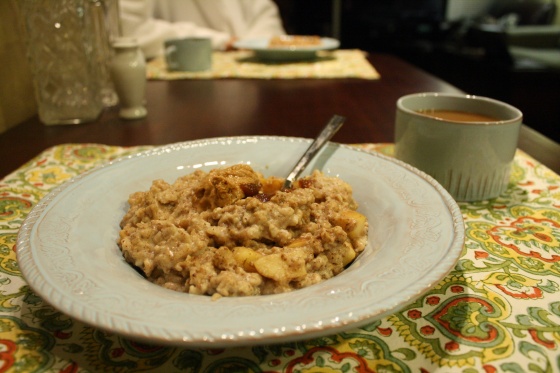 Poor Brad worked through the night on something for work to make up for the time we missed yesterday.  He was still awake when I got up at 5:30 and had breakfast with me.  I didn't get the tw0-hour delay call until I was already up and showered so I've had a moderately productive morning.
Apple and Spice Oatmeal (serves 2)
1 cup rolled oats
1 cup almond milk
1 cup water
1/2 cup egg whites
2 small apples cored and chopped
1 tsp. cinnamon
1/2 tsp. allspice
1/4 tsp cloves
pinch of salt
Cook water, almond milk, oats and apples in a medium sized pot on high heat.  Once mixture starts to boil, turn down heat and add spices and egg whites.  Stir egg whites in quickly so they do not form into solid eggs.  Stir and continue to cook until desired consistency is reached.
I like mine with just a bit of liquid, but I don't like oatmeal when it starts to get really chewy and clumpy.  Just a personal preference.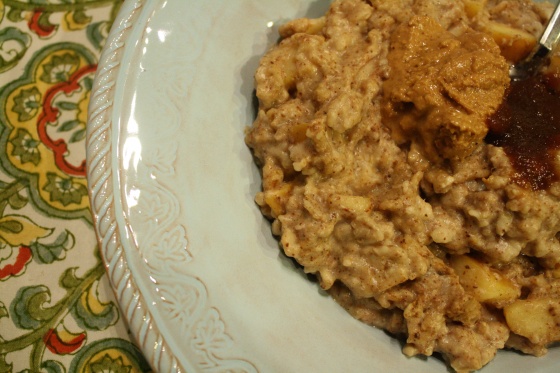 I topped mine with 1 Tbsp. of cashew butter and 1 Tbsp. of apple butter.
Sadly, I think Brad has came to the conclusion that he just doesn't like oatmeal.  🙁 He likes my baked oatmeal, but not the regular kind like we had this morning.  Although he swears he likes mine more than any others he has ever tried, it's just not his favorite thing, so I'm going to stop making the double servings and just enjoy it by myself.
It's going to be a busy day for me for sure, since I've been in Orlando an extra day.
Any other non-oatmeal lovers out there?  It seems like oatmeal is in everyone's breakfast bowls in blog world, but I'm sure there are others (bloggers and blog readers) out there, who don't like oatmeal.