…not that I didn't try,  yesterday.
By the way, thanks so much for your sweet responses to my pre-marathon sickness.  As my family would say, I'm still feeling a "lil' poorly", but I feeling about 75% better today, which is a big improvement over yesterday.
Now, back to yesterday…
You know how sometimes when you're sick, you only have a taste for certain things?  Well all I wanted yesterday was chocolate.
I already had a chocolate smoothie in a bowl for breakfast, but the chocolate cravign would not subside.  Well, it's a good thing I was home for lunch, because my favorite thing about being home for lunch is that I get to decide at that moment what I want to eat and I have a whole kitchen at my disposal.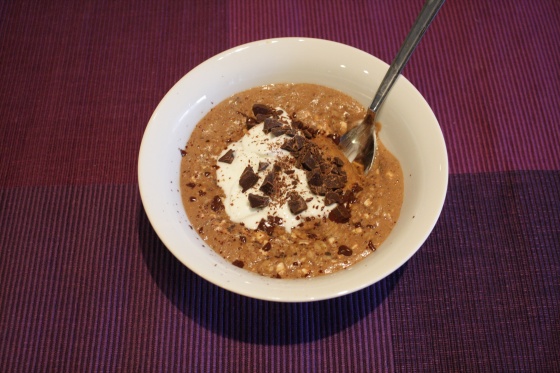 Chocolate cottage cheese oats…because when you're sick, you should eat what you want. 😉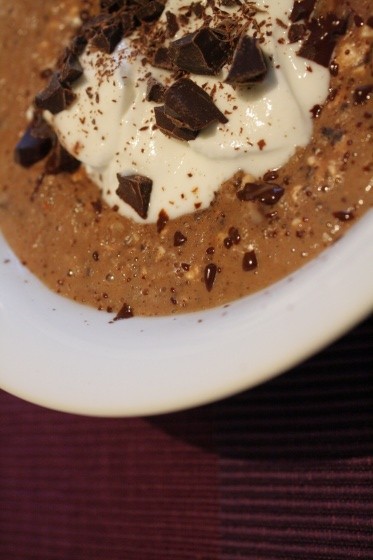 Chocolate Cottage Cheese Oats

1/3 cup rolled oats
1/3 cup almond milk
1/3 cup water
1/4 cup fat free cottage cheese
1 Tbsp. unsweetened cocoa powder
Toppings:
Big dollop of Greek yogurt
1 Tbsp. PB
1/2 oz. chopped 70% dark chocolate
Bring oats, milk, and water to a boil.  Add cottage cheese and cocoa powder and stir  until liquid is absorbed.  Put in a bowl and add toppings of your choice.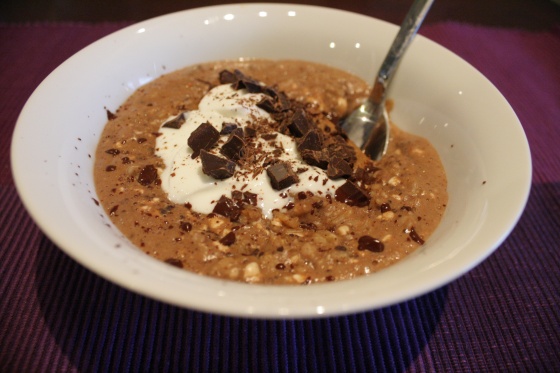 I just love tart and cold Greek yogurt with dark chocolate and hot oats.
The "need" for chocolate carried over into the evening.  After a lack luster dinner, I pulled a box of this…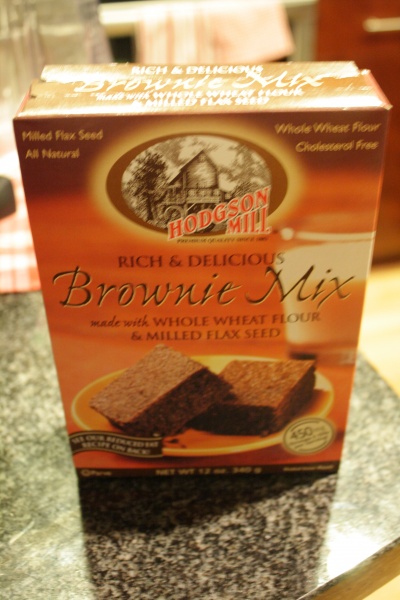 …from the cupboard.
I have never tried this brownie mix before, but I really like Hodgson Mills products so I thought I would give it a try.  I was impressed that it used whole wheat flour and milled flax seed.
I planned to use the mix to make my infamous black bean brownies, which somehow have never made an appearance on this blog.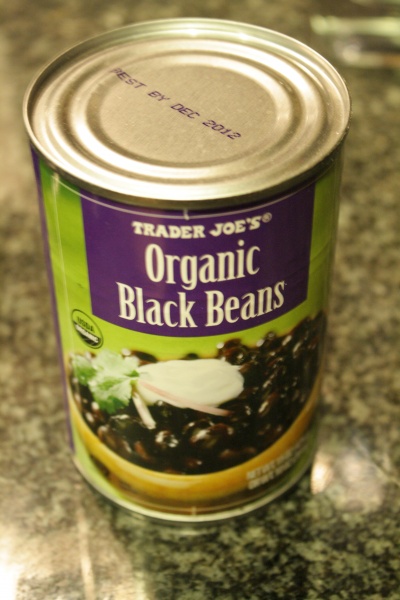 Yes, black beans…in your brownies…tastes delicious.
My friend Megan told me about this black bean brownie phenomena  over a year ago and I'm sure I looked at her like she had two heads at the time.  To make, you simple add a can of pureed black beans (blend in a mixer) to a prepackaged mix of  brownies.  No eggs.  No butter.  No milk or water.  This is an easy way to veganize brownies, depending on what ingredients the mix contains.
I've also seen homemade from-scratch black bean brownie recipes.  But any ol' brownie mix will do.   Just add the pureed beans to the brownie mix, stir, and put in a square pan that has been sprayed with cooking spray.  Follow the cooking temperature and time directions on the box.  You'll end up with fudgy brownies and you'll never be able to taste the black beans.  I swear.
Although the black beans do not significantly alter the calorie content of the brownies, it does up the protein and fiber, making me less likely to try to eat half the pan in one sitting.  And if that's not a plus, I don't know what is.
I wish I could tell you that this was a happy chocolate-y ending.  But, it was not.  I've made black bean brownies some umpteen times and have never had anything less than gooey delicious brownies.  This was my first fail, but don't blame it on the black beans.
This brownie mix was not good.  It was not sweet enough.  It was not chocolate-y enough.  It was a big fail.
Of course, you could add more cocoa and more sugar to the mix, but that kind of defeats the purpose of buying a brownie mix, ya know?  Hodson's Mill, you went too far, when you tried to make these brownies "healthy".  I can get on board with your whole wheat flour and your milled flax seed.  But when you make my brownies not very sweet and not very chocolate, you take all the fun out of brownies.  And what's more fun than brownies?
Black bean brownies will be back, but Hodgson Mill Brownie Mix will not.  However, I think these might be edible with some peanut butter frosting. 😉
***
Don't forget to enter my coconut cream and coconut oil giveaway from Tropical Traditions!  You have until Monday evening!