Last night I decided to skip my workout for some much needed down-time with Brad.  Even though he's been back in town since late Tuesday night, we really hadn't seen much of each other.
We chatted about our day and some things on the horizon for us both at work and for my blog. We opened a bottle of Shiraz and I began working on dinner.
I really had no clue what I was going to make when I started chopping veggies and looking through the pantry.  Sometimes the best meals are ones you make up on the fly.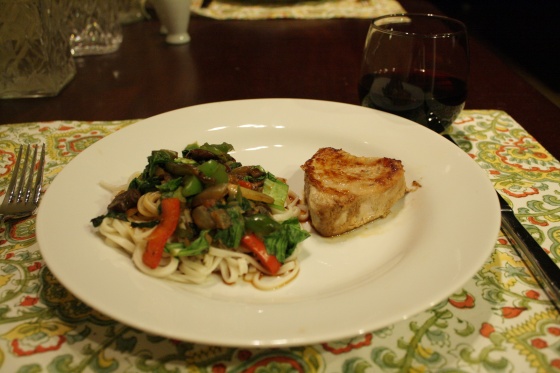 The result: tuna with sauteed veggies and Udon noodles in an orange sauce.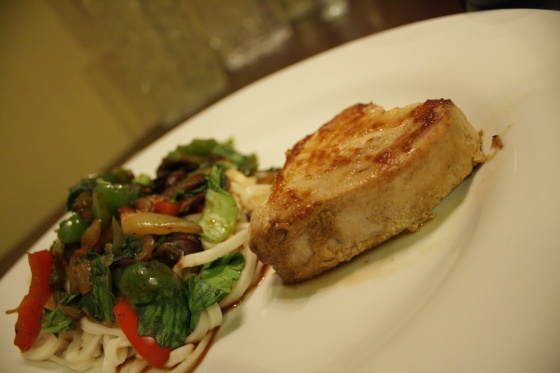 After thawing the tuna, I sprinkled white pepper, salt, and onion powder generously on each side.  Then I placed it in a pan on medium high heat with a bit of olive oil.  Since this tuna was frozen and not sushi grade, I cooked it through until it was starting to brown on both sides.
I like Ahi tuna medium rare, but when cooking fish medium rare, you really want sushi grade and fresh, not frozen, fish.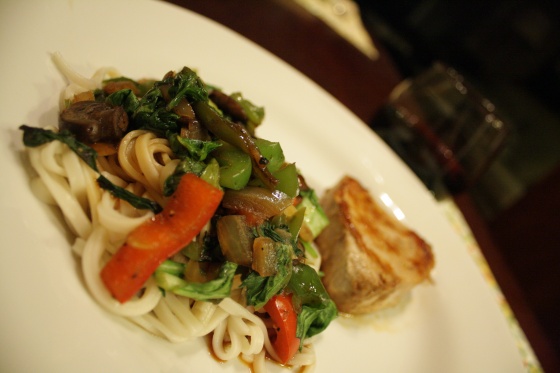 While I brought the Udon noodles to a boil, I chopped up:
1/2 a red bell pepper
1/2 a green bell pepper
1/4 very large yellow onion (~3/4 cup)
2 heads of baby bok choy
I added that to a pan on medium high heat with a bit of olive oil with 1 1/2 cup of sliced baby portobella mushrooms.  I cooked this turning the vegetables with a spatula every few minutes, until the mushrooms had wilted down and the onions were caramelized.
When everything was almost complete, I made my orange sauce with three clementines that had seen better days and really were not good to eat any more and some soy sauce.  In a small saucepan I put the juice of three clementines (~2/3 cup) and 1/4 cup sauce sauce.  I put the heat on high and cooked the liquid until it was reduced by half.
I plated the Udon noodles, vegetables, and tuna.  Then I poured the sauce through a strainer so that the it would catch all of the clementine flesh that ended up in the sauce.  I put the strainer over the Udon noodles, but you could also put the strainer over a bowl and then pour over the noodles, if you're worried about evenly distributing the sauce.
We are big fan of Asian inspired foods and Brad thought this meal was amazing.  I was amazed at how easily and quickly it all came together.  This just goes to show that you can create an incredible meal (well, Brad thought it was incredible anyway), in about 30 minutes flat.
We spent the rest of the night watching Going the Distance.  One of the better comedic romances I have seen in a while.  It was smart and funny and even Brad liked it.  Don't you just love Drew Barrymore?  🙂  I definitely recommend it if you're looking for a good date-night rental.