There is this really great tapas restaurant in Charlotte called Soul Gastrolounge.  It's a really tiny place and fairly new so it's always packed.  Brad and I had the good fortune to try it for the first time on a rainy week night, so it was significantly less busy.  We loved it immediately!
Our favorite thing there is their sashimi tuna tacos, described as "Bragg's marinated diced tuna in fried wonton tacos, with sriracha mayo".  We had some ahi tuna sitting in our freezer for several weeks and it was time to use it.  My version was slightly different (same concept of flavors but different ingredients), but I loved it just the same.
I rubbed some sesame seeds on both sides of the tuna and salted it, put about two teaspoons of sesame oil in the pan, and cooked on medium high heat.  About half way through, I turned the heat down to medium.  Because the tuna had been frozen, I cooked it through leaving no pink, although I love some slightly seared tuna.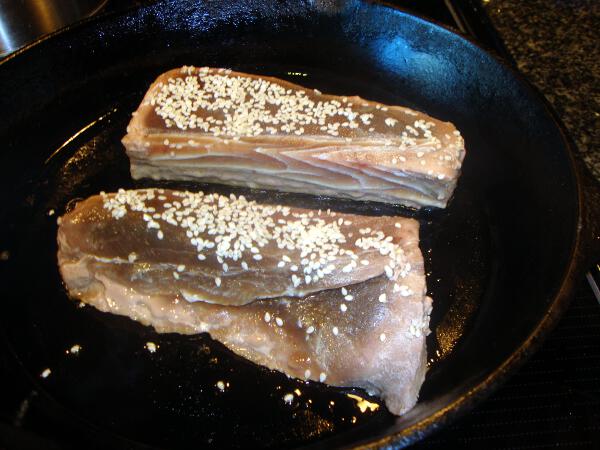 Meanwhile, I roasted some frozen edamame (straight from the freezer) on 500 degrees until they just started to brown.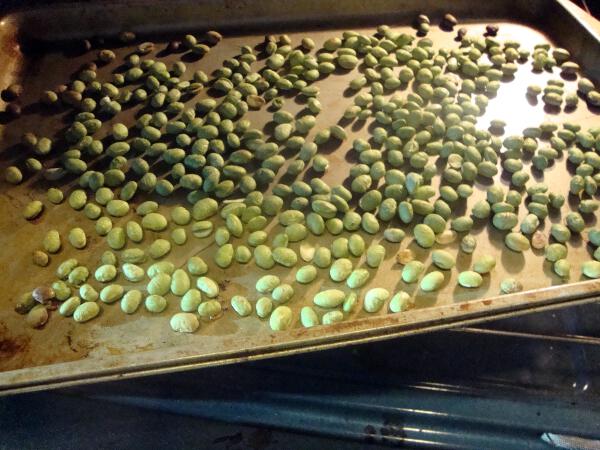 I also mixed up a homemade Sesame lime vinaigrette for the salad I planned to make.  Mix one tablespoon of TJ's seasoned rice vinegar with 1/2 tablespoon of sesame oil, and the juice of 1/2 a lime.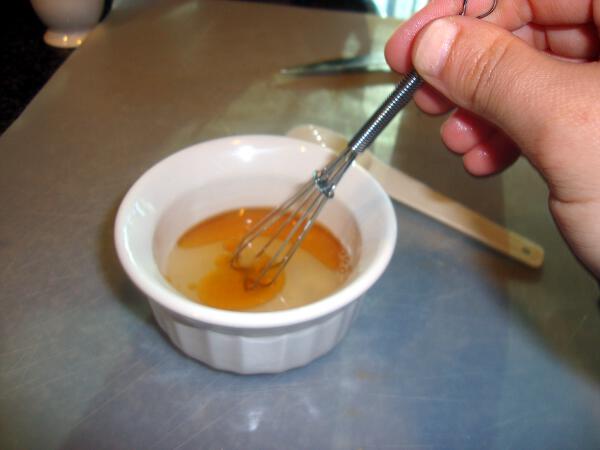 See my tiny little whisk?  They're so cute and perfect for this kind of stuff.  I would never be able to fit a full size whisk in such a small rammekin.  In case you're wondering, I bought this and one slightly larger (pictured below) at Kitchens on the Square in Savannah, Georgia.
Next I mixed up my wasabi mayo sauce by adding about 1/2 a tablespoon of wasabi paste to a ramekin.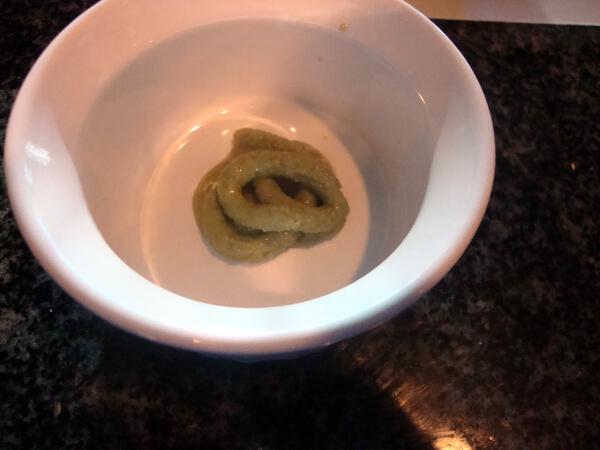 Next, I added one tablespoon of canola oil mayo and just a tiny bit of water to thin the sauce out.  I added just a tad more wasabi after tasting it and deciding the sauce was spicy enough.
I then made the salad tossing together a mixture of chopped green leaf lettuce and spinach, cucumbers I had sliced into small sticks, carrot ribbons cut with a peeler, and about 1 cup of the roasted edamame.  I also added the vinaigrette and tossed the whole thing together.  Mind you, that's the first time I've ever spelled vinaigrette correctly on the first try.  Go me.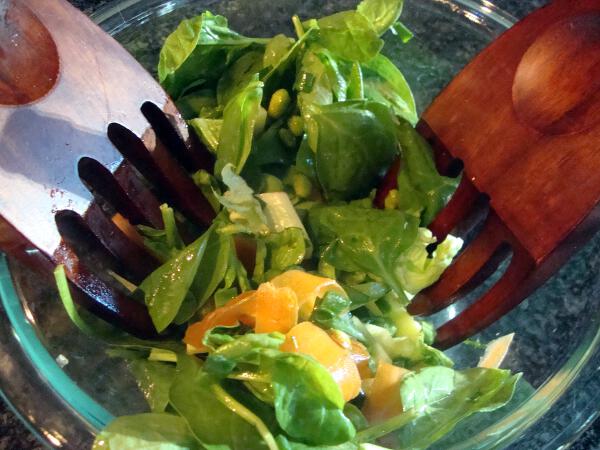 Those bear claw salad tongs are also from Kitchens on the Square.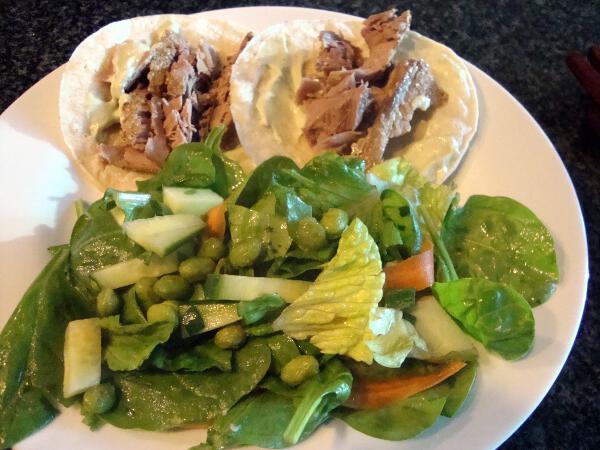 I loved this meal and thought it was very fresh and summery (even though it's not quite summer yet).  Brad didn't love it but I think I'm going to let that go for now.  He sick and has a sore throat so I don't think his taste buds are 100%, especially since he could never figure out why he didn't like it.
Usually we both dislike something, but this was a first.  I would like to try it again when he's feeling better to get a better idea of whether this is something to make again for him.  I'm sticking to my original gut feeling of loving it.  I loved the combination of spicy wasabi, savory tuna, nutty edamame, and the slightly sweet vinaigrette.  All the flavors married very well together.
This meal came none too soon.  After a five mile run and three mile walk, I was starving!  A friend of a friend recently told me about the Booty Loop, which is a 2.8 loop located in the Myer's Park neighborhood of Charlotte.  I decided to give it a try yesterday afternoon, despite the humidity.  The run out to the head of the loop is almost three miles, so after almost completing the loop, I had ran over five miles and was definitely starting to feel a tightness in my legs from the 6 1/2 miler from yesterday.  I figured walking home was my best option since I was starting to approach exhaustion and had to get home some way.
I was starving after this and besides enjoying my dinner, I had a simple desert of two pieces of dark chocolate and a few animal crackers.  I may or may not have also drank the last glass of wine in the house.  🙂