Yesterday morning, I had big plans for a long run, which currently is six miles for me.  I remember when I used to run six miles almost daily and other times when six miles was just maintaining for my longer runs during half-marathon training.  I'm not really displeased with myself because I'm stronger now.  I do a lot more weight training and feel pretty fit.
I made a pact with myself last weekend to exercise every day this past week.  I haven't really been slacking off, but working out four days a week just isn't typical for me.  I haven't been very pleased with my eating habits lately and not exercising as much as usual is just adding to my displeasure with myself.  Somewhere around Thursday I realized that it's really not necessary to exercise every single day of the week and that six out of seven days is really a more balanced approach.  So I did take one day off and for that I am pretty happy with the level of exercise I've engaged in this week.  My eating habits are another story….
For my six mile run, I got up in plenty of time to have a good breakfast and digest before my run.  I couldn't figure out what I wanted but knew it needed to have a certain level of carbs to fuel my run.  Closer inspection of my fruit bowl led me to notice that my tiny little organic peaches were getting pretty soft and needed to be used ASAP.
Peaches in cream oats were born.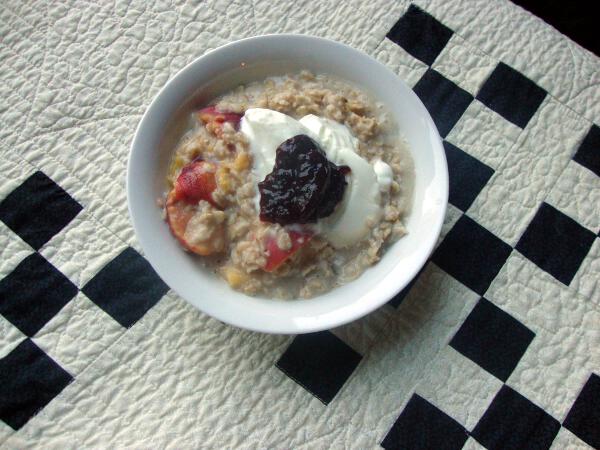 Doesn't my oats look pretty on this quilt?  Brad's grandmother made it for him and I think it may be the prettiest quilt I've ever seen.  It's just so simple, when most quilts are so busy.  We're very lucky to have such an heirloom.  And no, I didn't use it as a place mat, only for photo-taking purposes.  I wouldn't know how to begin to wash it if I spilled something on it.
1/2 cup Bob's Red Mill Gluten Free Oats
1/2 cup water
1/2 cup unsweetened almond milk
2 tiny organic peaches sliced
1/2 cup Greek yogurt (full fat kind)
1 heaping Tbsp. Crofters Organic Superfruit Asia Spread
If you're not an oats-making pro….
Add oats, almond milk, and water to a small pot and let it come to a boil.  Watch it or it will boil over and you'll be scraping oats off your stove top after it cools (this happens to me at least every other time I make oats due to my inability to multi-task).  Once it comes to a boil, I turn it down to low and move the top of the pot so that it isn't completely covering the top of the pot and some of the steam can escape.  I stir occasionally.  It takes a good 10-15 minutes for the oats to cook completely.  After about 7-8 minutes I added the sliced peaches so they would cook too and the peach juice would ooze into the oats.  Once oats are at the desired consistency, remove from heat.  Put oats in to a bowl and add 1/2 cup of Greek Yogurt.  Don't mix it or it will lose its creaminess when it is heated through by the oats.  Add a generous tablespoon of jam (I used the Crofter's mentioned above).  Let cool for a few minutes before eating.
For the record, I haven't gone gluten-free, I just really like to try new things.  I really like these oats, which are a tiny bit more calorie dense, but not so much it really makes a difference.  These oats don't absorb the liquid quite like regular oats (rolled or steal cut), but I don't really mind that.  It absorbs just enough to not be glue-like and keep the consistency I love, even when you have to leave it on the stove top for a bit longer than usual.
The purchase of full fat Greek yogurt was a complete accident.  I picked up a brand I had never tried but was on sale at Earthfare.  It was a great mistake.  The full fat version is just so delicious.  I am willing to give up eating as much to truly enjoy it and all of its yuminess.
The Crofters spread is new for me as well.  After reading about Kath's experience enjoying it, I knew I had to try it when I spotted it at Earthfare last week.  I looked at all the continental varieties and recognized the least fruit in the Asia version, so I decided to give it a try.  Who could say no to yumberries?
This turned out to be a perfect balance of protein and carbs.  My run was fabulous totaling 6.57 miles in one hour and 59 seconds.
I always feel so great after exercising, but often have unrealistic goals based on what is really healthy or my actual fitness level.  Sometimes I say to myself, "What if I try to run 10 miles tomorrow even though I haven't really ran over 6 miles in several months" or like I also said before, "I'm unhappy with how often I'm exercising so I'm going to exercise every single day next week."
I'm going to jump on the "asking your readers questions" bandwagon….
Do you ever set goals that are "all or nothing" type goals like I do?  Do you feel the need to overcompensate for lack of exercise  by having unrealistic exercising goals?
Happy weekend!