…as of late.
I have been on a serious egg kick lately.  Every type of egg-based meal sounds delicious to me.  After having day dreams about the Smoked Salmon Eggs Benedict I had at Crepe Cellar for brunch several weeks ago, I knew I must fulfill my craving in my own way.  Side note: if you are a Charlottean, you must must must go to Crepe Cellar for brunch and dinner at some point.  Their menu is well-thought out and simply delicious.  Plus I love how cozy their space feels.
With it being too early for natural light and me being too impatient for our energy-efficient light bulbs to fully illuminate, you are left with a sub par photo.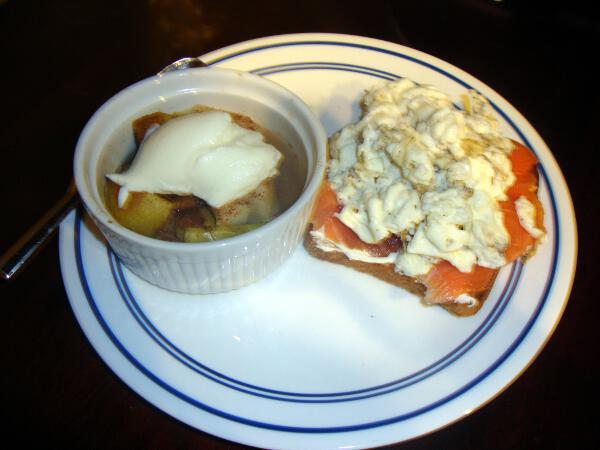 But the meal itself was definitely on par.  (I'm sorry, with Tiger Woods being at the Quail Hollow Championship, I think I've heard "on par", "over par", and "sub par" at least 1,000 times in the past week.)
I toasted an piece of Ezekiel bread, then smeared it with about a 1 – 1 1/2 Tbsp. of Tofutti better than cream cheese.  I topped that with some smoked salmon.  I topped it with three scrambled egg whites + salt and pepper.  On the sides was a small pear I chopped, sprinkled with nutmeg and cinnamon and nuked until mushy.  I topped it with a generous dollop of plain yogurt.
This is definitely my favorite breakfast for the time being and I don't see it going away anytime soon.  Usually when I find a "favorite", I eat it everyday until I can only stand it from time to time.  Smoked salmon is expensive enough that I think this will not happen.  So for now, this is my breakfast of champions.