Seriously, I blinked and it's time to go to bed.
My workout tonight was about 1/2 of what I planned.  I groaned and sweated through 30 Day Shred Level 3 then headed outside for a quick 3 mile run.  That's when it started raining.  I headed back up in the elevator, planning to hit the treadmill.  But this seemed really unappealing and I totally lost motivation.
Brad came home and hit the treadmill while I put together a meal.  I was determined to cook tonight so this took precedence over my exercising.  Hey, at least I got in a bit of activity.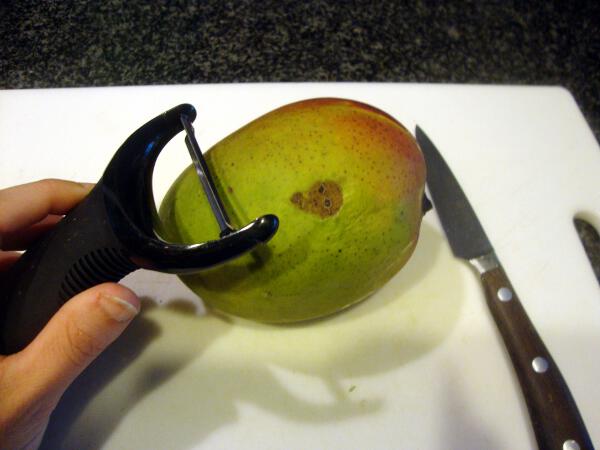 Dinner preparations began with this mango I had been waiting to ripen.  It was perfect, just slightly soft when pressed with my fingers.  My mom admitted to me the other day that she wasn't quite sure how to cut up a mango, so maybe other people need a little tutorial also.
I first peel the mango with my veggie peeler, but a knife would work fine too.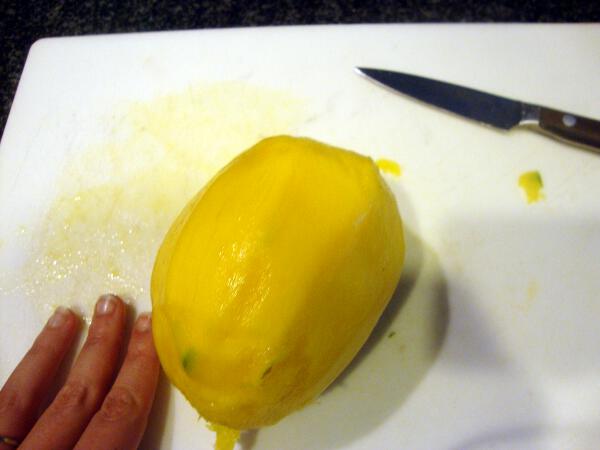 Once it is completely peeled like so….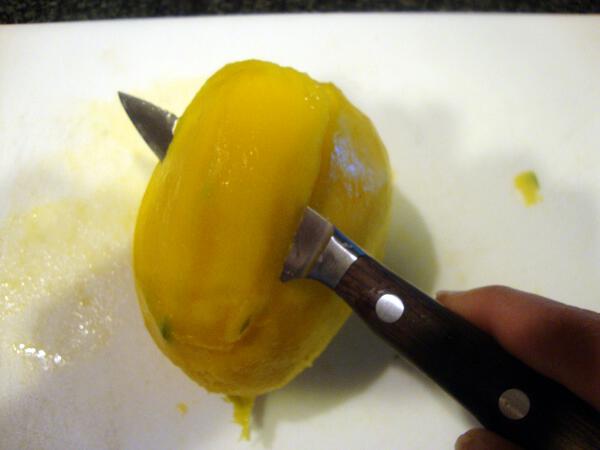 Slice off small chunks of the mango.  Go completely around the mango slicing off as much as you can.  The center is tough and tastes similarly to pine, so you don't want to eat that part anyway.
If your mango is nice and ripe, you'll cut off a good bit of the flesh.  See the big chunk on the right top corner of my cutting board?  That's the center core.  Throw it away.  You don't want to eat it.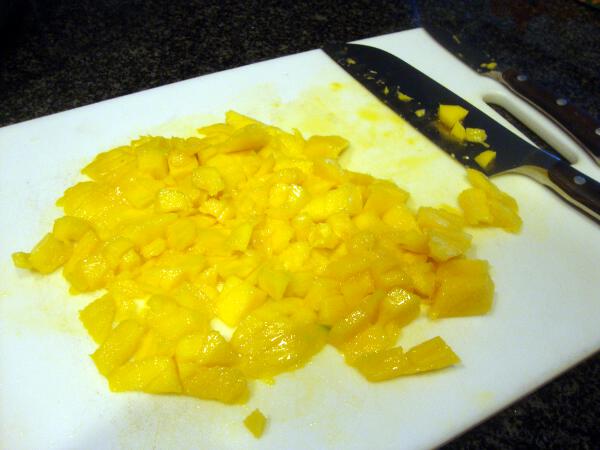 I used a large knife to chop the mango slices into cubes.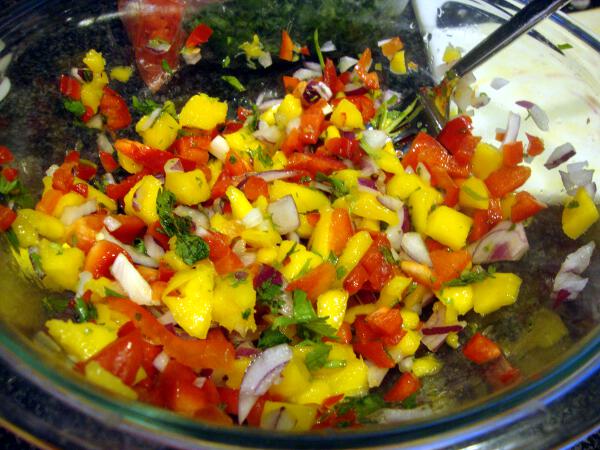 I then put the mango in a bowl and added:
1/2 chopped medium sized red onion
1 big handful of red bell pepper (2/3 cup?)
small handful of chopped cilantro (1/4 cup?)
about 1/4 cup of lemon juice (sorry guys I never measure this stuff, I just do it to taste)
salt to taste
The longer this marinates, the better it is.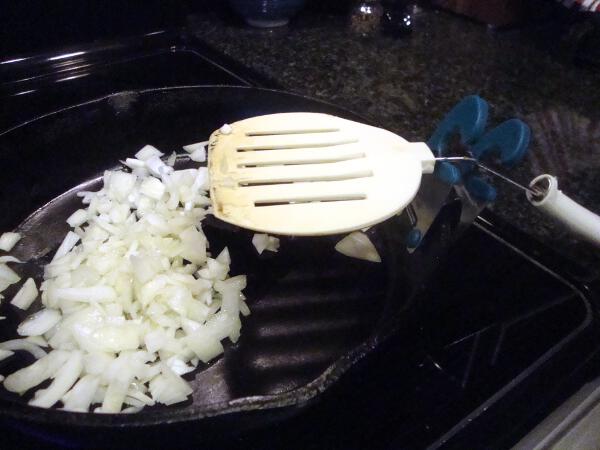 Next up on the dinner menu was Wally's Squish Squash.  Brad's dad Wally made this on my first trip out to meet his parents and I liked it so much I asked him how to make it and then named it myself.
Chop 1/2 white or yellow onion and saute in  1/2 Tbsp. of olive oil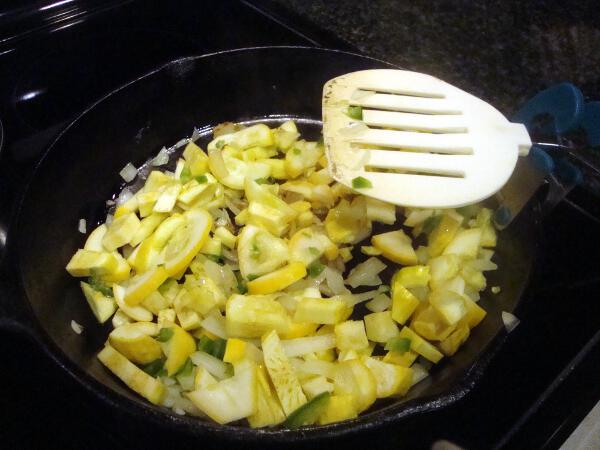 Slice, then roughly chop 2 squash (1 squash per person)
De-seed and remove the membranes from half of a jalapeno, chop and add squash and jalapeno to skillet, once onion has softened.
Saute until onions have carmelized and the squash has cooked completely.  The mixture will reduce in size by about half once it is fully cooked.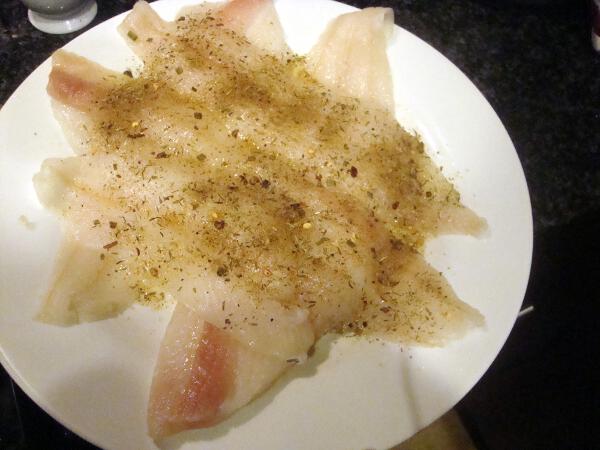 Lastly, I generously sprinkled jerk seasoning and salt on Denver Sole and sauteed in olive oil (I used my Misto), until beginning to brown.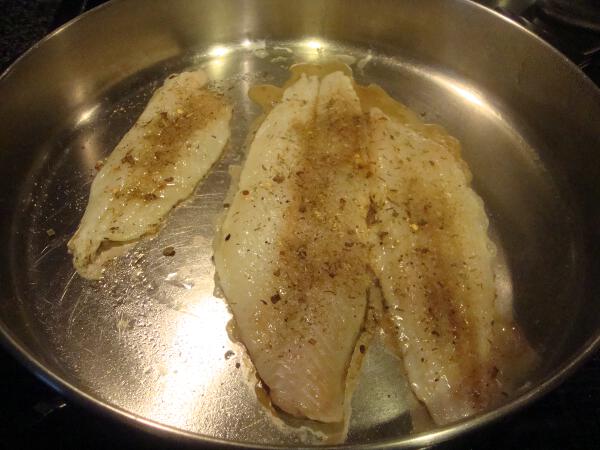 Top fish with generous amounts of mango salsa and serve with Wally's Squish Squash.  🙂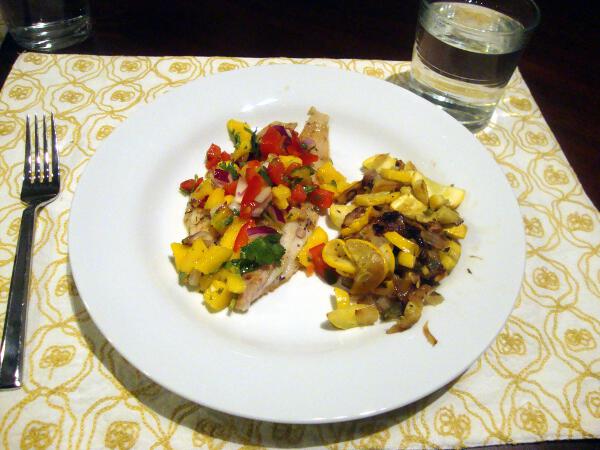 There's a lot of yellow going on in this photo.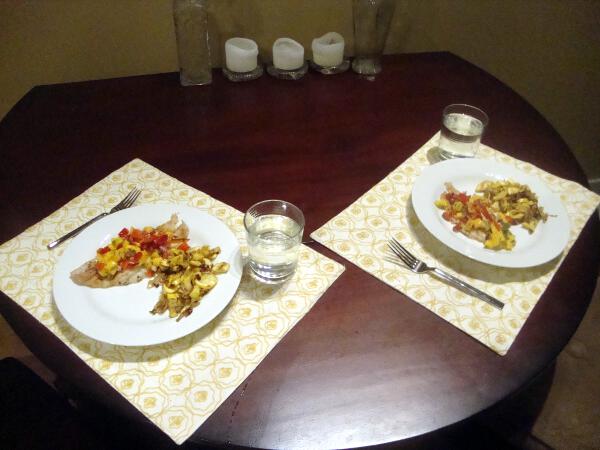 Dinner for two at a semi-circle table.
This girl is off to bed.  I'm determined to get in a quick run in the a.m.  Sweet dreams!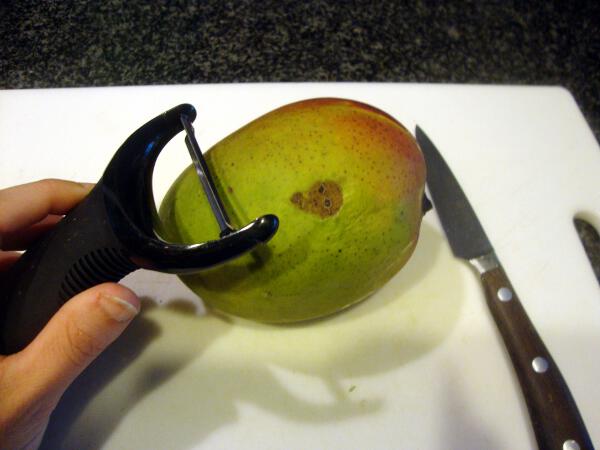 Ingredients
Directions