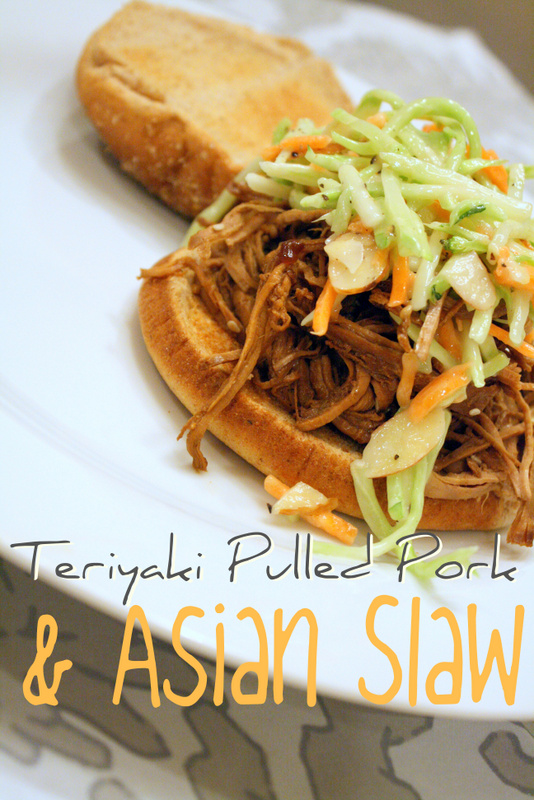 You know me.
I love me some pulled pork. It's the house special at my grandparents'.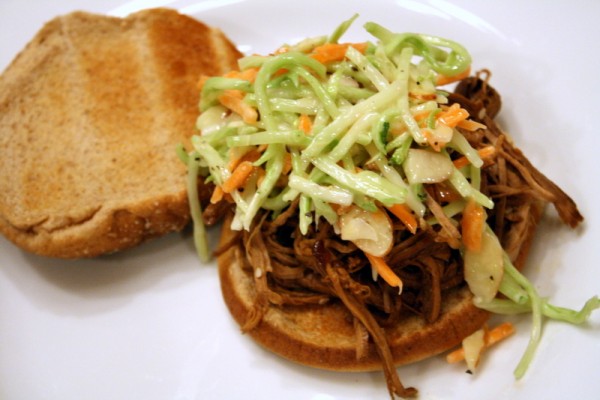 But I also love more exotic dishes, especially Asian food.
And although my roots make me more of an expert in one versus the other, whose to say I can't enjoy them both…?
…at the same time.
It's east meets west.
Southern meets Asian.
Sweet and nutty pulled pork meets creamy cold Asian slaw.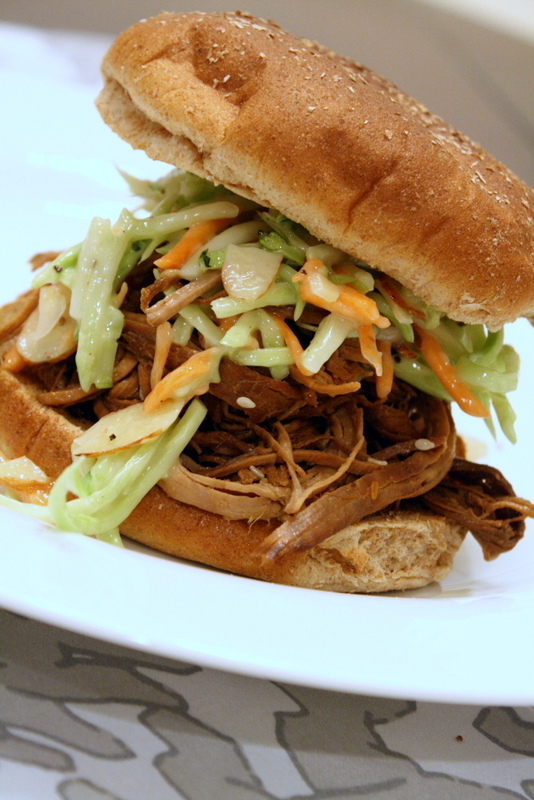 It's like when a southern girly girl with some raw talent for cooking meets a traveling IT consultant with love for eating.
It just works. Ya feel me?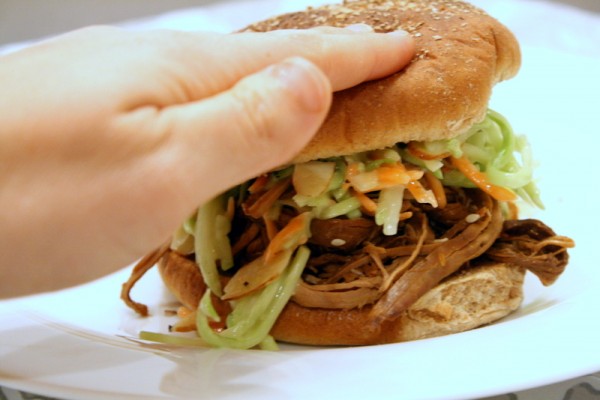 Grab a napkin for this one.  You're going to need it.
Teriyaki Sesame Pulled Pork with Asian Slaw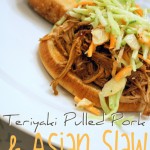 (

Serves 4

)
Sweet and tangy teriyaki pulled pork meets cold and creamy slaw with a definitive sesame flavor.
Ingredients
Pulled Pork:
1 pound pork tenderlion
1/2 cup reduced sodium soy sauce
2 garlic cloves
3 Tablespoons rice wine vinegar
2 Tablespoons brown sugar
1 Tablespoon honey
1 teaspoon toasted sesame oil
1/2 teaspoon ground ginger
1/4 teaspoon sea salt (omit if using regular soy sauce)
3 teaspoon sesame seeds
Asian Slaw:
6 oz. broccoli slaw
1 oz. slivered almonds
3 Tablespoons mayonnaise
3 Tablespoons rice wine vinegar
1 teaspoon toasted sesame oil
1/4 teaspoon salt
fresh ground pepper to taste
Directions
Pulled Pork:
Turn crock-pot on and set to low. Place tenderloin in the crock-pot. In a medium sized bowl, combine soy sauce, garlic, sugar, honey, oil, ginger, and salt, stirring well. Pour mixture over tenderloin.
Place lid over the crock-pot and allow tenderloin to cook for at least four hours, turning once after two hours. After four hours of cooking, shred the tenderloin using two forks to pull apart the meat into pieces that are 2-3 inches long.
Allow pork to cook at least one additional hour, but up to four additional hours. If pork is done before you are ready to serve it, turn the crock-pot to the buffet setting until you are ready to serve. Just before serving, add the sesame seeds and stir well to distribute them throughout the pork.
Asian Slaw:
In a large bowl, combine all ingredients stirring well. Allow to set for at least an hour to allow flavors to combine.
Notes:
Broccoli slaw is almost always available in 12 oz. bags at Trader Joe's, but may be found at other grocery stores as well. You can substitute cabbage if you can't find brocoli slaw.
This recipe is easily made gluten-free by using gluten-free buns.