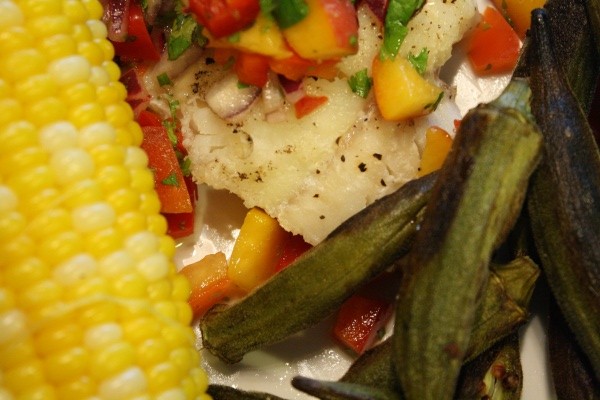 Last night's dinner was such a colorful array of delicious summer food.
We may be three days from summer solstice, but summer comes to North Carolina in May.  I've been referring to the present as summertime for over a month now.  "Summer" is a state of mind. 🙂
One of the things I think I'm pretty good at doing in the kitchen is figuring out a well-balanced, healthy meal with the things we have on hand.
When Brad and I decided we wanted to go see a movie at 8 pm, I whipped this right up in 30 minutes flat.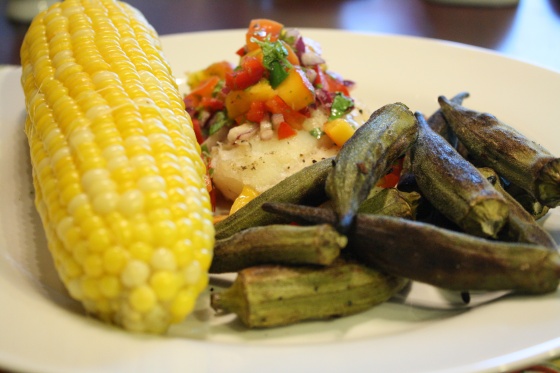 Cod with Peach Salsa (serves 2)
2 cod filets (4-6 oz. each)
1 tsp. extra virgin olive oil
salt and pepper
For the salsa:
1 medium ripe peach (about 3 1/2 in in diameter)
1/3 cup chopped red onion
1/3 cup chopped red bell pepper
1/4 cup chopped fresh cilantro
juice of 1 lime
sea salt to taste (~1/4 tsp)
Add the contents of the salsa to a bowl and stir well to mix all the ingredients together.  Salsa can be made ahead of time and will taste better if made a day to several hours prior to eating.
Sprinkle cod with salt and pepper and saute on medium high heat in the oil until browned on both sides.
I served the cod and salsa with corn on the cob, which I boiled, and roasted okra, which I love.  I never thought I would ever like okra, but that was only because I had never had it roasted.
Simple Roasted Okra
Okra (as much as you want)
sea salt
red pepper flakes
extra virgin olive oil
Lightly oil a pan or spray it with a Misto.  Put okra on the pan making sure none of it overlaps.  Sprinkle with sea salt and red pepper flakes.  Cook on 425 degrees F for about 15-20 minutes.  Turn oven on broil and increase temperature to 500 degrees F and cook for an additional 5 minutes.
Watch the okra so it doesn't burn; it may need less time than five minutes.  Dark brown is okay or even a few black marks, but you do not want completely charred okra.
Okra became one of my favorite vegetables last summer and I've been waiting with anticipation for okra season to begin again. It is a great source of Vitamin K, Vitamin C, and Manganese.  It is also a good source of dietary fiber and folates.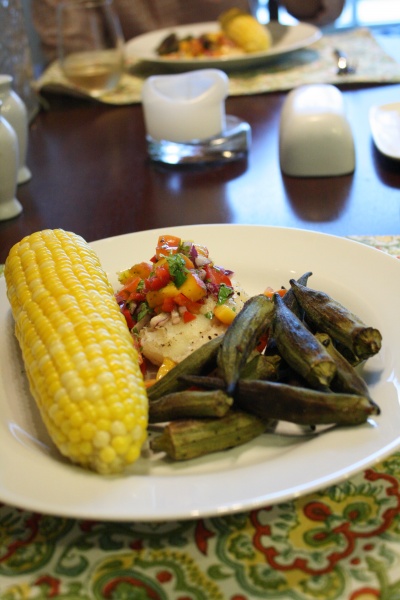 I really enjoyed this fresh and delicious meal, especially after I added a pat of real butter, salt and pepper to my corn.  Fresh corn on the cob is one of my favorite things about summer.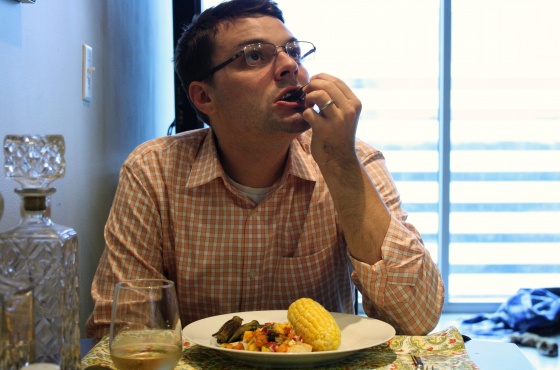 This is Brad showing how much he loves roasted okra too.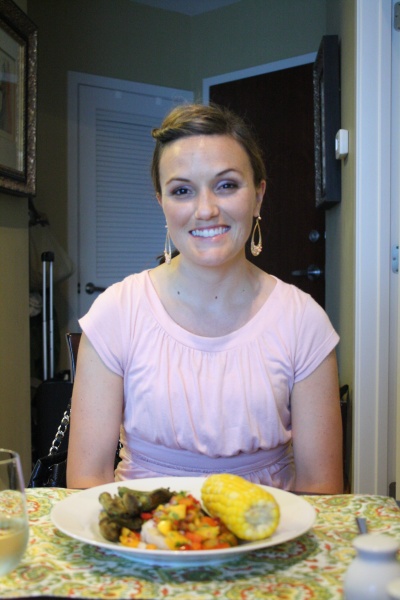 Don't worry, I'm not giving you the stink eye. That's just the way I look. 😉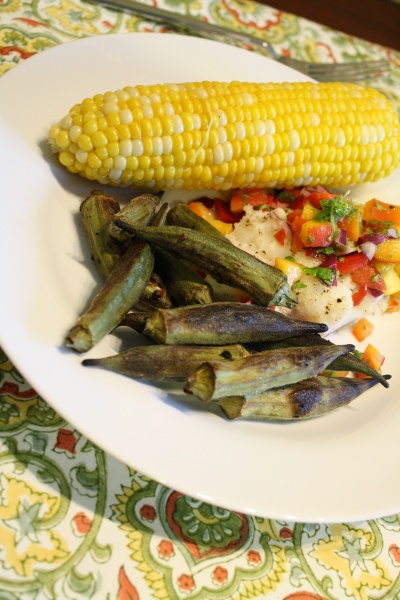 After enjoying this meal, Brad and I headed off to the movies to see The Tree of Life.  Brad ordered peanut M&M's and I didn't have even one (I type as I reach around and pat myself on the back).
Our thoughts on the movie:
– I left thinking "Who are the critics who gave this movie a good rating?"
– Brad's initial thoughts were, "I thought that movie would never end!"
– The guy who left the theater beside us said, "I want my two hours back!"
We tried to exit through a locked door and when the door wouldn't open, we cried out, "Oh no, they're going to make us watch it again!"
The moral of the story is: don't go see The Tree of Life.  It's a yawn fest.
Unless, you've already seen it and loved it, then let's agree to disagree.
We ended the night by enjoying a drink at a trendy Italian restaurant with a terrace that has a beautiful view of the Charlotte skyline.
What's your favorite summer vegetable?  See any good movies lately or any ridiculously bad ones?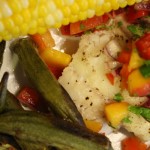 Ingredients
Directions