Rascal may not be a social butterfly, but Brad and I definitely are!    Brad and I love to have people over and I love to cook for others as well.  We typically have people over all the time, but wedding preparations have kept us pretty busy in the past few months.  Our first weekend back was a great excuse to have a little get-together.
After the going-away brunch for Emily and Casey (they're moving to D.C. which I didn't mention before) I rushed off to do some grocery shopping in preparation.  I went to Earth Fare, TJ's, and the King's Street farmer's market.  Yes, I went to three different places for groceries.  I not-s0-secretly love grocery shopping, but didn't get to leisurely shop because I was in a hurry to get home and get cooking.
My first contribution to the spread was a recipe I though-up that morning: Savory Mushroom Tarts.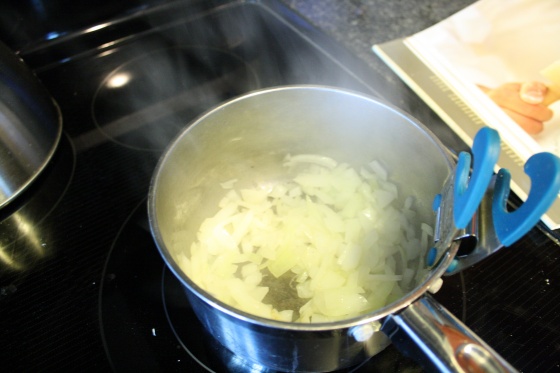 First, sauté 1/2 a vidalia onion in two tsp. of EVOO until they are starting to brown.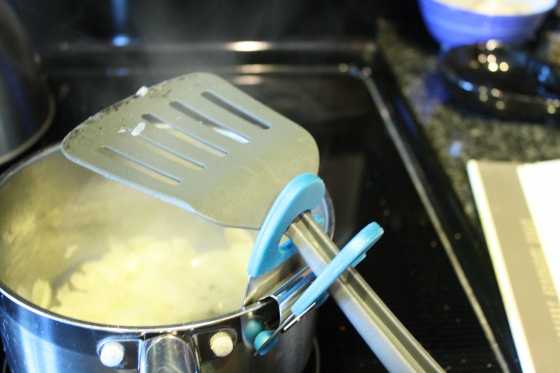 See my spatula holder?  I love this little contraption!
Then, pour in one bottle of brown ale (minus one taste)..  I used Bad Penny and let it come to room temperature before using.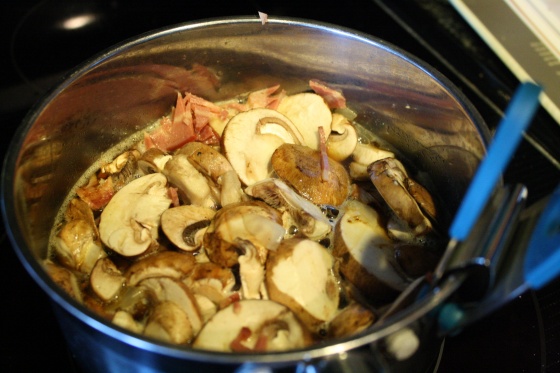 Add one pint of sliced baby portabello mushrooms and three slices of finely chopped uncured turkey bacon.  Boil and boil until the mushrooms have completely absorbed all of the liquid, which takes about 30 minutes.  Stir occasionally.
While, mushrooms are stewing, make whole wheat pie crust. In food processor, combine 1 1/4 cup of whole wheat flour (I used King Arthur's) and 8 Tbsp. of cold butter.  Pulse several times until butter resembles pellets in the course mixture.  Add three tablespoons of ice water and pulse several more times.  Slowly add more ice water, a tablespoon at a time, pulsing 2-3 times after each tablespoon, until mixture forms a dough.
Remove dough, form into a ball, and wrap in plastic wrap.  Put in the freezer for 15 minutes.  Remove and allow the dough to warm (about 10 minutes).  I worked the dough a bit while it was wrapped with the plastic with my hands to hurry along the process.
Take dough out of plastic wrap and put on a large sheet of wax paper.  Place plastic wrap over the dough and use rolling pin to roll it out.  Use a medium-sized biscuit cutter or round cookie cutter (~3 inch diameter) to cut into circles.  Grease a mini muffin tin (I used olive oil in the Misto).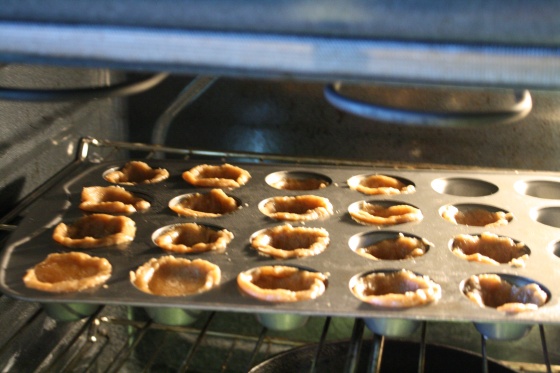 Place circles in muffin tin and press until they fill each hole. My dough only filled 19 muffin holes.  Bake on 400 degrees F for about 20 minutes or until the tart crusts are no longer doughy, but crispy to the touch.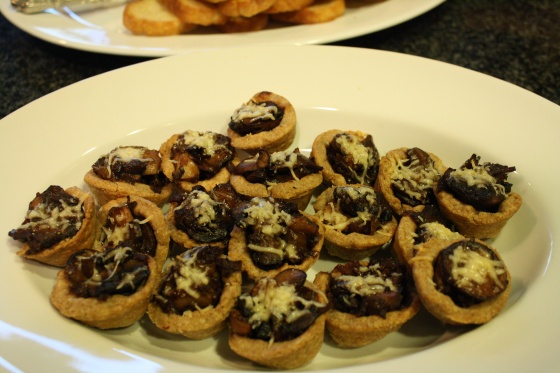 Remove tart crusts from pan and fill each with the mushroom mixture.  You should have just enough.  Top with a bit of finely grated parmesan cheese (less than 1/4 cup total) and place on baking sheet.  Cook for another five minutes.  Serve immediately.
I kept my warm in the oven on 200 degrees F until my guests arrived.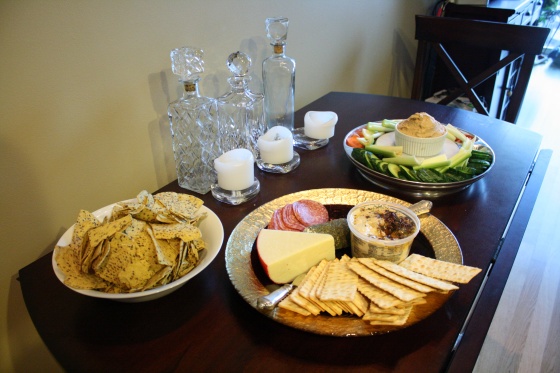 Josie brought a major contribution to the spread: TJ's flaxseed tortilla chips, crackers, salami, TJ's white bean dip, fontina cheese and goat cheese.  Yum!
I also put out crudités, which is just a fancy word for veggies and dip.  The dip was roasted garlic hummus, which I made very much like my traditional hummus, except for a few exceptions.
Into the food processor went…
1 can of drained chickpeas (reserve liquid)
4 large cloves of roasted garlic (I drizzled olive oil over these and roasted them on a baking sheet at 400 degrees F until golden brown)
3 Tbsp. lemon juice
2 Tbsp. tahini
3 Tbsp. EVOO
3 Tbsp. reserved liquid from the chickpeas
1/2 tsp. salt
Katie brought dark chocolate covered edamame, of which I definitely ate my fair share.  I didn't have dinner in my rush to get everything ready, so I made a meal out of all of the appetizers.
Besides, Rascal, who always hams it up for guests, the real hit of the night was the sundried tomato, goat cheese, and pesto torta served with crostini.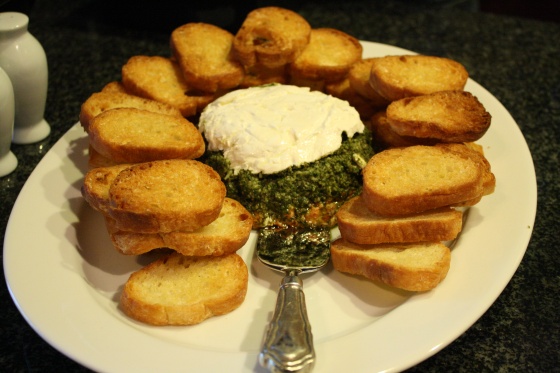 The flavor combinations were so good.  I swore in Italy that I was going to go back to the US and make pesto like an Italian nonna and this was my opportunity.  The recipe came from the Bride and Groom First and Forever Cookbook, which I received as a wedding gift from my friend Chloe.  I basically followed the recipe exactly, except I didn't mortgage our condo for pine nuts and opted to make the pesto with walnuts instead.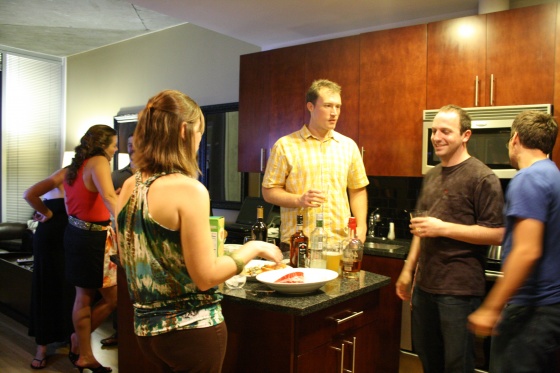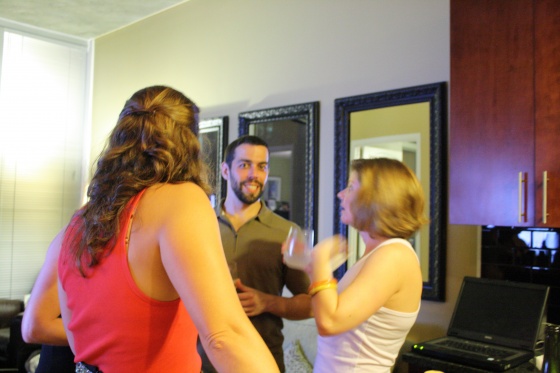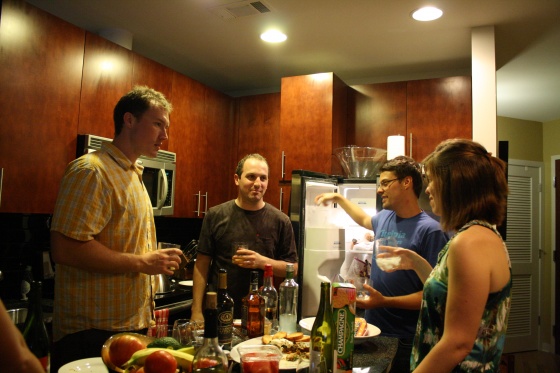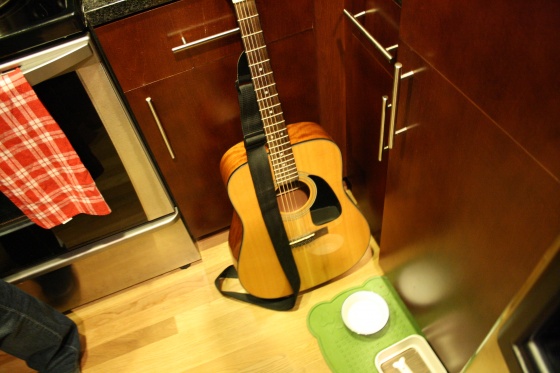 My favorite part of the night was when Jamie got out Brad's guitar (which neither of us know how to play) and we all sang along to an acoustic version of Weezer's Say It Ain't So.  Our neighbors hate us, I'm sure.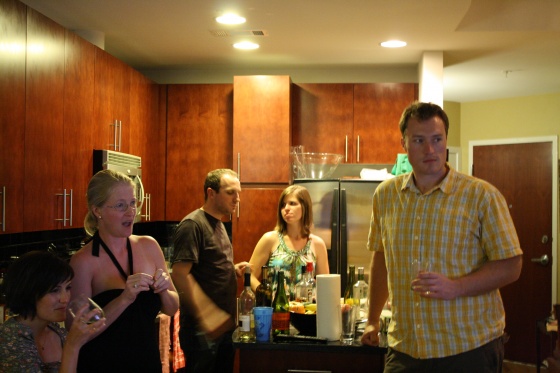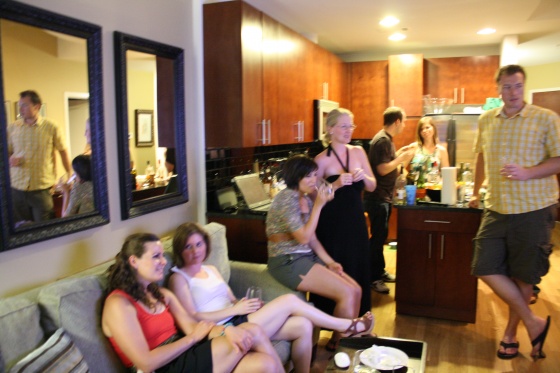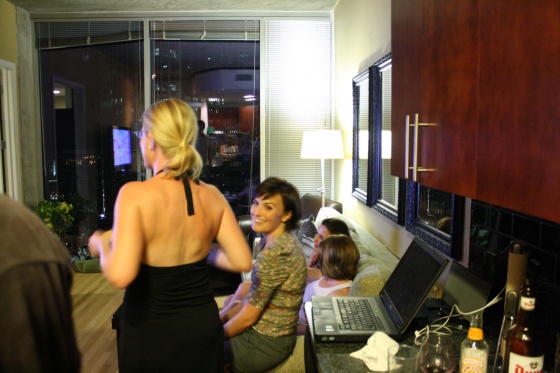 Our guests left a bit after midnight.  Hey!  We're getting older, we can't hang like we used to.
Hope everyone is having a nice weekend!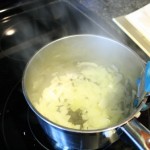 Ingredients
Directions