= a perfect Saturday
I spent yesterday afternoon hanging out at grocery stores. 🙂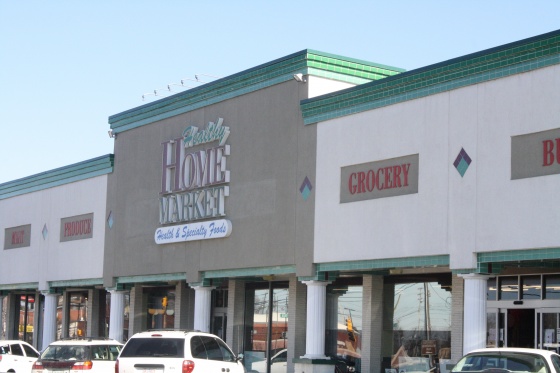 The local health food grocery store, Healthy Home Market, had their annual wine and food tasting.  I met a couple of friends there to sample and hang out.
I talked to the owner of Hearth Strings Foods for a while about their transition from using high fructose corn syrup to a non-fructose corn syrup.  You can purchase their baked goods at several places throughout Charlotte, including Dilworth Coffee and of course, Healthy Home Market.  Also, they're currently giving away free granola on their website.  All that's required is payment for shipping and handling.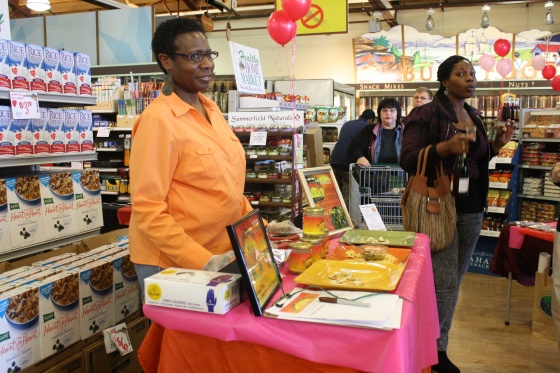 There were a lot of tasty samples, but I took it easy since I had just come from lunch.
These fish cakes reminded me of conch fritters I ate in Key West.  Except these were served by a very nice lady named Sadie who makes the fish cakes, not some salty man with a beard and a deep fryer on a pier.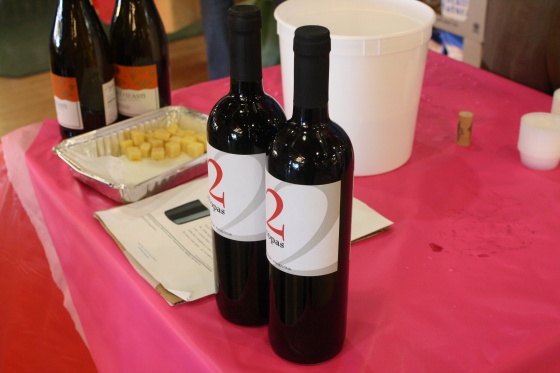 Then there was wine.  I bought a bottle of organic red wine from Sicily that was only $5.49.  What a steal!
After doing a little socializing and a little shopping, I headed over to Trader Joe's for the basics.  When I returned home, I got to work on a little project I'm working on for SavorNC, which is a statewide online magazine.  It involves cereal and no boxes were involved. 😉 Sorry to be cryptic, but I'll share more later this week when it publishes.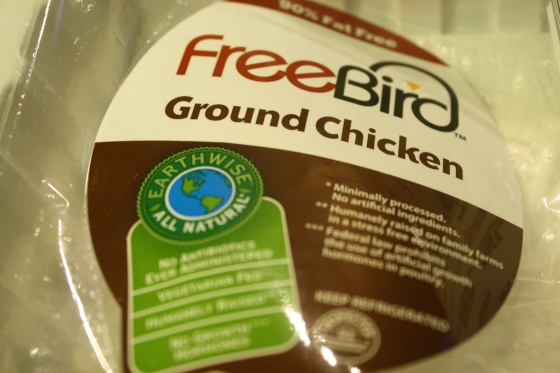 After my baking experiments, I decided to use this ground chicken I picked up from the Healthy Home Market.  The original plan was to make sloppy Joes, but instead I made…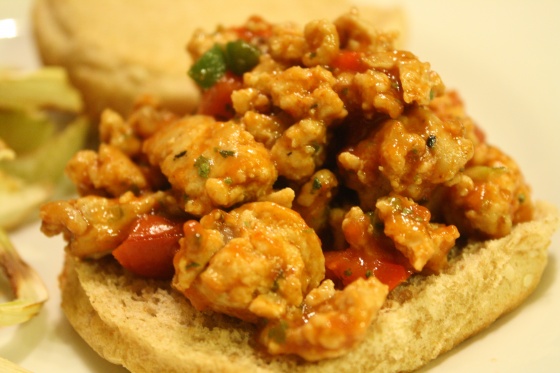 Sloppy Josés!
Sloppy Josés (serves 4-5)
1.2-1.25 pounds of ground chicken (I used 90/10)
1/2 chopped red bell pepper
1/2 chopped small yellow onion
1 de-seeded and finely chopped jalapeno
Sauce:
1/3 cup organic ketchup
1/3 cup organic salsa
1 tsp. prepared mustard
1 tsp. apple cider vinegar
1 Tbsp. demerara sugar (natural brown sugar)
1 tsp. dried cilantro
1/2 tsp. cayenne powder*
1/2 tsp. sea salt
In a pan, brown chicken, onion, and peppers until chicken is cooked thoroughly (you don't need oil if your chicken has a little fat like mine did).  In a bowl, combine sauce ingredients and mix well.  Once chicken is cooked through, add sauce to pan and stir until chicken is thoroughly covered.
Serve on whole wheat hamburger buns.
*Brad and I like spicy foods, but if you don't, you might want to try starting with 1/4 tsp. of cayenne.  Taste the sauce to see if it's adequately spicy or if you can handle a little more.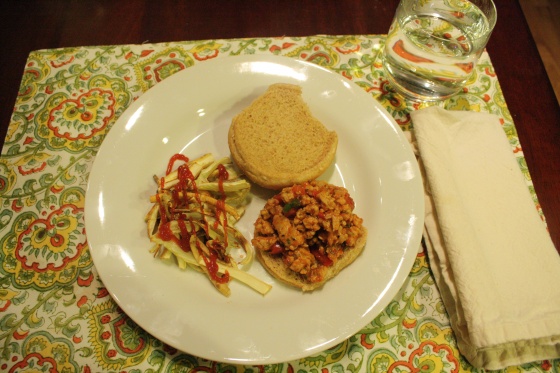 I served our Sloppy Josés with roasted parsnips and fennel bulb.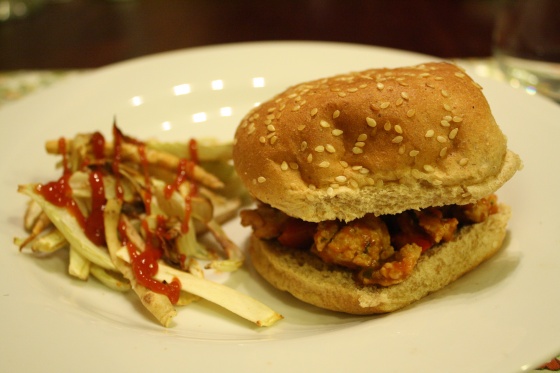 Of course, ketchup as involved.  It's possible that I have eaten ketchup every night this week.  Clearly I need an intervention.
Brad and I had planned to stay in, but changed our minds we were invited over to our friends' house.  Brad continued to work on a project  with our friend John and I played Just Dance on the Wii with my friends Krissy and Megan.  It was a lot of fun!
Between the Wii and Turbo Kick yesterday, I did more dancing than a Saturday night in college. 🙂
Ingredients
Directions