Catching up from the weekend? Here's what you missed!
– Summer is a State of Mind
– Sugar Detox Day 1
– Update on Kitchen Renovations This one was a long time coming
– My Foodie Friends
– Sugar Detox Day 2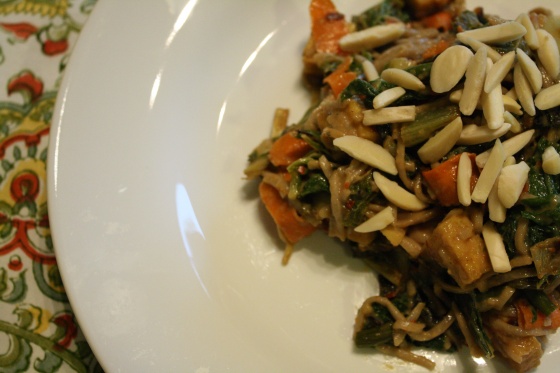 Last night's dinner was 1/3 love (all food needs a little love), 1/3 creativity, and 1/3 attempt to use up all my CSA greens all at one time.
It was another one of those recipes that Brad calls "a keeper".  That means, "Make this again!"
For me, making the same meal, is almost like painting the same picture.  I like to taste the same food, but making it again requires following a recipe, at which I do not excel.  I'm much better at throwing things in a pan, bowl, or pot and creating something brand spanking new.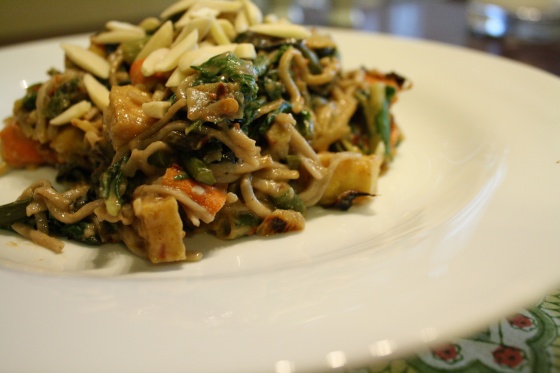 But this. This was pretty incredible. And did I mention I used all of the CSA greens left in my fridge?
Peanut Tofu Noodle with Greens (serves 2-3)
1 package of tofu
1/2 cup uncooked organic soba noodles
4 cups of greens* (I used 3 cups Napa cabbage and 1 cup bok choy)
1 carrot, cut into ribbons with vegetable peeler
3 green onions
1/4 cup garlic scapes, chopped roughly**
3 Tbsp. almond slivers
1/4 tsp. salt
1 tsp. extra virgin olive oil
Peanut Sauce:
3 Tbsp. peanut butter
2 Tbsp. soy sauce
3 Tbsp. red wine vinegar
2 1/2 tsp. crushed red pepper
Drain and press tofu for at least 15 minutes.  Cube, sprinkle with salt,  and bake on an oiled pan at 425 degrees F for 20 minutes.  Turn off heat when done and allow to sit in the oven until dinner is fully prepared (this dehydrates them further making them crispy, rather than mushy).
Cook soba noodles in water according to package directions.  Meanwhile, chop the white part and half of the green part of the green onions.  Add to a pan with olive oil on medium high heat.  Clean and chop the greens as well as the garlic scapes.  Once the onion begins to soften, add the greens and garlic scapes.  When greens are completely wilted, add carrot ribbons.  Toss and allow to cook for two more minutes.
Whisk together all of the ingredients for the peanut sauce.  Drain noodles, but save a few tablespoons of the liquid.  In a large bowl combine noodles, tofu, vegetables tossing well with the 1/4 tsp. of salt.  Pour peanut sauce over the noodle mixture and toss again to coat well.
Plate and top with a tablespoon of almonds each.
*Other greens that would go well in this dish: spinach, tat soi, chard, kale.
**If you do not have garlic scapes, use two cloves of minced garlic.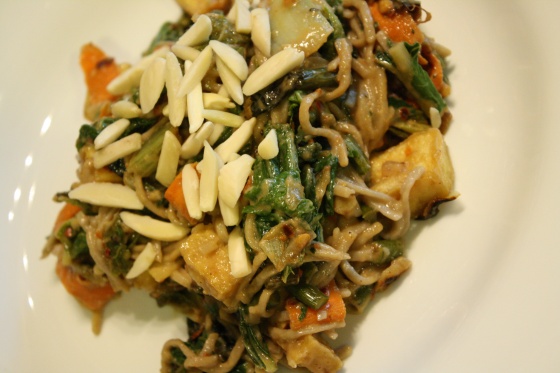 This was so delicious.  I can't wait to eat the leftovers for lunch…not that there is an entire whole serving left.
I love meals that make even better leftovers and I have feeling this is going to be one of those.
What's your favorite meal to eat again as leftovers?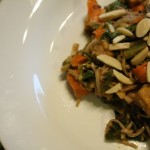 Ingredients
Directions