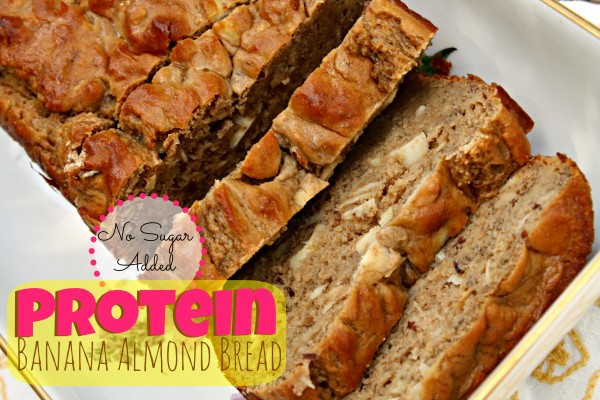 One of the recommendations of the Bradley Method (a childbirth method focusing on natural childbirth and husband-coaching) is getting 100 grams of protein a day. And while this isn't really difficult to do if I really try, it can become difficult if I actually eat what I want.
While I do crave meat once in a while, carbs are my best friend. I love cereal, waffles, pancakes, toast, and I'm completely in love with biscuits. So sometimes I wake up in the morning and I just don't want eggs or Greek yogurt.  I want something carby.
So one of the ways I make meeting this challenge easier while still indulging in my yummy carbs is by baking with protein powder.
Baking with protein powder can be tricky. I've made things that look beautiful, but taste awful. With some practice I've came to the conclusion that when protein powder, it's best to use a lot of moisture, which is why a few super ripe bananas are perfect for this recipe.They make this breakfast bread moist, flavorful, and sweetens it naturally without the use of added sugar.
Choosing the right protein powder is key when baking or making smoothies.  For this particular recipe, I used ViSalus, which is a blend of whey protein concentrate, whey protein hydrolysate and soy protein isolate and it is intended to be used as a nutritional shake for weight loss.  The sweet cream flavor which I used worked really well in this recipe and also tastes great in a shake with frozen fruit.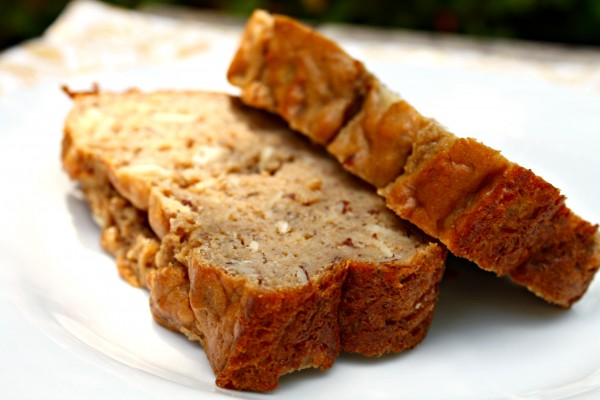 No Sugar Added Protein Banana Bread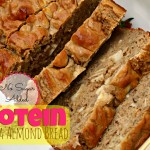 (

Serves 8-10

)
Ingredients
1 cup whole wheat pastry flour
3/4 teaspoon baking powder
1 teaspoon baking soda
1/4 cup ViSalus sweet cream whey protein powder
1/4 teaspoon salt
1/2 cup fat free plain Greek yogurt
2 eggs
1/2 cup milk
1/2 teaspoon almond extract
3 medium very ripe bananas (7-8 inches)
1/2 cup slivered almonds
Directions
Mix dry ingredients together in a medium sized mixing bowl: flour, baking powder and soda, protein powder, and salt. Add Greek yogurt, eggs, milk, and almond extract, stirring well. Add bananas, mashing with a fork and mixing throughout the batter. Add almonds and stir throughout to combine. Spray a loaf pan with non-stick spray and pour batter into the pan.
Cook on 350 degrees for 40 minutes or until a knife inserted into the center of the loaf comes out clean.
ViSalus provided me with their product to develop