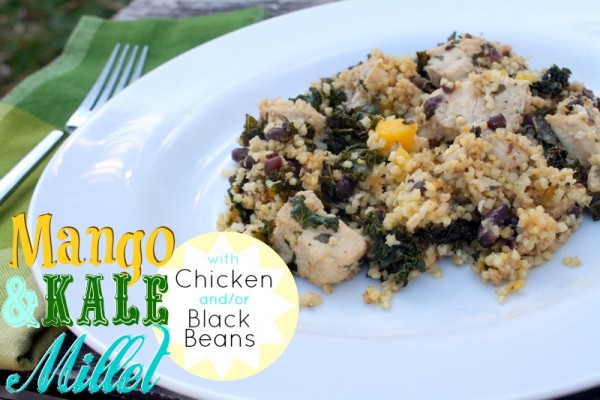 Recently, Brad asked if I could create a new tag for his favorite recipes that I make.  When I ask him (almost weekly) what he would most like for me to make in the upcoming week, he has a difficult time recalling the things that I make that he likes best.
So now he can find them tagged under "Brad's Favorites".  But I've also created a category named "Husband Approved" to help all of you who are looking for healthy options that my husband has approved, and hopefully your man/significant other/carnivorous dinner guest will too. Two different ways for you to easily find the same thing.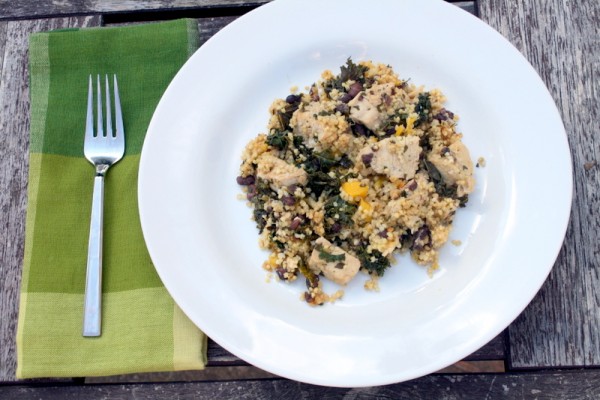 No one was more surprised than I when Brad said that he wanted this recipe to be tagged as one of his favorites.  Don't get me wrong, Brad likes healthy stuff, but sometimes the super healthy dishes just aren't his thing.
And this dish is super healthy.
It's full of millet, steamed kale, sweet mango, black beans, lime juice, cumin, and some chicken breast, so it also happens to be gluten-free if that's your thing.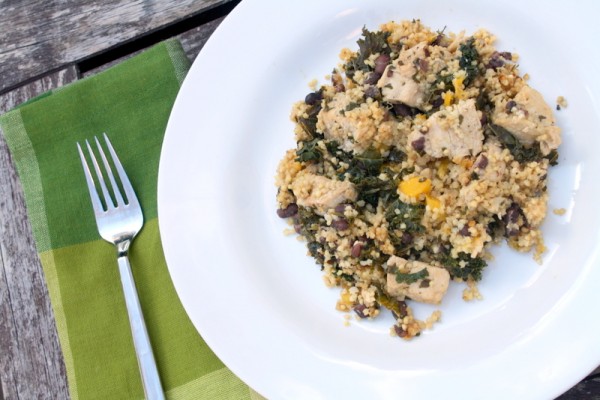 I was even more shocked — like fall-off-my chair shocked — when Brad said that the recipe didn't even need the chicken.  My husband who likes some vegetarian options, but prefers meat 99.9% of the time told me that meat was superfluous in a dish.
I completely agreed, as I got up off the ground from falling out of my chair. The addition of chicken was to make it more palatable to his manly taste buds, but completely unnecessary.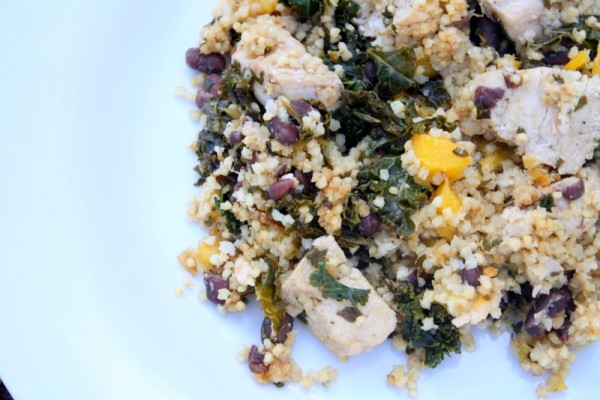 So feel free to omit the chicken completely and rely on the healthy whole grain millet and black beans for your protein. Or add the chicken if you dinner guest/significant other is a die-hard carnivore.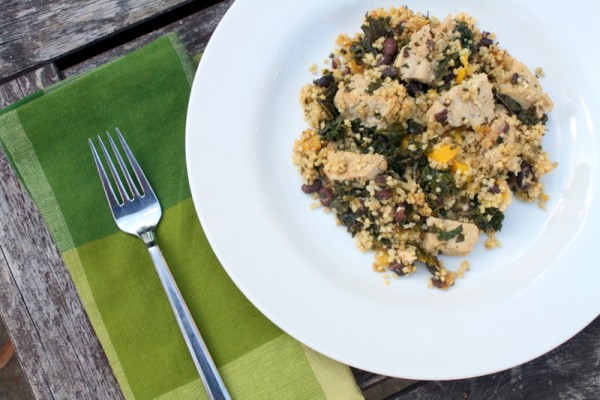 Mango and Kale Millet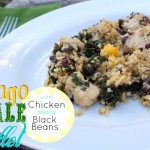 (

Serves 5-6

)
A hearty one dish meal perfect for vegetarians and carnivores a like.
Ingredients
1 cup millet
2 cups vegetable stock
3 cups kale, de-stemmed and chopped
1 mango, peeled and chopped
1 15 oz. can black beans, rinsed
1/2 cup cilantro, chopped
juice of 1/2 lime
1 teaspoon cumin
1/2 teaspoon sea salt (or more to taste)
Lime Chicken:
1 lb. boneless chicken breast
1 Tablespoon extra virgin olive oil.
1/2 teaspoon sea salt
fresh ground pepper
juice of 1/2 lime
Directions
Bring vegetable stock to a boil on the stove top. Add millet and lower heat to a simmer. Cook according to package directions or until millet is fluffy and has absorbed all of the stock.
Steam kale until tender or cook in microwave. Microwave directions: Place kale in a microwave-safe bowl, cover with what, and cover bowl with lid or a paper towel. Microwave kale for five minutes. Strain from water and chop again into smaller pieces.
Prepare chicken according to the directions below. Skip this step if making this dish vegan.
Add millet to the pan with the chicken (add to a large pan with non-stick spray or 1 teaspoon of olive oil if omitting chicken). Add kale, mango, beans, cilantro, lime juice, cumin, and sea salt. Stir well to combine allow to set for 5-10 minutes to allow flavors to combine before serving.
Lime Chicken Directions:
Prepare chicken by cutting chicken into bite size pieces. Warm olive oil in a large pan. Add chicken, salt, and pepper and saute until chicken is cooked thoroughly and no pink shows. Add lime juice, stir and cook for one additional minute.
Notes:
Check out my tutorial on how to cut a mango, if this is new to you.