While I'm hanging out with my in-laws this week, Brad is in and out of town traveling for work.  On Tuesday, my father-in-law had some business out of town as well, so my mother-in-law, Joy, and I took the opportunity to have a ladies' day out.
We drove down to the beach (Kitty Hawk is about 30 minutes away from their house) and popped into some thrift and consignment stores.  We didn't have a lot of luck, but I did find a glass dome for a  house plants.
Side note: My MIL taught me how to put glass domes over my plants to hold in their moisture.  It's pretty and you don't have to water them very often — kind of like a mini greenhouse.
I also saw some glass sconces that I wish I would have purchased.  They were only $2 a piece!  I couldn't picture what to do with them at the time, but after looking at fall decorations on Pinterest all morning, I'm kicking myself right about now for not buying them.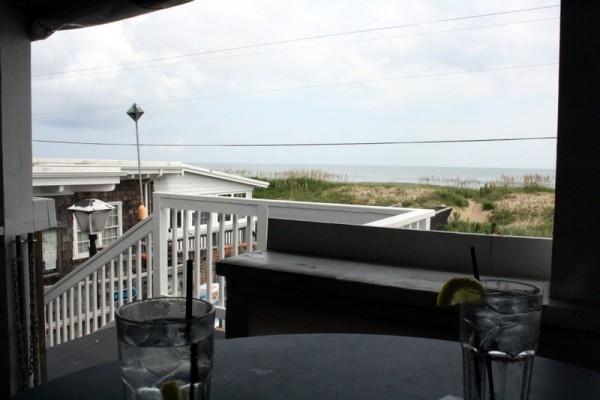 Around noon, we started to get hungry so we headed over to the Black Pelican for lunch and opted to eat outside on their covered deck.  We had a great view of the ocean, which is just across the street.
I've eaten here a few times and I really like their food and atmosphere.  It's super casual, but the menu has a great selection of seafood.
The last time I was here, Brad and I went to the beach for the day, but the weather turned nasty.  We had only spent about an hour on the beach so we didn't want to make the 30 minute drive back.  Instead, we went to Black Pelican for beer and oysters.  The perfect beachy snack.  It almost made up for the lack of sunshine.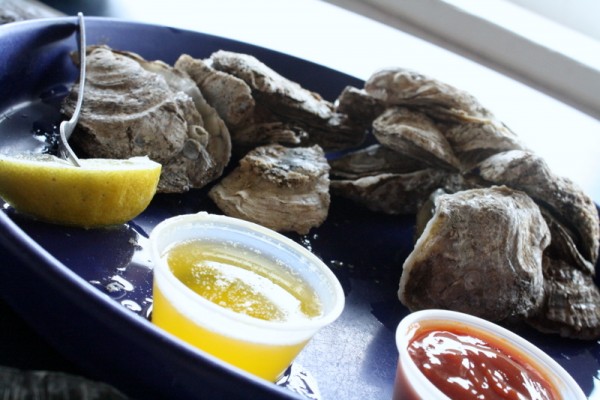 Speaking of oysters, Black Pelican's oysters are some of the best I've ever had.  They're local and humongous.  Joy and I split a half dozen.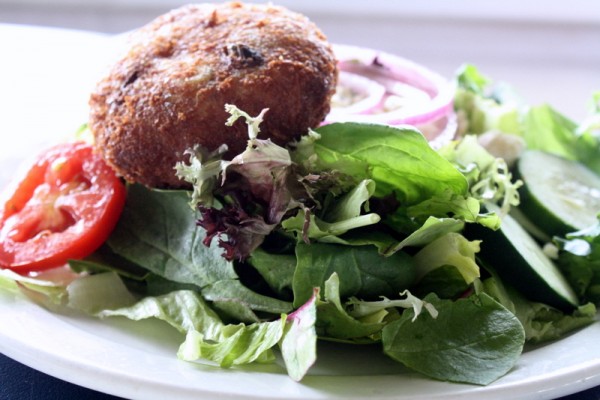 For lunch, Joy ordered the Greek salad which has tomatoes, cucumbers, red onion, feta cheese, pepperoncinis, and olives and comes with Greek dressing. She topped hers with a crab cake.
I didn't try it, but asked her about the crab cake.  I must preface her response by saying that Joy makes the best crab cakes I've ever had.  They're chock full of crab meat and they're not deep fried, but sauteed in olive oil.  Did I mention they're the size of quarter pounder hamburgers?
So anyway, when I asked her how the crab cake was, she thought it was very good.  She prefers her sauteed version but noted that their crab cakes have big chunks of crab meat.  My biggest issue with most restaurants is that they go cheap on the crab meat and use a lot of bread crumbs for fillers.  Black Pelican is much more generous than most.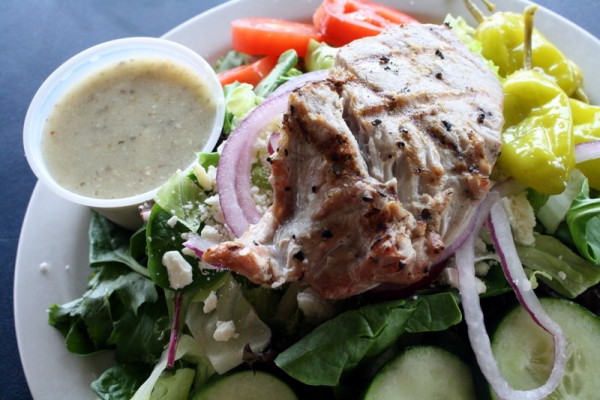 I ordered the exact same salad, sans olives (ew), but topped mine with tuna cooked medium rare.
The tuna was cooked perfectly and the whole salad was just what I wanted — fresh, tasty, and filling, yet light.
I polished off the whole thing, except I didn't eat much of the dressing (a little was all I needed) and I left the pepperoncinis.  Usually, I like the little Italian peppers, but I bit my lip so hard last week, it bled, so I'm not eating anything very spicy right now.  Ouch.
After lunch, we stopped by a few more shops and ran some errands.  Before heading home, we dropped into a new wine shop.  During one of Brad and my last visits we stumbled upon a wine tasting on the mainland.  We had a great time, but the owners told us they were moving locations.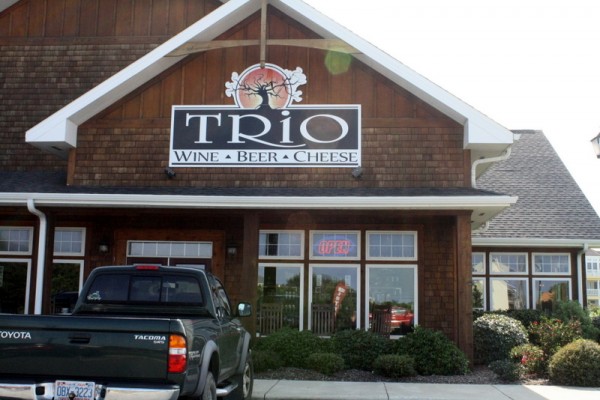 Their new location is in Kitty Hawk and their new name is Trio, obviously because they now offer a trifecta of deliciousness — wine, beer, and cheese.
Yes, please. I'll have some of that.
The owners of Trio did a fantastic job with their new space.  The whole vibe really works.  Besides the wine and beer store, they have a cheese counter, a wine loft, and a bar.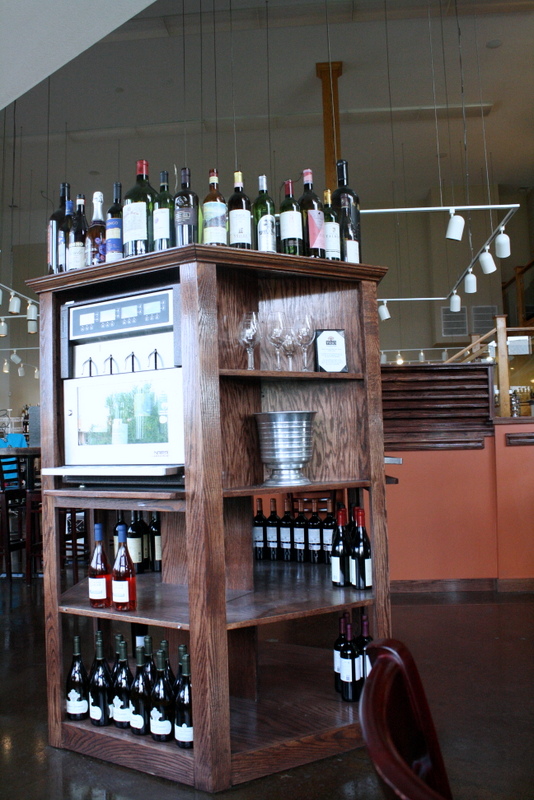 Aaaaaand….Trio has some of my favorite things ever: enomatic wine dispensers.
If you haven't tried them and you love wine as much as I do, you. are. missing. out.
Basically, they work like this:
– You get a card from the bar or counter (sometimes they make you load the card with money first, sometimes not).
–  You place your card in a machine, which holds up to four wines and put your class under the spout of your wine of your choice.
– You choose whether you want a taste, half glass, or whole glass and make the selection by pressing the appropriate button.
– The wine comes out of the spout and you drink and enjoy.
– You can keep moving along tasting other wines or you can choose to have more of the wine you just tasted, and so on.
– You either run out of money and stop or reload the card OR when you're done tasting, you take the card to the cashier and they charge you for what you've drunk.
It's so much fun and allows you to do a little self-guided wine tasting.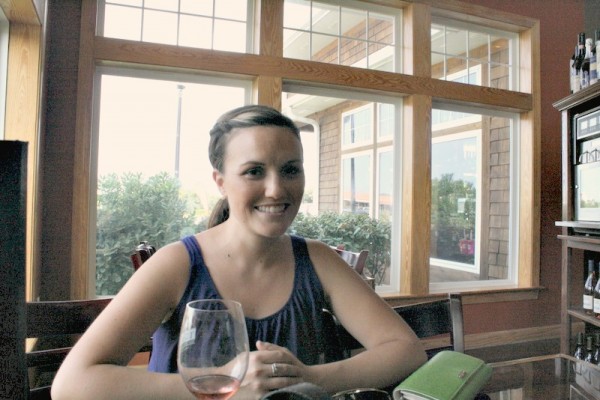 Joy and I played a little game where I would try to guess the tasting notes of each wine (these were noted on the digital display on the enomatic machines).  She would read the display and tell me whether I was right or close.  I was really surprised at the accuracy of my tastebuds.
During our time there, we learned that Trio is doing a beer tasting on tomorrow night and I made reservations for all of us –my mother-in-law, father-in-law, Brad I.
We'll be back, but next time, for the beer.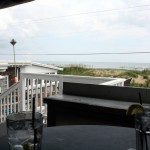 Ingredients
Directions