I arrived home yesterday afternoon and scarfed down this Gnu Espresso Chip bar.  It was pretty good.  The espresso flavor was similar to that of the fiber one coffee flavored bar, but the texture is way different – soft, not chewy.  I much prefer this fiber bar version, if only for the texture alone, but also because I recognize the ingredients.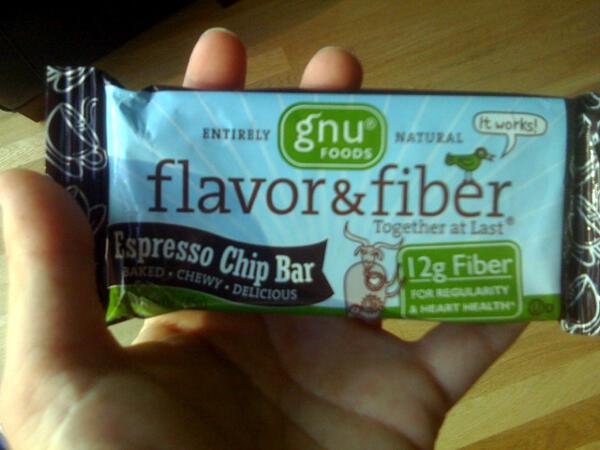 I also had a small ramekin of cereal and a few bites of my homemade granola.  I was seriously craving carbs.  Probably because I haven't had enough today.  I stopped my carb craving before they got out of hand by getting to business.
I decided that it would be easier and faster to No More Trouble Zones than my previous workout plan.  I started out by chopping a bunch of root veggies to bake while I worked out.  I chopped parsnips, carrots, and a sweet potato and put them in the oven on 400 degrees Fahrenheit.
I cooked these for probably about 30-35 minutes and broiled them for 5-10 minutes.  They were almost dehydrated but I like root veggies all shriveled up and well roasted.
I also made black bean burgers.  My recipe on the fly had…
– 1 can of drained and rinsed black beans mashed with a pastry cutter (I prefer this to a food processor because I dirty less dishes and my beans don't ever get too mashed)
– about 1/2 cup frozen roasted corn
– 1/2 large red bell pepper
– 1/2 medium red onion
-1/2 cup cooked brown rice
– 1 tsp. cumin
-~1/4 cup flax seed meal (ground flax seed)
– salt and fresh ground pepper to taste
I sauteed the corn, peppers, and onions, while the rice cooked.  I mashed the black beans, added the veggies, and stirred the mixture.  I then added the spices, stirring again.  I shaped into patties and cooked in an cast-iron skillet until well browned on both sides.
Serve with ketchup.  When you think you have enough, add a little more.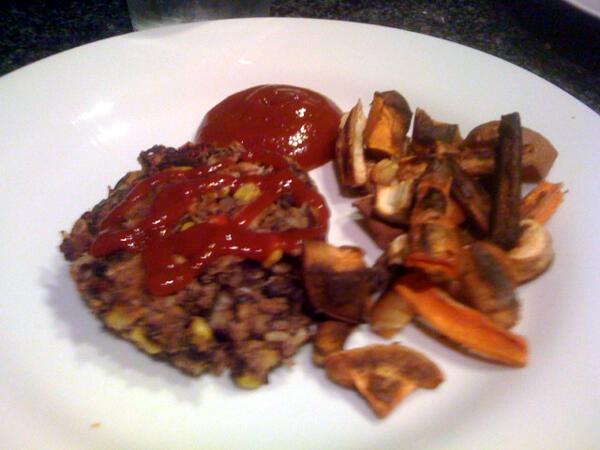 I totally need this t-shirt.  I saw it a couple of weekends ago in Charleston and thought it definitely applies to me.  After my addition to this meal, it is pretty much calling my name.
Is it too late to add to my wedding registry?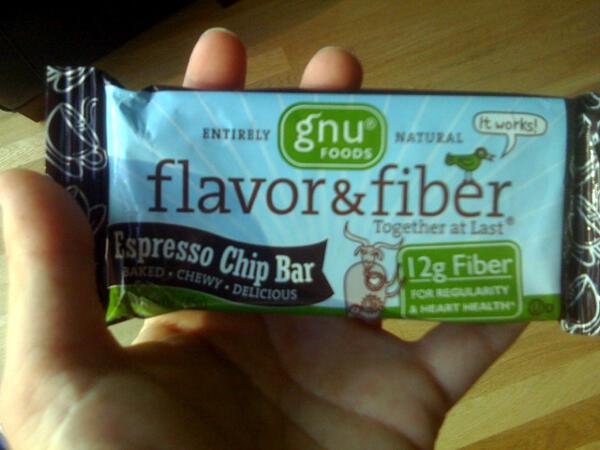 Ingredients
Directions