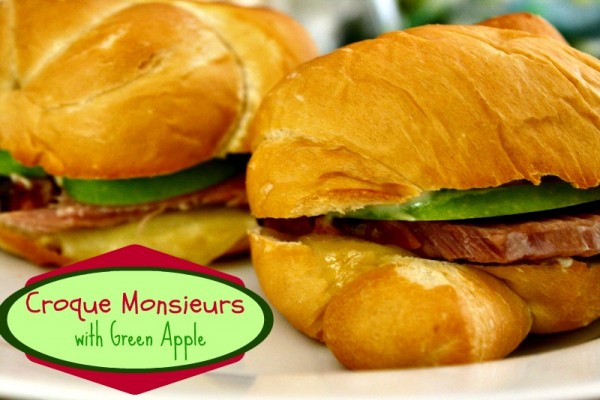 I'm in a New York Paris state of mind, which is how one of these lovely sandwiches ended up on my lunch plate.
I leave for France in T-minus 31 hours and the most I've done to prepare is throw a bunch of clothes on my guest bed that I "might" pack for France…
Well, that and preparing my taste buds.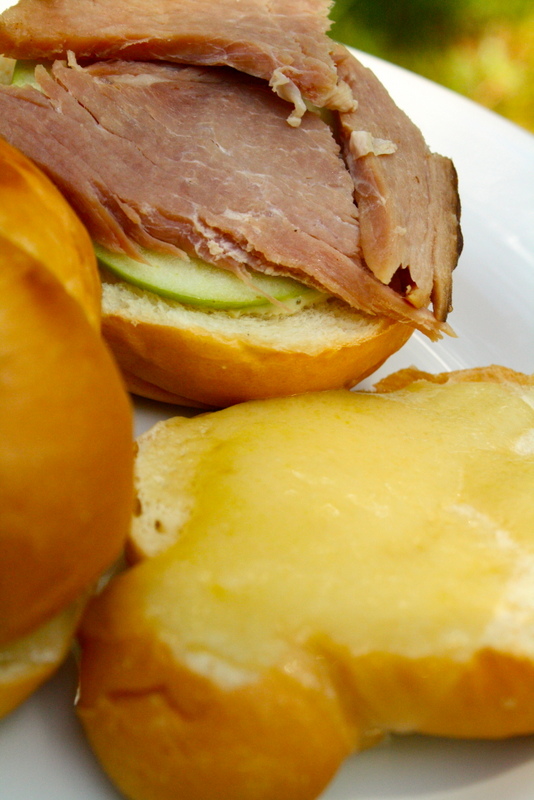 I LOVE French food.
The French believe in seasonal eating, making one's meal a dining experience, and using only the best, freshest ingredients.
Yes, me and French food are going to get along quite nicely.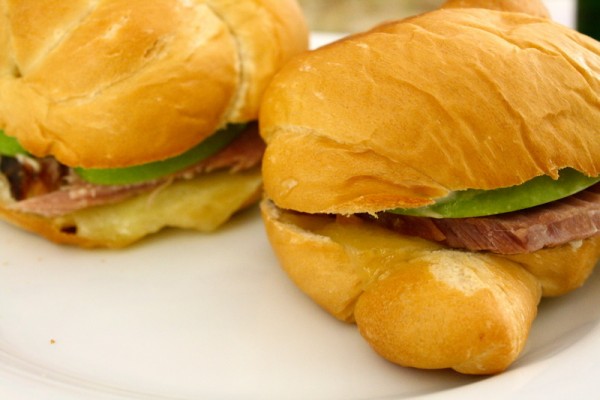 A croque monsieur sounds fancy schmancy, but is in fact, just a hot ham and cheese sandwich.
There are many variations, but typically they are served on white sandwich bread with a bechamel sauce. I decided to do something different than the bechamel sauce because I had a bad experience with it once (at a place that will not be mentioned), and decided to make a honey dijonnaise spread instead.
Pork and apple are a classic pairing in my kitchen so I also added green apple for a tart crunch. I also used leftovers from a baked ham, instead of thinly cut deli meat.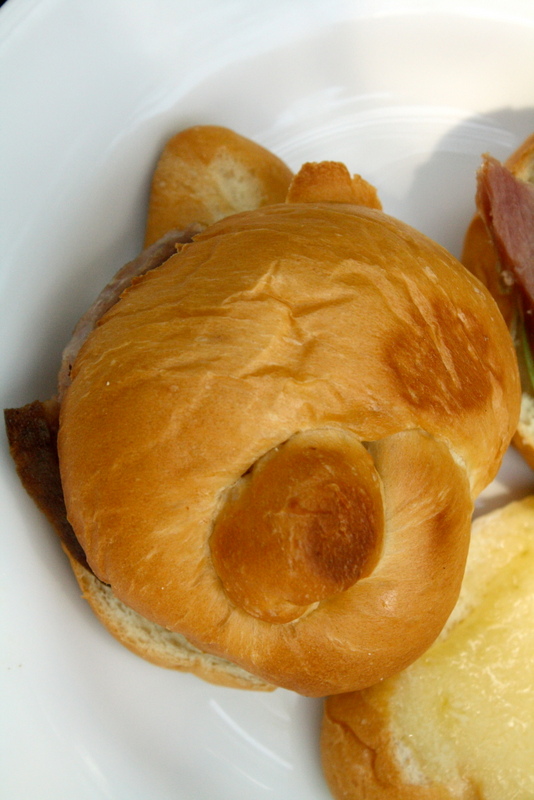 My last adaption of the classic recipe was to use brioche rather than plain ol' sandwich bread.
Brioche is a French bread made with a lot of eggs and butter, making it fluffy and crumbly. I bought my brioche at Trader Joe's in the artisan bread section.  But if you're local to Charlotte and have time for a special trip for amazing bread, may I suggest Nova's Bakery (call before you go to make sure they have it) or Round Table Creations on Saturdays at Atherton Market?  If I have the forethought or the time, I always prefer to purchase from these local bakeries.
I made these tasty French sandwiches with French onion soup, but they were so filling, I saved the soup for dinner.
CROQUE MONSIEUR WITH GREEN APPLE (makes 2 sandwiches)
2 brioche rolls
2 ounces gruyere cheese, thinly sliced
6 ounces baked ham, sliced thinly
1 Green apple
Dijonnaise spread (recipe follows)
HEALTHY HONEY DIJONNAISE SPREAD
3 Tablespoon plain yogurt*
1 Tablespoon Dijon mustard
1 teaspoon honey
***
I am planning to take my laptop to France, to pop in here from time to time, as a means to both share and remember our amazing trip.  However, I have no idea how often Wifi will be available outside of Paris (or in Paris for that matter), so it might be very infrequent.
Croque Monsieur with Green Apple and Healthy Honey Dijonnaise Spread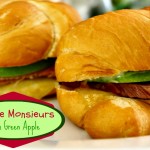 (

Serves 2

)
This over the top decadent French sandwich is made a bit healthier with a sweet and tangy honey dijonnaise spread with no lack of flavor.
Ingredients
2 brioche rolls
2 ounces gruyere cheese, thinly sliced
6 ounces baked ham, sliced thinly
1 Green apple
Dijonnaise spread (recipe follows)
Healthy Honey Dijonnaise Spread:
3 Tablespoon plain yogurt
1 Tablespoon Dijon mustard
1 teaspoon honey
Directions
Preheat oven to 350 degrees F.
Cut brioche rolls in half and place cut side up on a baking sheet. Layer cheese on two of the halves and bake for 10 minutes. Remove from oven and place the ham on top of the cheese, cooking both halves for an additional five minutes or until cheese is completely melted.
Cut green apple into disks (save the rest for later and cut up as a side to your sandwich). Place apple disks on top of the ham. Combine the ingredients for the healthy honey dijonnaise spread and spread 1 - 1 1/2 tablespoons on the sandwich half without ham or cheese. Assemble the sandwich. Serve hot.
*Typical dijonnaise spread is made with dijon mustard and mayonnaise. I just happened to be out of mayonnaise and substituted fat free plain European yogurt in its place (plain traditional yogurt would work too). I loved the swap so much, I'm planning on using this swap in other mayonnaise-laden recipes. But if you're a must-have-mayo kind of person, feel free to use 3 tablespoons of mayonnaise instead.