When I met Brad, I went from a cheese liker to a cheese lover.
The cheese lover was in me, it just had not yet been lavished with fancy cheeses and finally convinced to come out and experience all the cheese that life has to offer.
Cheese plates are my favorite part of eating out.  But early on in our relationship, Brad and I made the most delicious cheese plates at home.  Worthy, if not better, than any of your favorite fine dining restaurants.
Monday, the 18th, just happened to be the anniversary of the day we met.  Since we now have an even more important anniversary, we didn't want to make a big deal of the day, but still thought it should be celebrated quietly.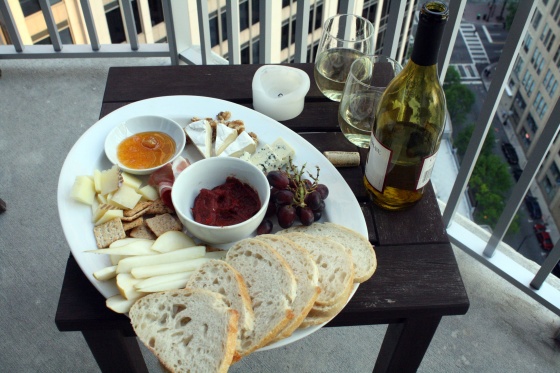 What better way than to eat one of our favorite things: a cheese plate plus accoutrements.
Constructing a delicious spread of cheese and complimentary tastes to pair with them is so easy. Our cheese plates always include:
– 2-3 good quality cheeses
– something sweet (honey and/or jam)
– fruit (dried or fresh)
– protein (nuts and/or dried meat, like prosciutto)
– bread and/or crackers
– something savory (hummus or other type of dip*)
Brad's spicy tomato dip is made to taste with:
– tomato paste
– garlic powder
– balsamic vinegar
– cayenne pepper
– dried basil
– honey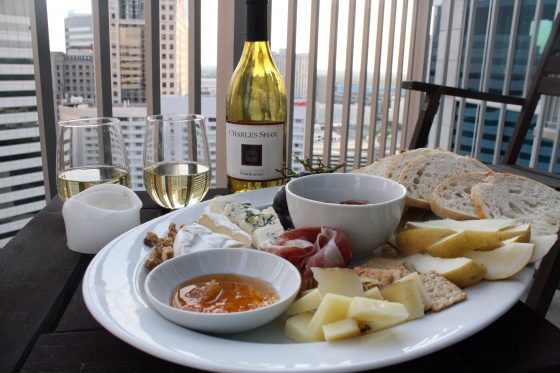 The house wine is typically $3 Buck Chuck (Trader Joe's Charles Shaw) even for special occasions.
Eating on the balcony overlooking the city would have been nice, but right after this shot, the wind blew two pieces of bread onto the balcony.  Thankfully, my reaction kept Rascal from diving in.  And then we promptly moved the party inside and devoured most of this plate.
Holy cheese coma, but totally worth it.
Ingredients
Directions