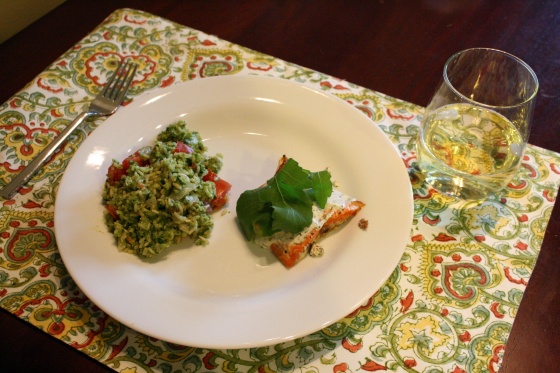 If Monday night's meal was all about the basil, last night's meal was all about the ARUGULA!
My side dish was very "different" according to Brad, but by the end of the meal, it had won him over and he told me that he really liked it.
One the menu: baked salmon in a dill sauce (topped with arugula) and argula pesto brown rice.
Notice that for once, we ate dinner before the sun had set. 🙂  This hasn't been happening very often lately.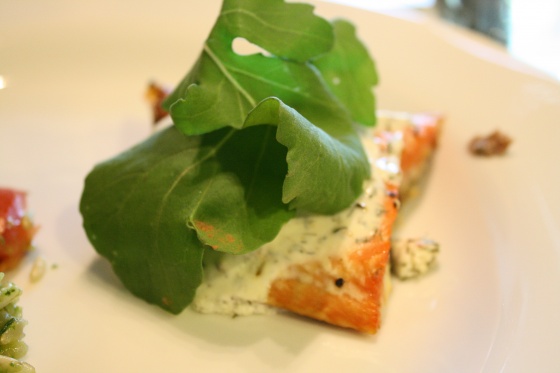 Baked Salmon with Dill Sauce (serves 2)
1 ten ounce wild caught salmon
sea salt
fresh ground pepper
1 tsp. extra virgin olive oil
arugula (for garnish)
For the sauce:
1/2 cup plain yogurt
1 Tbsp. dried dill
1/4 tsp. sea salt
1/8 tsp. pepper
1 tsp. Dijon mustard
1/8 tsp. red pepper flakes
Cut salmon into two servings (I cut mine into a 6 oz. serving and a 4 oz. serving).  Sprinkle top side with salt and pepper.  Lightly oil a glass baking dish.  Bake salmon at 350 degrees until fish is full cooked through (~15-20 minutes).
Combine all of the ingredients for the sauce.  When fish is just cooked, turn oven off and spoon sauce onto the fish.  Let it sit in the oven for another five minutes so the sauce will warm and the flavors will soak into the fish.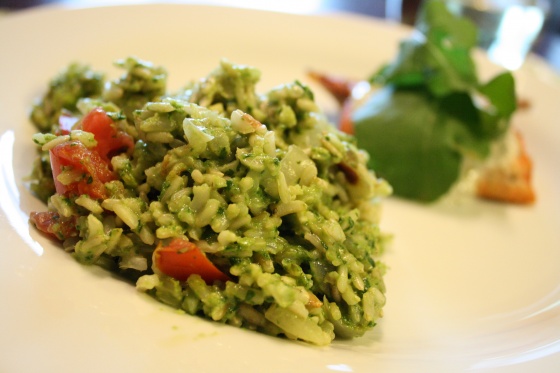 Arugula Pesto Brown Rice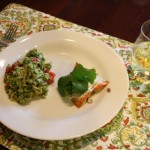 (

Serves 3-4

)
Ingredients
Rice:
1 cup brown rice
1 vine ripe tomato, chopped coarsly
2 cups vegetable broth
salt
Arugula Pesto:
3 cups arugula
scant 1/4 cup extra virgin olive oil
2 ounces Parmesan cheese, sliced or grated
1/4 cup walnut pieces
1/2 Tbsp. garlic, minced
1/4 tsp. salt
Directions
Boil brown rice according to package directions in vegetable broth. Combine all ingredients for pesto in a food processor or blender. When rice has completed cooking, add arugula pesto and tomato. Salt to taste if more is needed.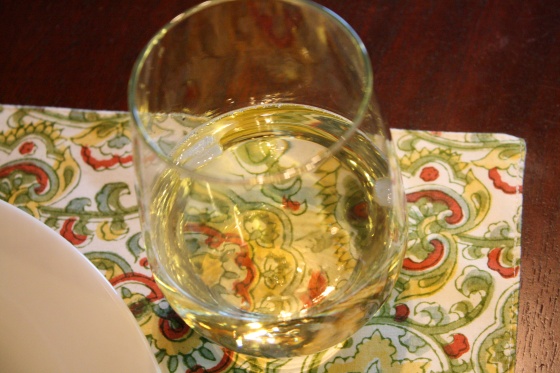 I also had a glass of white wine, while Brad enjoyed a whiskey.  And yes, there is ice in my glass because I am impatient and because I'm classy like that.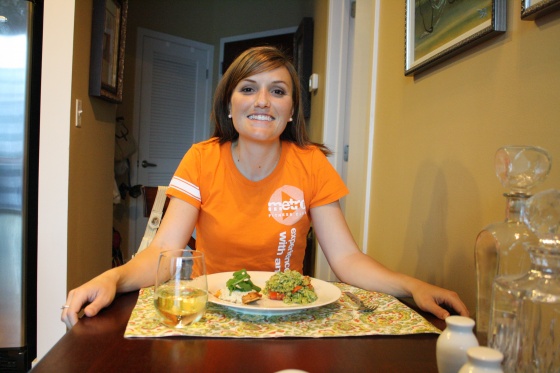 No fashion in this post — I wore my ninth best t-shirt to dinner. 😉
Even for fancier dinners, I like to be comfortable.  Only for special occassions, dinner guests, or coincidence do I actually wear nice clothes.
Do you dress nicely for dinner or do you put on one-step-up from PJ's (comfy clothes) like I do as soon as you get through the door?
Salmon seems to be a favorite among readers (mine too!).  What's your favorite recipe?  Links are welcome!