This morning I got up a few minutes before 4:30 am.  Crazy, I  know.  I had an evening meeting to go to and didn't think I should skip day #1 of my marathon training plan.  I did an easy six miles at what was supposed to be 10:14 miles, but was more like 9:21 miles.  9:21 is easier for me than forcing myself to run over 10 minute miles.  I'm going to go with how I feel on this one and say that's okay.
I got some really great feedback about my training plan and have decided to ease up just a bit.  I'll be adjusting the first few weeks of my training plan so that I run my first 20 miler after the OBX half and I'll repost my revised training schedule soon.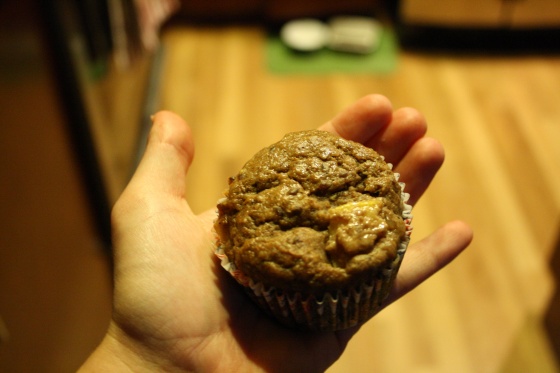 Yesterday I got to crackin' on using up the peck of apples I  bought at the Altapass.  Remember how big a peck is?  It's a heck of a lot of apples.  This recipe used two which was only a tiny dent in my mountain of apples.
Apple Spice Muffins (made 14 muffins)
-3 cups apples cut into bite size chunks
-1 cup spelt flour
-1 cup whole wheat flour
-3/4 cup unsweetened apple sauce
-1 1/4 cup almond milk
-1/4 cup Earth Balance
-1/4 cup brown sugar
-2 Tbsp. molasses
-2 tsp. baking soda
-1 tsp. cinnamon
-1 tsp. nutmeg
-1 cap vanilla extract
Mix flours with salt,  baking soda, and spices. Mix the rest of the ingredients in a separate bowl, except for the apples.  Stir dry and wet ingredients together.  Add apples.  Pour into greased muffin tins or use patriotic cupcake papers like I did.  Bake for 30 minutes at 350 degrees F.
My 6 mile run, left me starving so I showered quickly, dressed, and made breakfast.  I usually eat breakfast right before I leave, but that wasn't happening this morning.  I didn't have the energy to lift the hair dryer.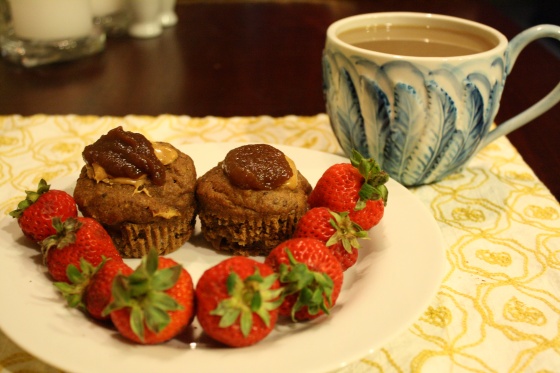 I topped two muffins with 1/2 Tbsp. of apple butter and 1/2 Tbsp. of AB (total), plus some strawberries.
I've decided this is the last of the strawberries for me this season unless they're frozen.   They're out of season now and I can taste the difference.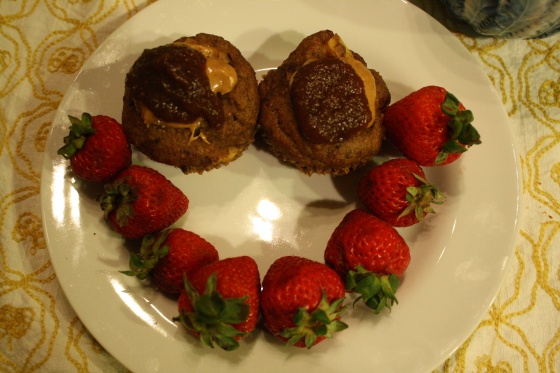 Looking down at my plate, I saw a familiar face looking up at me, with it's googly eye.
The resemblance is uncanny.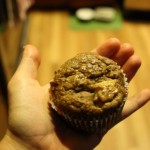 Ingredients
Directions