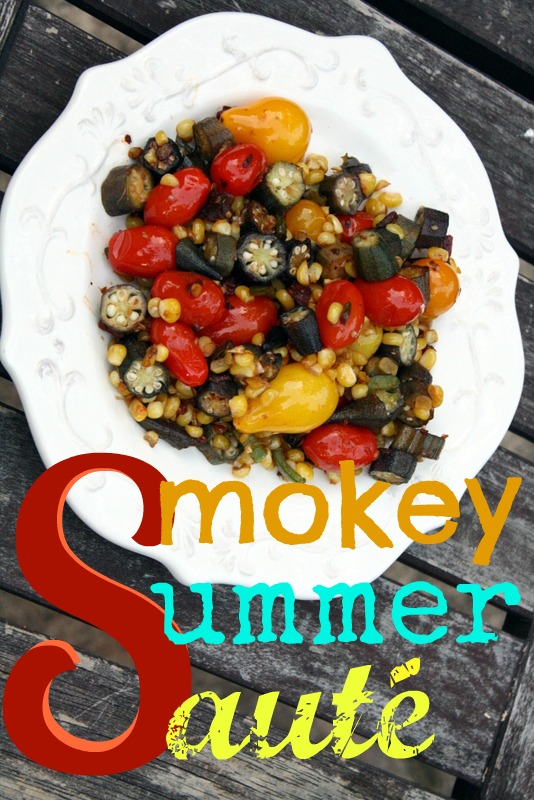 First off, I'm so surprised by all the sweet supportive messages I've received on my last post where I announced that I had quit my job to more actively pursue writing.  You guys are just the best. Really. I'm so excited about what the future holds and it makes it even better that there are people, and some that I have never even met, cheering me on.
Now, let's get down to business.
Brad and I played a little game on Friday night called "Guess what ingredient I'm going to use next." He was in Atlanta on business for most of the week and I had planned to make him dinner.  I arrived home late and he arrived home early and I had not made a single thing.
With a fridge full of veggies, courtesy of my CSA, I set out to make a meal that used a lot of produce.
We threw around the idea of using chard, kale, corn, okra and I quickly realized that I was going to have to make an executive decision or we were going to end up ordering pizza.
The hungrier I get, the less likely I am to cook.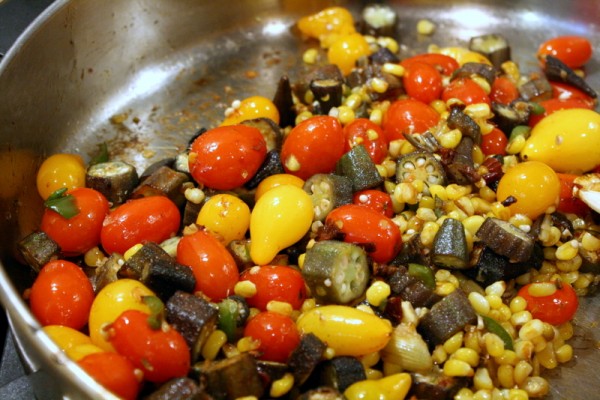 Finally, I devised a plan and started on my recipe.
First, I heated some olive oil in a large pan.  Then, I grabbed three small ears of corn and began cutting the corn off the cob.
"I was hoping you were going to take the corn off the cob," was Brad's reply.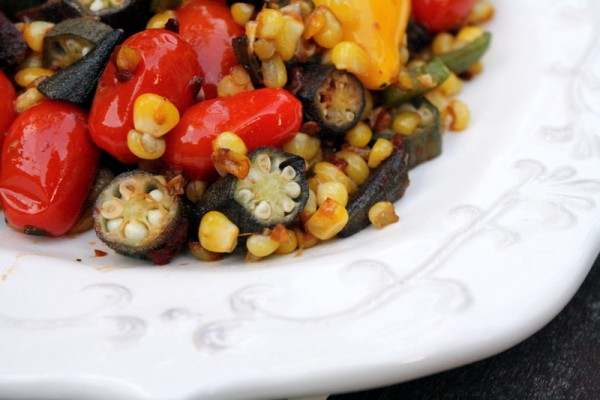 I chopped a bunch of red okra into slices and put both the okra and corn in the pan with the oil.
Meanwhile, I minced some jalapeno and I added them to the pan with two handfuls of red cherry tomatoes and yellow pear tomatoes.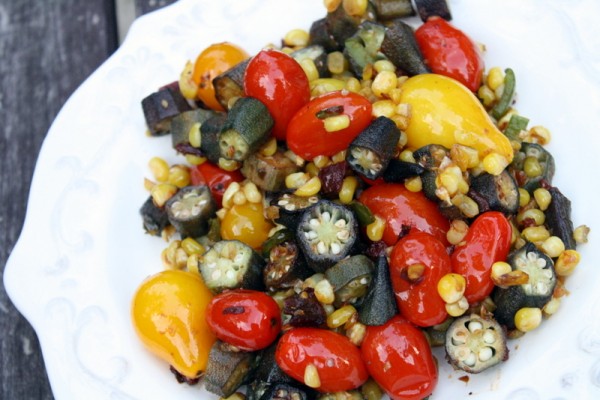 All the while, Brad was commenting on my choice of ingredients, "I thought you would use that…I didn't think to use that!"
And then it came time for the secret ingredient, the addition that would put this whole dish over the edge in deliciousness.
Chipotle Peppers in Adobo Sauce
We both absolutely love this stuff and it's one of the most important ingredients in Brad's pimento cheese recipe.  It's very smoky and pretty spicy, so if you add it to anything yourself, start off small and taste as you go.  Remember, you can always add more but it's virtually impossible to take it back.
I finished the dish off with some salt and pepper, stirring all the while and served it along side caramelized onions with garlic and herb chicken sausage that I also sautéed in a bit of extra virgin olive oil.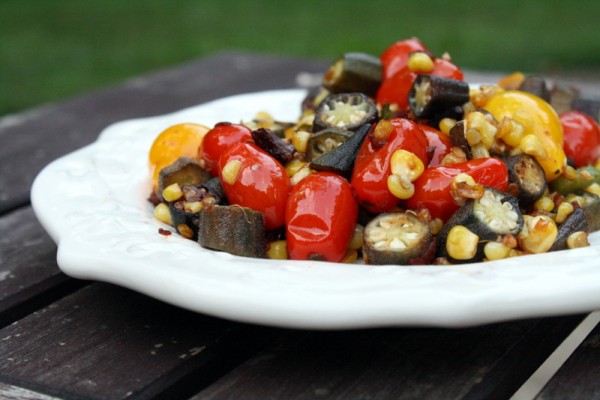 SMOKEY SUMMER SAUTÉ(serves 3 as a side)
1 1/2 Tablespoons extra virgin olive oil
1 1/2 cup raw corn
1 1/2 cups sliced okra (red or green)
1 jalapeno pepper, de-seeded and membranes removed
1 1/2 cups mixture of cherry and pear tomatoes*
1 chipotle pepper in adobo sauce, chopped finely
salt and pepper to taste
Heat oil in a large pan.  Add corn and okra to the pan and stir until coated by oil.  Cook until corn begins to soften.  Add jalapeno and tomato and continue to stir periodically until tomatoes begin to dimple (tomatoes get dimples when they get hot).  Add chipotle pepper and stir to mix throughout the vegetables.  Salt and pepper to taste.
Serve warm.
*Use whatever thumb-sized tomatoes you can find, if there aren't pear tomatoes in your area.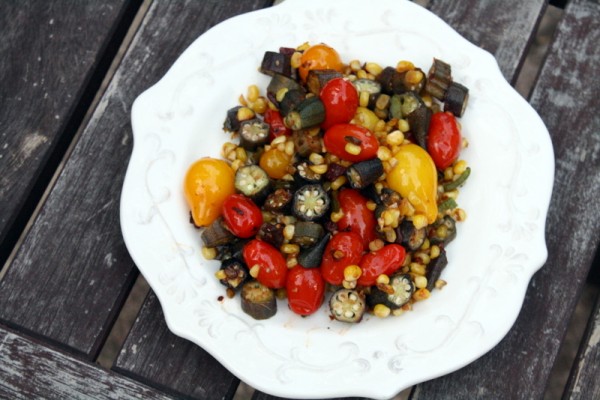 We couldn't get over how simple but delicious this side dish was.  I could have also added the chicken sausage to this mixture to make it a one-dish meal.  I really love recipes that combine all different tastes (sweet, salty, spicy, smokey) and all different colors (red, green, yellow, brown).  It makes for such an interesting and healthy meal.