I know what you're thinking.
Oh please tell me a way to indulge that I can also feel good about.  That's what I would be thinking.
But I have a little confession.
That's not ice cream.
It's yogurt.
And not even frozen yogurt.  It's Greek yogurt.
I hope you're not dissapointed.
I wasn't.  This stuff is so. darn. good.
Trust me.
And the good news is you can eat it for breakfast.
You can't do that with ice cream.
Well technically you could.  But you shouldn't.  Just ask your mother.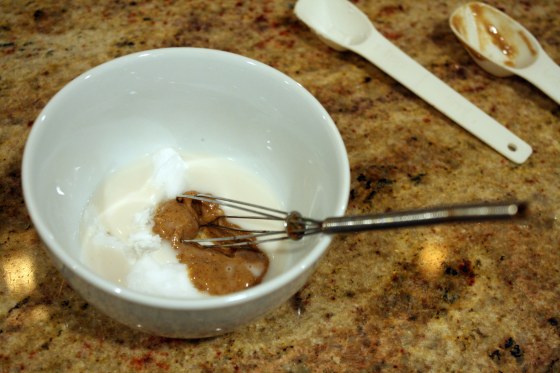 First mix up your chocolate fudge sauce.  Combine almond milk, coconut butter, and almond butter.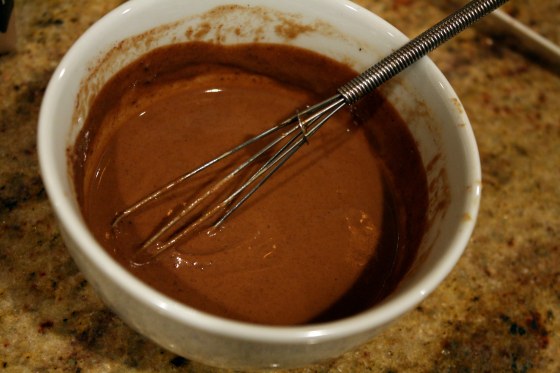 Add some unsweetened cocoa powder.  Heat it up a bit.  There.  That will help it come together better.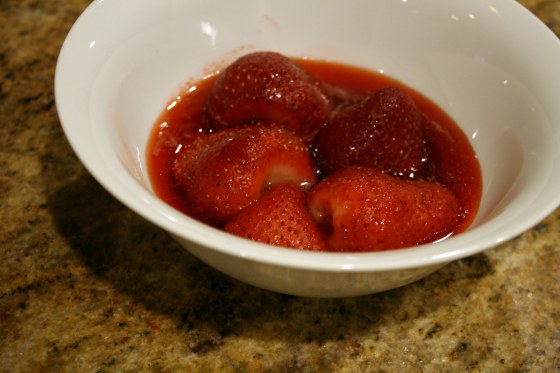 Heat up some frozen strawberries for your "strawberry sauce".
Now you're ready to put it all together and dig in.
Healthy Yogurt Sundae (serves 1 for a meal, 2 for a snack)
This is a great way to tame a sweet tooth.  The toppings are the best part of an ice cream sundae, right?  This "sundae" may not be a true ice cream sundae  but it's well on its way to being one of my favorite healthy treats.  If you like bananas in your "ice cream sundae" feel free to add one as well. You could also omit the cocoa powder and add another 1/2-1 tablespoon of nut butter for an (insert nut butter here) sauce. 
1 teaspoon coconut butter
1 Tablespoon almond butter (or other nut  butter)
3 Tablespoons unsweetened vanilla almond milk
1/2 teaspoon vanilla extract
1 Tablespoon unsweetened cocoa powder
1 1/2 servings NuNaturals Stevia* (or to taste)
1 cup frozen strawberries
1 cup (8 oz.) fat free plain Greek yogurt
2 Tablespoons almond slivers
In a small bowl, combine coconut butter, almond butter,  almond milk, and vanilla extract.  Heat for 45 seconds in the microwave** and stir to combine.  Add cocoa powder.  Stir, then heat for 45 seconds in the microwave.  Stir again to completely combine.
Place strawberries in a bowl and heat for one minute in the microwave.  Place yogurt into a bowl.  Top with strawberries and their juice, chocolate fudge sauce, then almonds.
*I use Nunaturals Vanilla Stevia in the eye dropper bottle and use about 11 drops (1 serving is 7 drops).  You can also use the powder form.  Add one, then taste.  You'll probably want half of another packet.  You can also sweeten with 1-2 teaspoons of agave or honey.  Sugar might work too, but you might need a bit more almond milk if not using a liquid form of sweetener. Use whatever you prefer and adjust to your taste preference.
**If you're not a fan of the microwave, heat ingredients on the stove top or over a double boiler.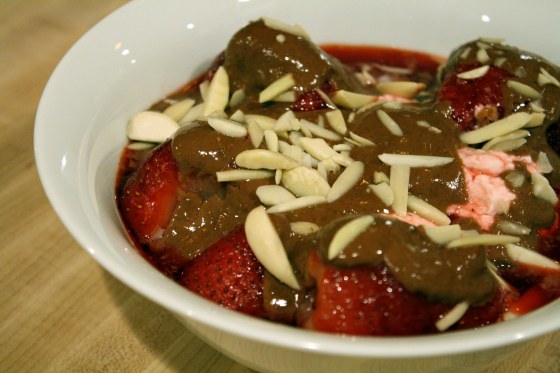 I haven't tested this out on Brad yet, but I'm not sure I want to.
This is mine.
All mine.
I'm not sharing with anyone. 😉
What's your favorite healthy treat?  Link up, if you can!