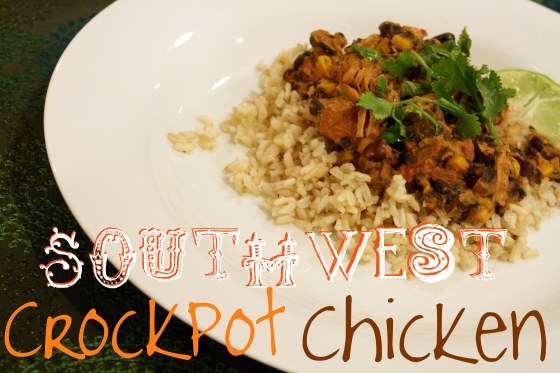 Just because I didn't cook this meal, doesn't mean I can't share it with you, right?
Great! Because I'm dying to tell you about this oh-so-yummy, quick and easy meal.
And pay no attention to the three negatives used in my intro sentence.  Let's call my grammar colorful and move on.
I'm all about the food tonight.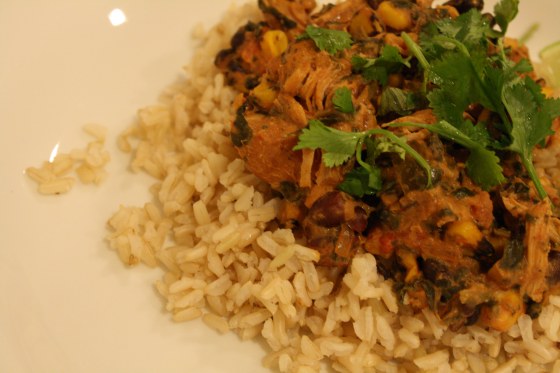 I dreamed up this meal.
Brad executed it.
In reality…
I shopped for groceries on my lunch break.
It looked like something out of Supermarket Sweep.
Then I swung by the house.
Threw the groceries at Brad.
And yelled the directions for this recipe while I ran out the door.
Like a chicken running around with her head cut off…
The things I do to have a hot meal on the table.
The things he does to appease me.
Lord help him.
Southwestern Crockpot Chicken (serves 5-6)
1.25 pounds of boneless chicken breasts
1/2 teaspoon salt
1/2 teaspoon ground black pepper
1 15 oz. can black beans, drained and rinsed
2 cups frozen corn
1 cup frozen spinach
1 jar of your favorite salsa
1/4 cup chipotle peppers in adobo sauce (examples)
2 cups brown rice
1/2 cup cilantro, chopped
lime, cut into wedges
Sprinkle salt and pepper over chicken and place in crockpot.  Pour beans, corn, spinach, salsa, and peppers over chicken.  Cover and choose your cooking time, adjusting heat accordingly.
8 hours – turn heat to low
4 hours – turn heat to high
Prepare rice according to package directions.
Just before serving, stir ingredient in the crock pot. Taste and add more salt if desired.
Plate rice and spoon chicken mixture over the rice.  Sprinkle cilantro over the chicken and serve with a lime wedge.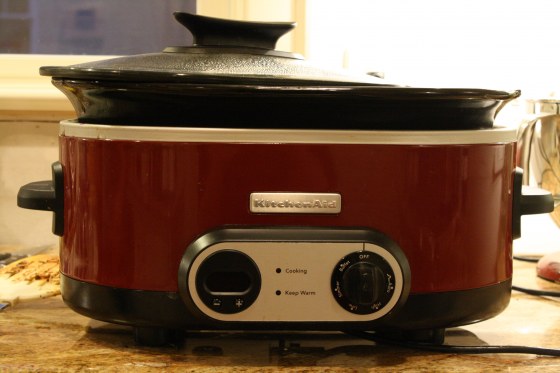 This throw-together recipe turned out pretty amazing…
And I owe it all to my crockpot.
Okay, I owe a good bit of it to Brad too.
My crockpot is pretty amazing, but it can't shop for groceries and put ingredients inside itself.
This isn't the Jetsons.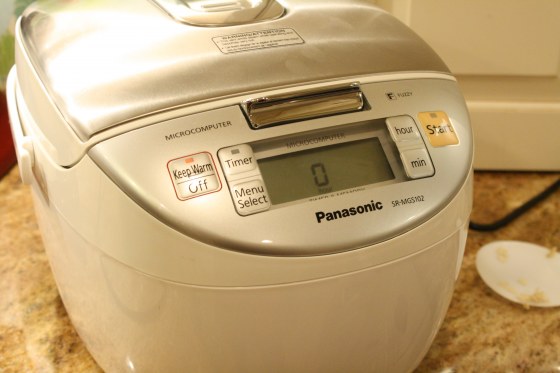 Rather than cook the rice on the stove top, we used Brad's Christmas present — the Panasonic Rice Cooker from Williams Sonoma.
Yes, Brad actually requested a rice cooker for Christmas.
He's been jonesing for a rice cooker ever since he found out that getting married means getting wedding gifts.  We never received this from our registry so he asked me to get it for him as his Christmas gift.
What other couple you know is over the moon about receiving kitchen gadgets for Christmas?
We're a strange pair.
This meal was one for the books. It renewed my faith in easy cooking.
The scent greeted me as I walked in the door and I thought, "Oh man, that smells amazing".
It was spicy, smokey, sweet, and hearty.  What more could you want in a meal?
Maybe a meal that makes itself?
Well folks, this is close as you'll get to that.
What's your favorite crock pot meal?