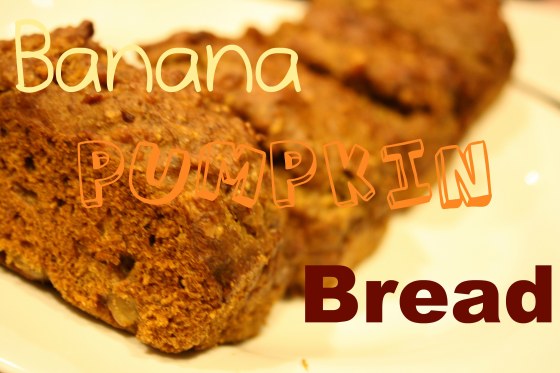 What do you do when you find yourself with 4 almost rotten extremely ripe bananas in your fruit bowl? Well, usually my answer is to peel them, cut them in half, and add them to my collection of frozen bananas I keep in the freezer for smoothies.
Recently I found myself with 10 frozen halved bananas and realized that enough was enough.  It was time to make some banana bread. But being in the fall spirit, no ordinary banana bread would do.
This banana bread needed something a little seasonal, a little orange, a little pumpkin-y.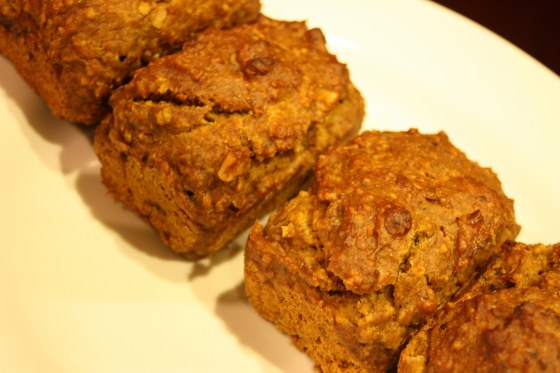 Banana Pumpkin Bread (makes 2 loaves or 12 mini loaves)
1 cup whole wheat flour
1 cup unbleached all purpose flour
2 cups rolled oats
1 tsp. sea salt
1 1/2 tsp. baking soda
1 1/2 tsp. baking powder
1/4 cup ground flax seed
1 tablespoon. cinnamon
1/2 teaspoon ground ginger
1/2 teaspoon nutmeg
1/4 teaspoon cloves
1 can pumpkin
1/2 cup NuNaturals Stevia baking blend or sugar
1/2 cup canola oil
4 very ripe bananas
2/3 cup walnut pieces
oil or cooking spray
In a large mixing bowl, combine all dry ingredients: flours, oats, salt, baking powder and soda, flax seed, and spices.  In a medium mixing bowl, add wet ingredients: pumpkin, Stevia or sugar, and oil.  Add wet ingredients to the dry ingredients and mix well.  Slice bananas thinly and stir with a fork, mashing bananas into the mixture.  Add walnuts and stir well.
Pour into well greased mini loaf pan, muffin tin, or loaf pan.  Baked on 350 degrees for 30 minutes or until a knife inserted into the center of the bread comes out clean.  If using full sized loaf pans, bread will require additional cooking time.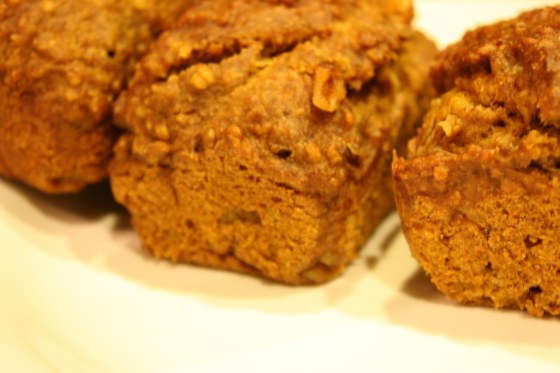 This bread is subtly sweet, dense, moist, and wonderfully wal-nutty.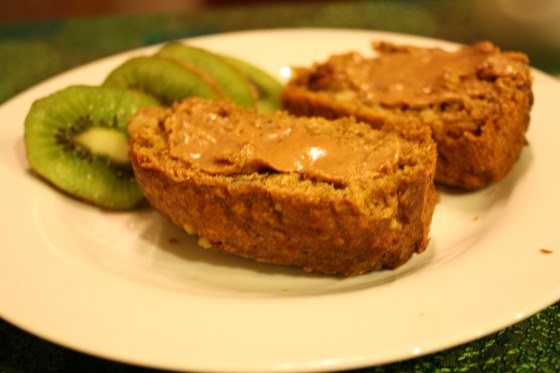 It's perfectly delicious plain, but a complete meal with a shmear of peanut butter and some fruit.  The only thing that could make it even better is some pumpkin coffee.
Are you sick of pumpkin yet?  I'm not.