Tempeh is one of the foods that most intrigued me when I started experimenting with plant based proteins.  To be perfectly honest, it kind of weirded me out just a bit. All that has changed now and tempeh and I are old friends.  I've even got Brad to enjoy it every once in a while.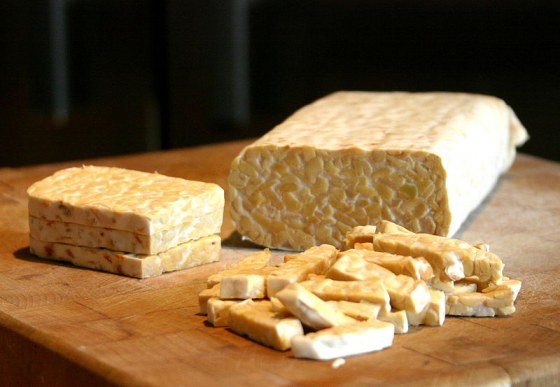 (source)
Tempeh is a product made from Soy that originally comes from Indonesia.  Although it is made from soy beans, like tofu, the fermentation process that creates the texture of tempeh makes it higher in protein, vitamins, and dietary fiber, than tofu. (source)
Serving: 100 grams (usually 1/2 the package)*
Calories 196
Total Fat 11 g
Saturated Fat: 3 g
Cholesterol: 0 mg
Sodium: 14 mg
Total Carbohydrate: 9 g
Protein: 18 g
Riboflavin (21%) – also known as vitamin B2; necessary to activate vitamin B6; for growth and repair of body tissues; for creating and regulating some hormones; may be important for good mental healthy
Protein (37%) – important in the makeup of every cell in the body, builds and repairs tissues; protein is a macronutrient which means the body needs a large amount* of it to perform properly; the body cannot store protein
Iron (15%) – essential nutrient that helps carry oxygen from the lungs to muscles and organs; iron deficiency may result in fatigue, irritability, and headaches
Magnesium (20%) – helps maintain a healthy blood pressure, keeps bones strong, and promotes a healthy heart
Phosphorus (27%) – creates strong bones and teeth, excrete toxins from the body, promotes reproductive healthy and aids in digestion, may lessen the chance of getting certain types of cancer
Copper (28%) – helps the body use iron, promotes the health of bones and tissue, helps the body produce melanin (a pigment), helps protect nerves
Manganese (65%) – Strengthens bones, keeps blood healthy, and may lessen the symptoms of PMS
Also a good source of calcium, niacin, vitamin B6, and potassium. Click here for an even more extensive explanation of the dietary benefits of tempeh.
Tempeh has a slightly nutty taste and just like tofu, easily takes on other flavors.  I like to marinate mine or combine it saute it with other foods to flavor it. Many recipes suggest that you should soak tempeh for 15 minutes or boil it for five minutes before using it.
Here are some ways I have used tempeh in the past.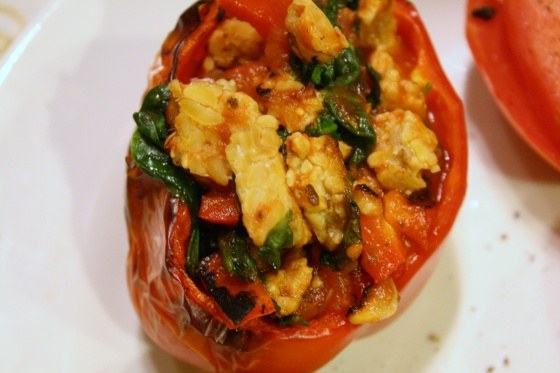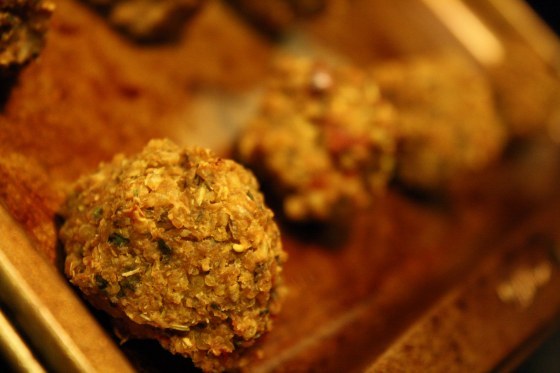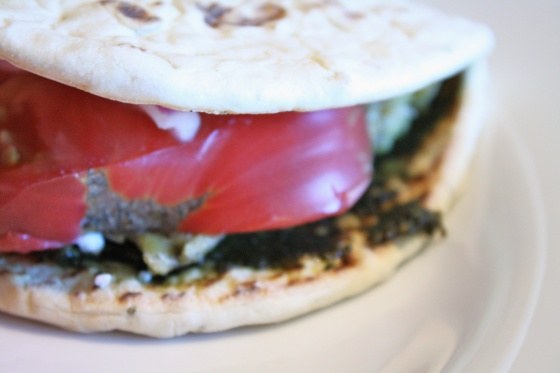 Rosemary Olive Oil Flatout Wrap with toasted tempeh, my vegan pesto paste, a slice of tomato, feta, and dipped in tomato sauce for extra saucy goodness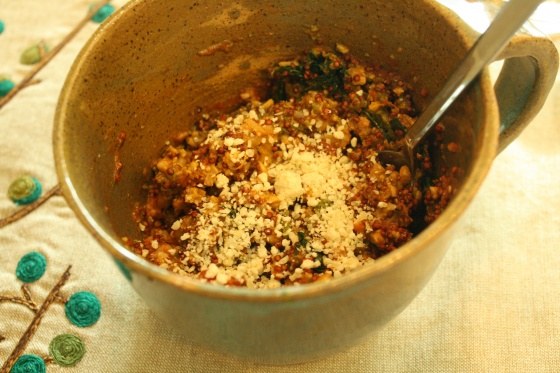 Red quinoa with sauteed tempeh, pesto, marinara sauce, and parmesan cheese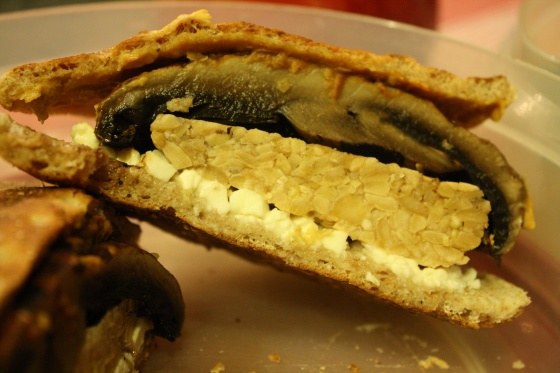 Sandwich with grilled portobella mushroom cap, toasted tempeh, roasted red pepper hummus, and feta cheese, on a sandwich thin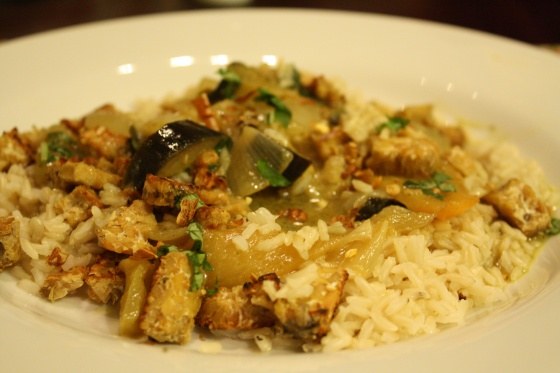 More tempeh recipe love:
Buffalo Tempeh Wings from 28 Cooks
Tempeh and Walnut Veggie Burgers from Alex Picot-Annand
Tempeh Joes from The Wind Attack
Orange Pan-Glazed Tempeh from 101 Cookbooks
Do  you have a favorite tempeh recipe?  Please link, if you can!