Yesterday, while I was waiting to be seen by my doctor, I confirmed that Starbucks is a genius.  Well, I guess what I mean is, whoever chooses new products for Starbucks is a freaking genius.
A little bird told me a few weeks ago that Starbucks is now carrying coconut syrup.
Only in my wildest dreams, I tell you.
When I found out my doctor was running 30 minutes behind, I promptly ordered a Misto (Starbucks speak for Cafe au Lait –> coffee + steamed milk) and a teensy little shot of coconut syrup.
It blew my mind…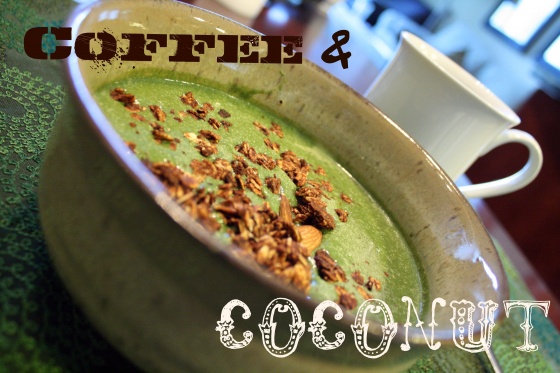 …and from this delectable flavor combination, the coffee and coconut smoothie in a bowl was born.
Coffee and Coconut Smoothie in a Bowl (serves 2)
When I announced I was making this for breakfast, Brad had to get in on it too.  Simply half all the ingredients for a SIAB for one.
2 cups vanilla unsweetened almond milk
1 frozen banana
3/4 cup unsweetened shredded organic coconut
2 scoops vanilla whey protein
2 heaping tsp. instant coffee
1 1/2 cups frozen spinach*
Stevia to taste*
1/2 tsp. xanthan gum*
Blend everything together and enjoy! Top with the toppings of your choice.
*Completely optional ingredients.  However, the frozen spinach and the xanthan gum will make your smoothie thicker, thus, easier to eat with a spoon.  Adding ice might help.
Brad and I polished off the chocolate almond granola on top of our SIABs.
Other suggested toppings:  more coconut, coconut butter, nut butter, cereal, nuts, or if you want to get out of control…chocolate covered espresso beans, fun sized Mounds bars…
Okay, maybe that last one went a little too far outside the range of appropriate breakfast choices, but there's no judgement here if you follow through on that suggestion.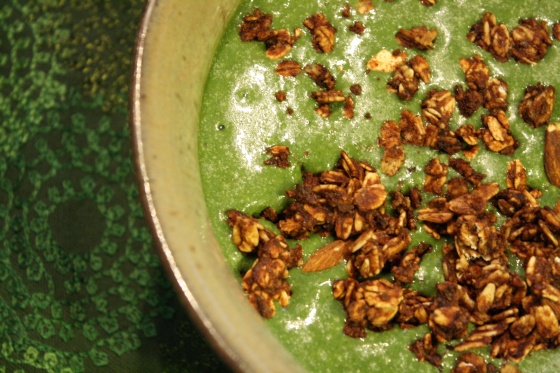 This smoothie was so incredibly delicious.  I think it would be really good with chocolate whey protein too or 1-2 Tbsp. of unsweetened cocoa powder.
But since, no chocolate was used, Rascal got to clean my bowl.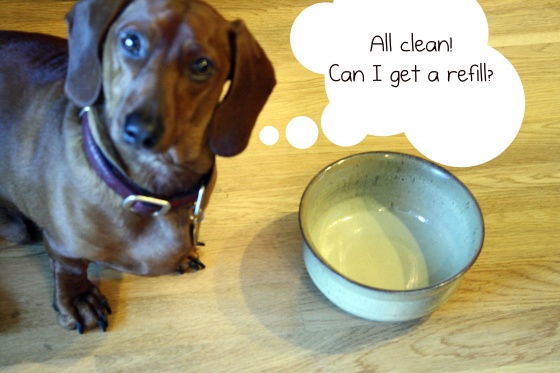 I take it from the looks of my spotless bowl that heis also a fan of the coffee + coconut flavor combination.
What's your favorite Starbucks drink or smoothie flavor?  Are there any perks to going to your doctor like a Starbucks in close proximity?