Thank you so much for all of your encouraging words about taking a blogging hiatus.  Well, I'm back and I am happily unemployed for the next five days. 🙂
I slept until 6:48 am this morning! I called Brad, who is out of town, and he couldn't believe I didn't sleep longer.  In my defense, I did go to bed before 9 pm last night because I am a grandma.
First on the agenda, some hot lemon water.  I have been reading about how lemon juice can be hard on your teeth and per ingenious Nicole, I added a straw to prevent damage to my teeth from the acidity.
I worked on folding clothes and making the bed for a good hour.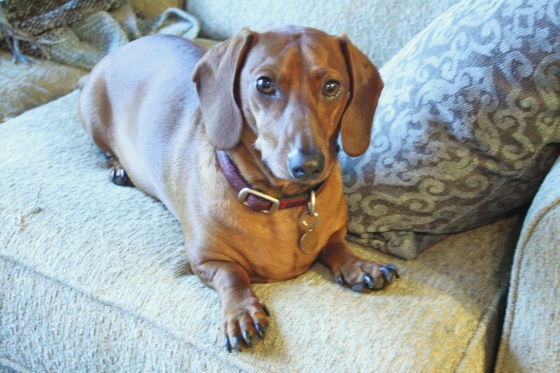 Then, this little guy told me that he needed a walk.  So on a very short walk we went.  Boy, is it cold and windy outside today in Charlotte!

Apparently Mother Nature didn't get the memo that I'm off Wednesday through Friday this week and I would prefer sunshine and temperatures in the low 70's.  Saturday is more my style.
No matter! I'm just happy to have three whole weekdays to do with whatever I want. 🙂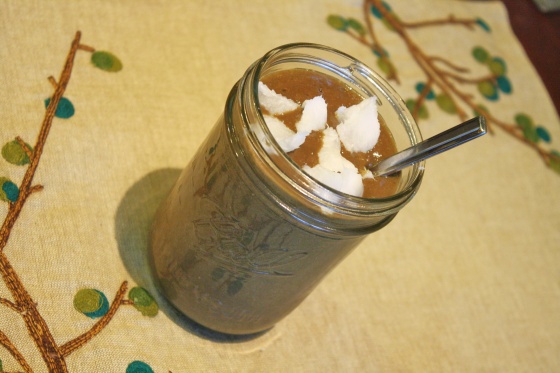 Around 8 am I got hungry so I made myself a smoothie…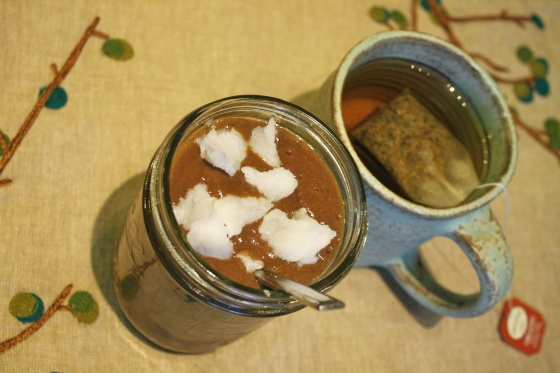 …and some chamomile tea.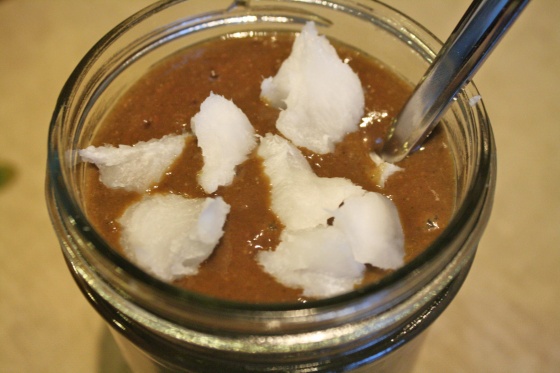 In my smoothie on this very lovely dreary day:
1 cup almond milk
2 cups spinach
1 frozen banana
3/4 cup frozen raspberries
a few slices of mango
1 scoop chocolate Amazing Grass
2 Tbsp. coconut flour
I topped this with a few pieces of coconut butter shavings which get firm as soon as they are in contact with the cold smoothie.  Yum!
I just finished watching a kind of strange independent film, called Fish Tank, I started last night, but couldn't finish because I was falling asleep.
On the agenda today: hot yoga, grocery shopping, a trip by Barnes and Nobles, and whatever I want because I have no where to be! 🙂
Have a lovely day!