I took my grilled banana French toast fail from last weekend…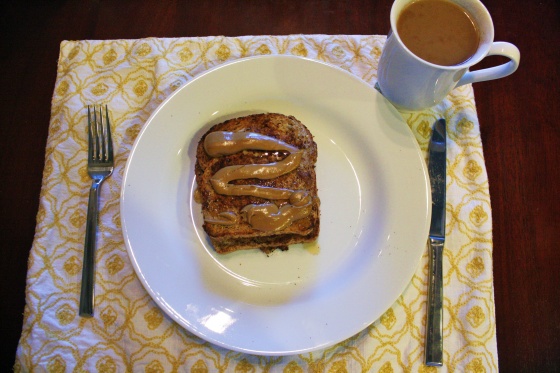 …and turned it into a grilled banana French toast win!
Yum grilled banana!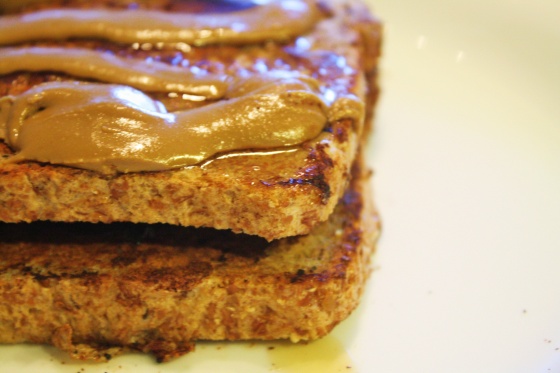 Heavy on the sunflower butter.  This was only a tablespoon but it's just so melty and delicious, it looks like so much more.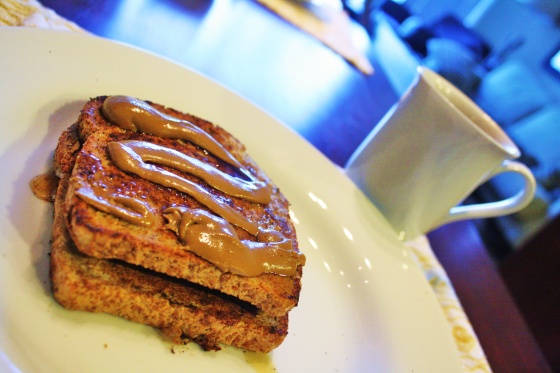 I made basic French toast which I probably never make the second way two times in a row.
I combined in a bowl:
1/4 cup + 2 Tbsp. egg whites
/4 cup + 2 Tbsp. almond milk
sprinkle of salt
bit of Stevia
I dipped each piece of bread (4 pieces total) in the batter than placed it in a skillet after spraying the pan with cooking spray.  I then heavily sprinkled each side with cinnamon and a bit of nutmeg.  I find that when you put the spice in the batter, it never mixes up well and the first piece gets all the spice.  You will end up adding more for each piece,  so you might as well sprinkle it on while cooking.
I also cut a banana in half, then cut each half into thirds, and cooked them in a cast iron skillet, flipping them to evenly brown each side.  I made a grilled banana sandwich with the French toast, then topped with a drizzle of maple syrup and a tablespoon of sunflower butter.  It was incredible, to say the least.  I wish I could take credit for thinking up grilled banana, but I can take credit for making it.  😉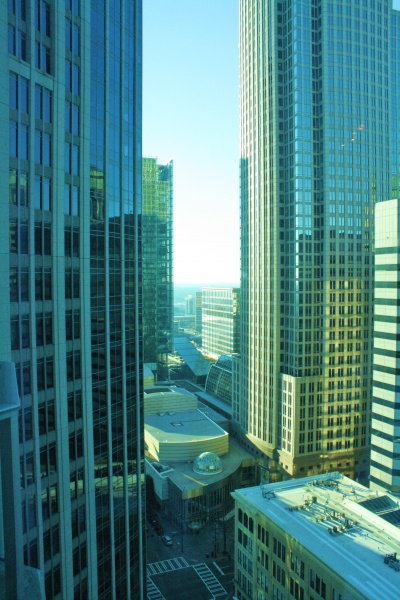 Today was beautiful in Charlotte.  This was our view at about 9 am.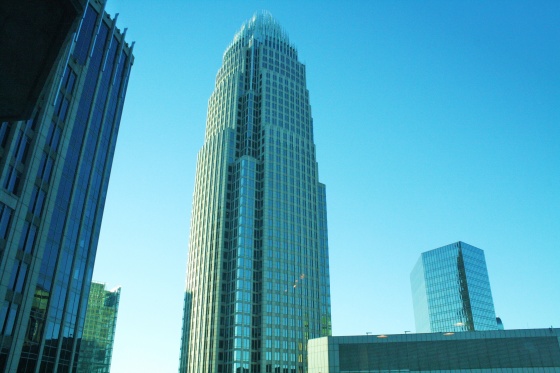 Our plans were to run at 10 am, but when I looked at the weather, I noticed that it was only 38 degrees and if we just waited a couple more hours, it would be much much warmer.  The high was going to be 60 degrees!  That's my kind of January weather. 🙂
I did some grocery shopping at Trader Joe's to pass the time.  We decided to have some people over tonight and I have a Pampered Chef party to go to at my best friends house, so I will have no time to prep party food.  I grabbed some quick stuff to set out as appetizers and headed home.
Brad and I did an easy five miles.  We tried to pace ourselves and run at marathon pace, which we're hoping is 10 minute miles, with the advice of our marathon training plan.  But are bodies wanted to run faster so I was constantly playing the pacer and slowing us down.  I was starving when we arrived back home at the condo.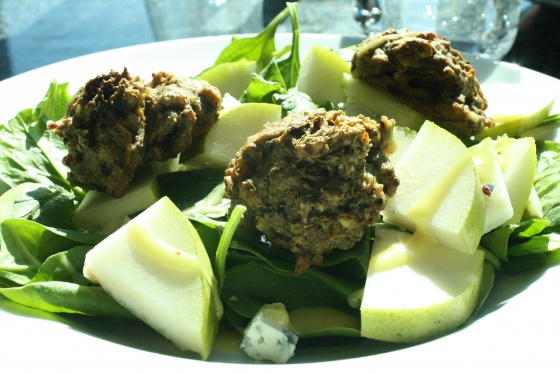 I thew together a quick salad with spinach, sliced pear, Gorgonzola, vegan sausage balls, and a drizzle of sweet onion vinaigrette dressing.  I also had a black bean brownie.  Holy cow, those things are good.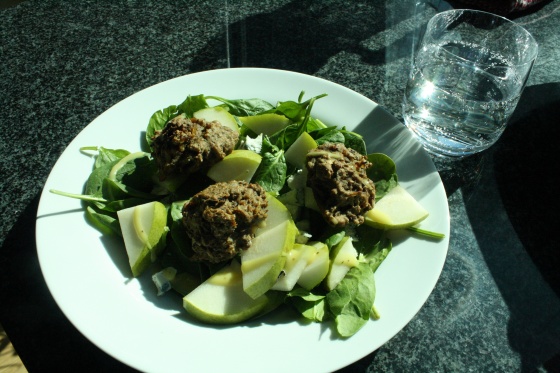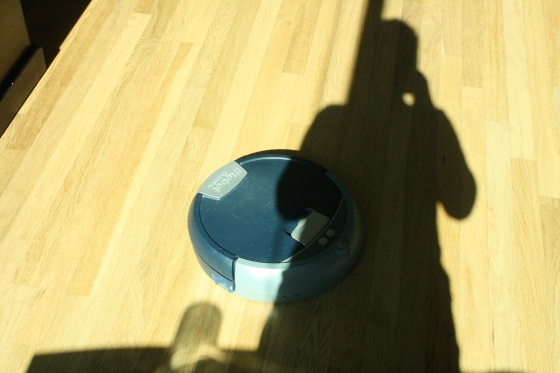 Our condo floors are currently being mopped by the scuba.  The scuba is like the roomba, which vaccumes, but instead it mops your floors.  I consider myself a pretty smart person, but for the life of me, I can't get this thing to work.  Brad has to start it every time and even he has trouble with it.  We started and restarted this thing so many times, I probably could have mopped the floors twice by the time it actually mopped our whole condo.
Oh well.  Our floors are clean now and that's what counts.
See you tomorrow with photos from our impromptu party (if anyone shows up 😉 ) and the black bean brownie recipe.  Cross my heart and hope to die, I'll post it tomorrow. 🙂