When is a grilled cheese sandwich not just a grilled cheese sandwich?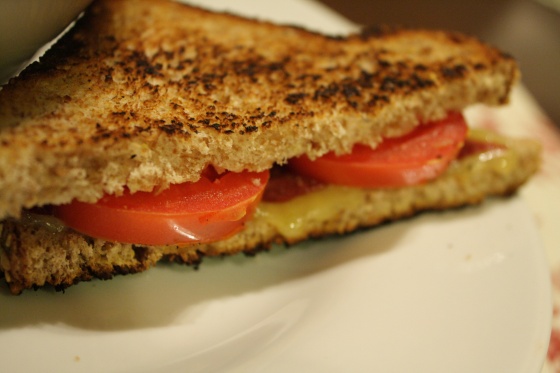 When it's a grilled tomato, turkey bacon, and New Zealand grass fed cheddar cheese sandwich.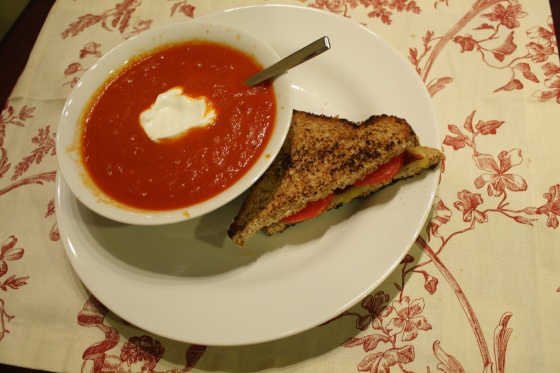 Served with TJ's tomato bisque, which is by far the best tomato soup I've ever had.  I must recreate this!
And when is breakfast more like dessert?
When it's almond joy oatmeal. 🙂
Almond Joy Oatmeal
1/2 cup rolled oats
1/2 cup water
1/2 cup almond milk
1/2 scoop chocolate whey protein powder
1/4 cup egg whites
1 Tbsp. cocoa powder
1 cap of almond extract (~1/4 tsp.)
generous pinch of salt
tiny pinch of Stevia
Bring oats, water, and almond milk to a boil.  Quickly stir in protein powder and egg whites.  Stir in cocoa powder, salt, and Stevia (or sweetner of choice)
Topped with:
1 tsp. coconut cream concentrate
2 Tbsp. unsulfured shredded coconut
1 Tbsp. cashew butter (no AB in the house)
giant blob of Greek yogurt
What do you do when you ask Nicole if she wants to go running, then realize you only have 20 minutes to scarf down lunch?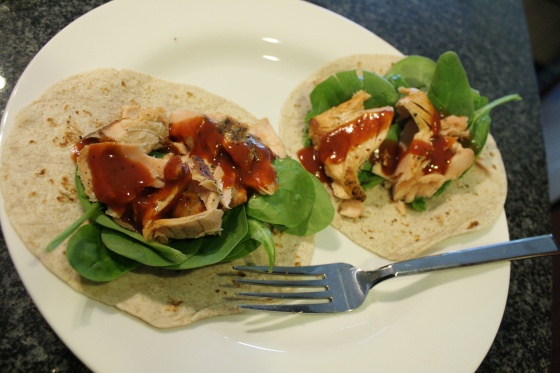 You chop up a salmon filet leftover, plop it on top of some spinach on two small flour tortilla, douse it in Stubb's barbecue sauce and call it lunch.
Nicole and I chatted while we ran 5 miles, then I ran 3 more miles to complete my 8 mile long run…the last "longish run" before my marathon next Sunday.  Nicole is a great running buddy!  I always forget how great it is to have someone to run with until I do it.  I wish I could run with a friend every day.
Next riddle: What do you do when you accidentally buy pumpkin pie mix instead of pumpkin?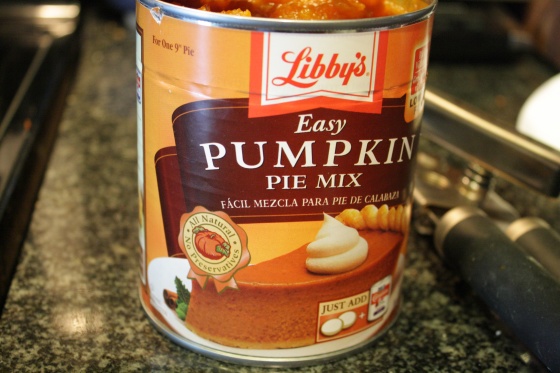 Donate it to the canned food drive downstairs?  I somehow failed at this and the canned food drive came and went.
Instead I decided to make a healthier (read: no hydrogenated oils) version of pumpkin fluff for the New Years Eve party I'm going to later tonight.
I made pumpkin fluff last year, which is such an easy recipe.  All you do is combine cool whip and canned pumpkin, plus maybe some brown sugar.  I really don't remember now.  Brad and I both really loved it and I thought I could use the pumpkin pie mix to recreate the recipe.
But instead of cool whip…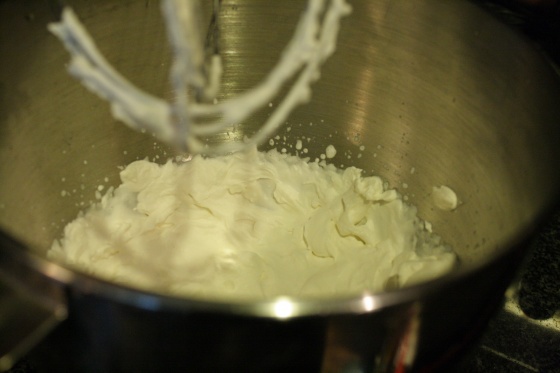 I used heavy whipping cream.
Now, this means that the recipe is definitely not lighter, but if you're a believer in real foods over fake foods, this version is definitely healthier.  It would be even more healthy if I had actually had canned pumpkin and added in my own sugar choice.
Heavy whipping cream is amazing stuff and so fun to make.  I poured a pint of it into my stand mixer and beat the cream on high until it started to peak.  In other words, the cream got so thick, when I pulled the beater out, it left little mountain peaks.  You'll know when it's thick enough because it will have the texture of the cream in the photo.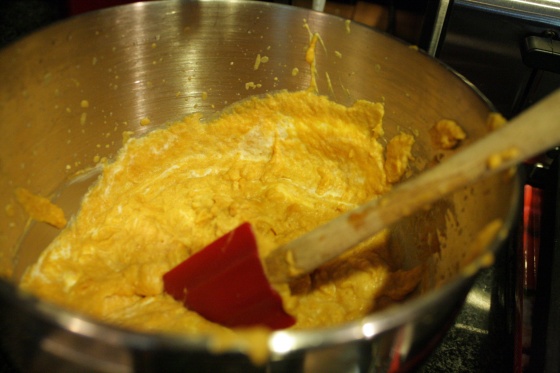 Next I mixed in the whole large can of pumpkin pie mix, plus 1 tsp. of pumpkin pie spice.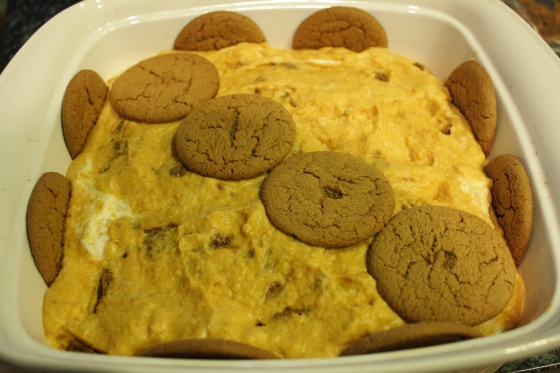 Last, I layered nine store-bought gingersnaps on the bottom of a 9×9 dish.  I also put eight gingersnaps on the side, as pictured.  I saved four gingersnaps for the top.  The rest I crumbled and mixed with a spatula into the pumpkin mixture.  I poured the mixture in the dish and placed the four saved gingersnaps on top.
This isn't a made-from-scratch dessert, but it sure is easy and delicious! 🙂
Last riddle: What do you do when you fall in love with eating prosciutto wrapped melon for breakfast in Italy?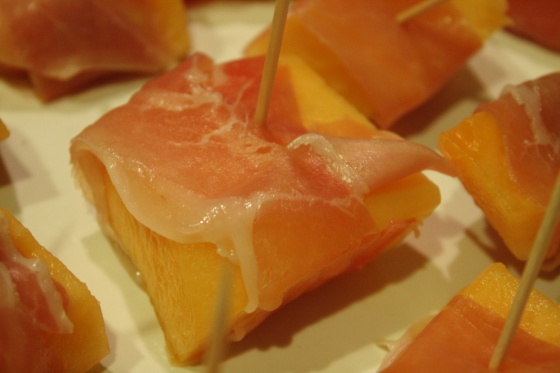 You share that love with your friends.
This is another easy peasy dish I'm made for tonight's party.  It looks so fancy, but is so incredibly simple.
Slice a cantalope in 1 1/2 – 2 in cubes.  Buy pre-sliced prosciutto ham, which can be found at nice grocery stores, Trader Joe's, or a butcher.  Pull prosciutto slices apart so that you have 2-3 smaller strips per slice (you can use a knife but I just pulled with my fingers)  Wrap each melon cube with a strip of prosciutto so that the end of the strip lands on the top and secure with a toothpick.  If you end up with tiny strips of ham because the slices break, just secure it to the melon with a toothpick.  You can usually make it looked like it is wrapped around the melon cube, even if it really isn't.
The sweet of the melon and the salty of the proscuitto is so incredibly good together.  I really hope our friends like it. I'm pretty sure Brad and I can eat these happily for days if they do not. 🙂
Have a safe and wonderful New Years Eve!