Yesterday was a work-from-home day.  My favorite work day of the week. 🙂  I invited Brittney over for lunch since she works only a few blocks from where I live.
Somewhere around 11 am, my stomach started growling so I asked Brad, who was also working from home, if he wanted to split a protein bar.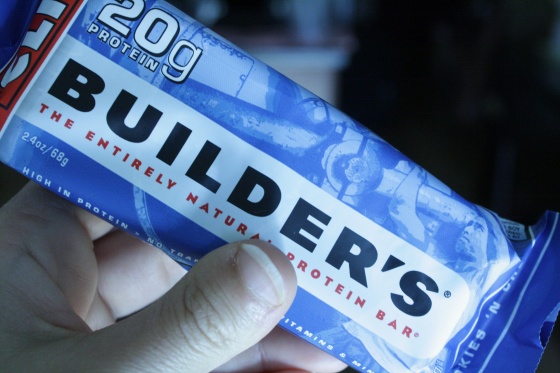 Brad likes Clif Builder's bars for snacks and quick breakfasts.  So when I saw two flavors he hasn't tried at Whole Foods a few days ago, I grabbed them.  We split the cookies and cream flavor.  Not bad for a protein bar.  I don't eat a lot of protein bars but if I had to choose one, this brand is my favorite.  I like the chocolate mint best, but I've never been disappointed with any of the flavors.  They still have a bit of the chalkiness that all protein bars have, but the taste is understated.
Now, onto lunch.
I wanted Brittney to come over for lunch because 1) I like hanging out with Brittney.  She's one of my favorite people, and 2) I had plenty of barbecue, courtesy of my grandfather, to share.
I wanted to serve something green with the barbecue, something that would go well with pork.  This called for brussel sprouts, my favorite green vegetable of the month.  But what to do with it?  I usually make caramelized maple brussel sprouts or sweet and spicy brussel sprouts.  But a different recipe for brussel sprouts caught my eye yesterday on Chocolate Covered Katie, and I knew I had to give it a try.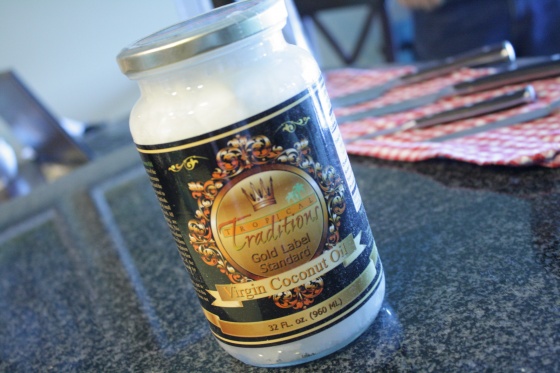 Luckily, the day before, my Tropical Traditions coconut oil arrived in the mail, just in time for a new recipe.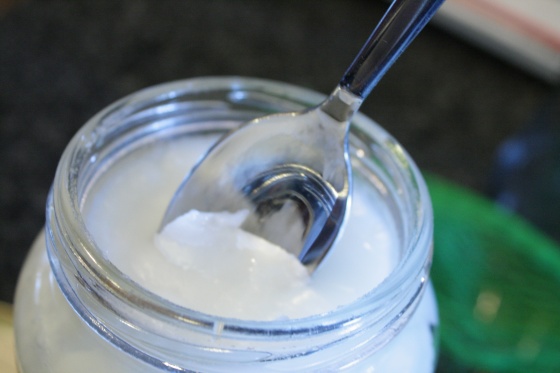 The oil is somewhat firm, but not hard, at room temperature.
I put a scant tablespoon in a pan on medium heat and used my spoon to spread it evenly over the pan.  I sliced brussel sprouts into halves and thirds depending on their size.  The brussel sprouts went into the pan and I tossed them to coat them evenly with the coconut oil.  Next, I sprinkled a generous amount of salt and cinnamon over them, tossed them, and sprinkled again.  Sorry guys, no measurements were used here.  Katie added rosemary and oregano to hers and maybe I'll try that next time, but that day, I just stuck to the cinnamon.
I  like to cook my brussel sprouts until they're starting to turn black on the edges.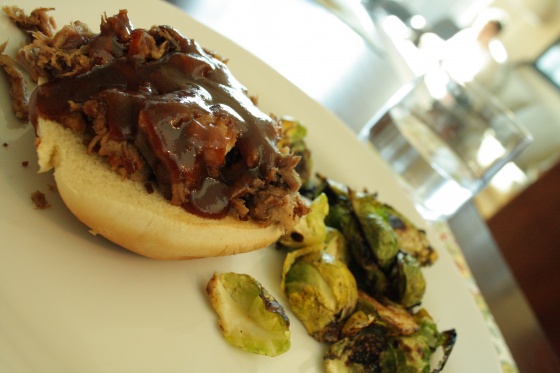 We defrosted the barbecue, toasted buns, added my  grandfather's homemade barbecue sauce and called it a meal.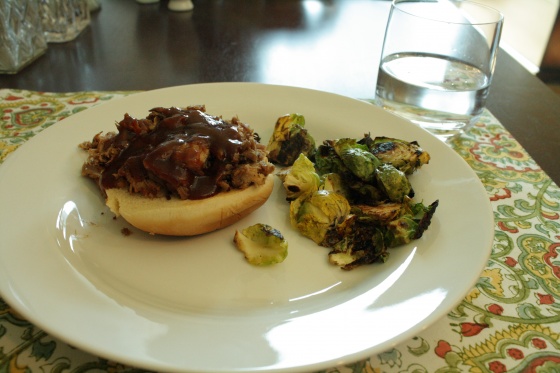 I ate mine open-face style.  I loved the cinnamon on the brussel sprouts.  That Katie is so smart!  I would have never thought to try cinnamon on a green vegetable.  Delicious. 🙂
My grandfather's barbecue is sweet with a tomato base.  I much prefer this to "Carolina style" which is actually only popular in Eastern NC.  Brad and I differ on our preference for barbecue because he was raised on the coast and I was raised here in the western part of the state.  He is always welcoming of my grandfather's barbecue and hints around that he will gladly take some any time.
I think he's slowly converting. 😉