This morning I made what I consider to be my "classic" recipe for oats…my go-to, standard recipe, when I want oats and I want them as simple as possible.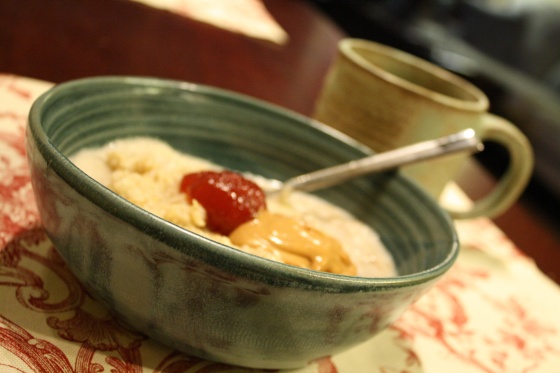 PB & Jelly Banana Oats (for two)
-1/2 cup rolled oats
-1 sliced banana
-1/2 cup almond milk
-1/2 cup water
-pinch of salt
-1 Tbsp. almond butter
-1 Tbsp. strawberry jam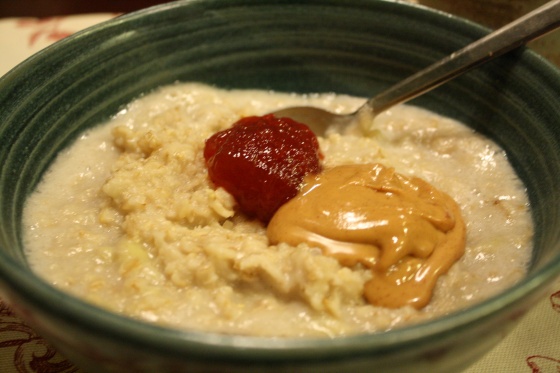 I gave Brad's a good sprinkling of cinnamon, but I prefer this my classic oats without.  This totally hit the spot.  Don't you love how almond butter seems to double in size when it meats something warm?  So melty and delicious.  🙂
I spent all morning in meetings but I was determined to not work through lunch today.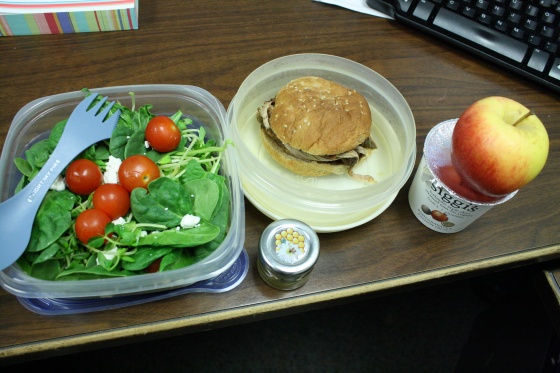 On the menu – a classic lunch combination: veggies, dairy, protein, carbs, and fruit.
I took the leftover pork (sans apples) and put them on a TJ's whole wheat bun with a bit of my grandfather's barbecue sauce.  I mixed some leftover salad from a weekend meal with more spinach, pea shoots, and goat cheese with champagne vinegar and honey drizzled from my honey pot. My second and last Siggis 🙁 in pomegranate flavor.  And last but not least, the a little bitty apple.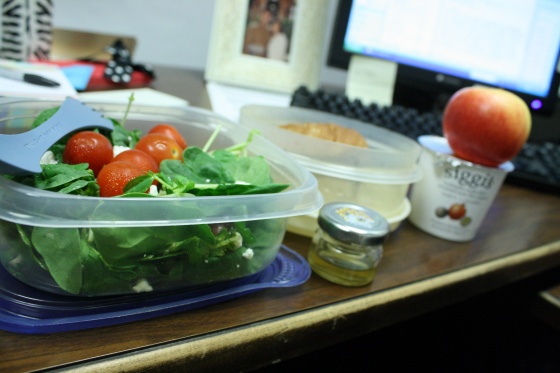 Random thing you wouldn't know unless I told you: I have to clear my desk of random pieces of paper and other things to take my lunch photo.  I'm one of those people whose desk looks like a mess but I can tell you what is in each pile of papers and manila files from memory.  I don't put things away because I'm always working on multiple things at a time.  It takes longer to put them away and then search for them every day.
I like to call it organized chaos.