I haven't blogged about food in over two weeks!  It feels like an eternity.  Everything Brad and I ate in Italy did not end up on the camera, but it definitely ended up on my butt, hips, and thighs.  The scale did not lie this morning.  Oh well, if you can't indulge indulgently on your honeymoon, when can you?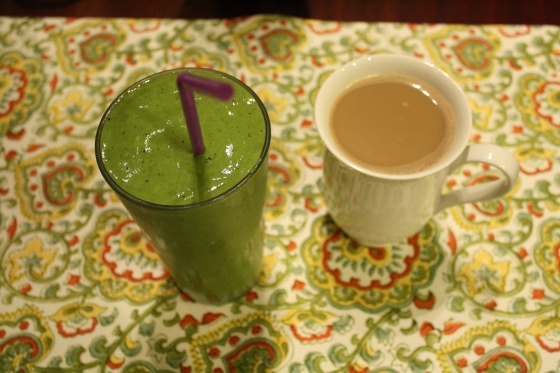 Green monster to the rescue after an over-indulgent couple of weeks.
My sweet husband (I like the sound of that) got up with me this morning and made these peach smoothies.  I noticed that we had frozen peaches from the generous amount my aunt gave me a few weeks ago.  I was digging around in the freezer because I was pulling out all of the bread and  cheese I froze before we left.  I couldn't bare to see it all go to waste.  I've never froze cheese before, so we'll see how that works out later.
Brad's Peach Green Monsters:
1 cup almond milk
1 cup frozen peaches
1 cup frozen spinach
1 scoop vanilla whey protein (he puts 1 1/2 in his)
1/2 banana
This hit the spot and felt like a good jump start to getting back on track with healthy eating…not that we didn't eat healthy in Italy.  The quantity of drinking and eating was definitely the culprit.  We walked a lot and hiked some too, but there were some days when I was more leisurely than usual.
It was difficult to go to work this morning after such a wonderful vacation, but I had the best company I could ask for during half of my ride.  My dad has had my car for the past two weeks because it needed new tires.  Brad drove me to pick it up and also because he really wanted to see Rascal, who my parents also kept while we were gone.  I was dying to see the little guy as well, but alas, work called.
Lunch was super good, maybe because it consisted of some things I haven't had in a few weeks: Ezekiel bread, strawberries, fresh greens.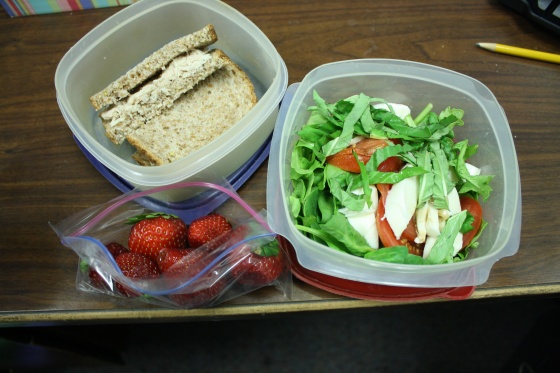 Tuna sandwich (made with 1/2 Tbsp. of Canola oil mayo)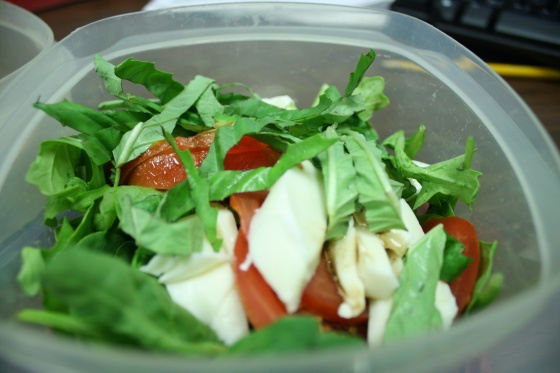 Green salad with arugula, spinach, sliced tomatoes, buffalo mozarella, basil, and a drizzle of EVOO and fig balsamic vinegar
The highlight: The sweetest strawberries I've ever had…maybe because I haven't had a lot of fresh fruit lately.
So good.
Today was such a long work day.  I can't keep thinking about this little guy, who I haven't seen in over two weeks!  I miss him so!