Yesterday's breakfast: Raspberry "Cheesecake" Oats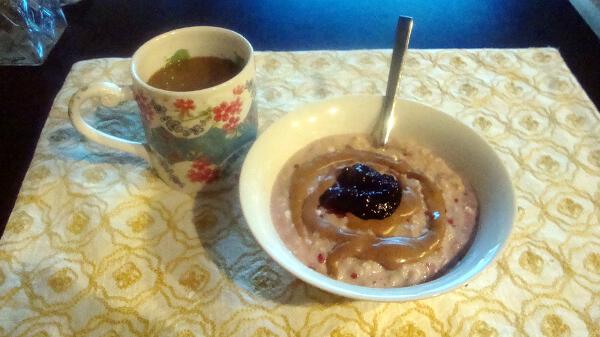 1/2 cup oats, cooked in 1/2 cup almond milk, 1/2 cup water
raspberries
1/4 cup cottage cheese
AB
Crofters Superfruit Asia Spread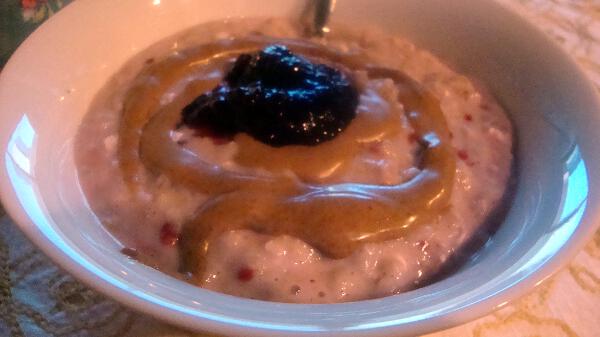 Bullseye.
I first saw the cottage cheese addition to oats over at Carrots n' Cake and have been making them ever sense.  Somehow it's never ended up on the blog.
This morning's breakfast: Mango-raspberry green monster (I'm all about raspberries right now) + spelt toast with apple butter.  This was the very last of my NC mountain road-side stand apple butter.  So sad. 🙁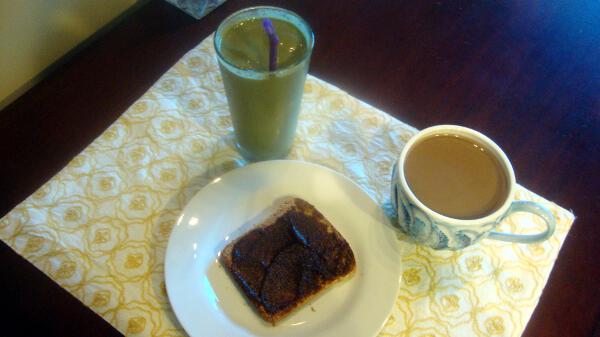 In the green monster:
1/2 frozen banana
~1/2 cup frozen raspberries
4-5 chunks frozen mango
1 scoop vanilla whey
1 cup almond milk
~2-3 cups spinach (I just fill the Vitamix to the brim)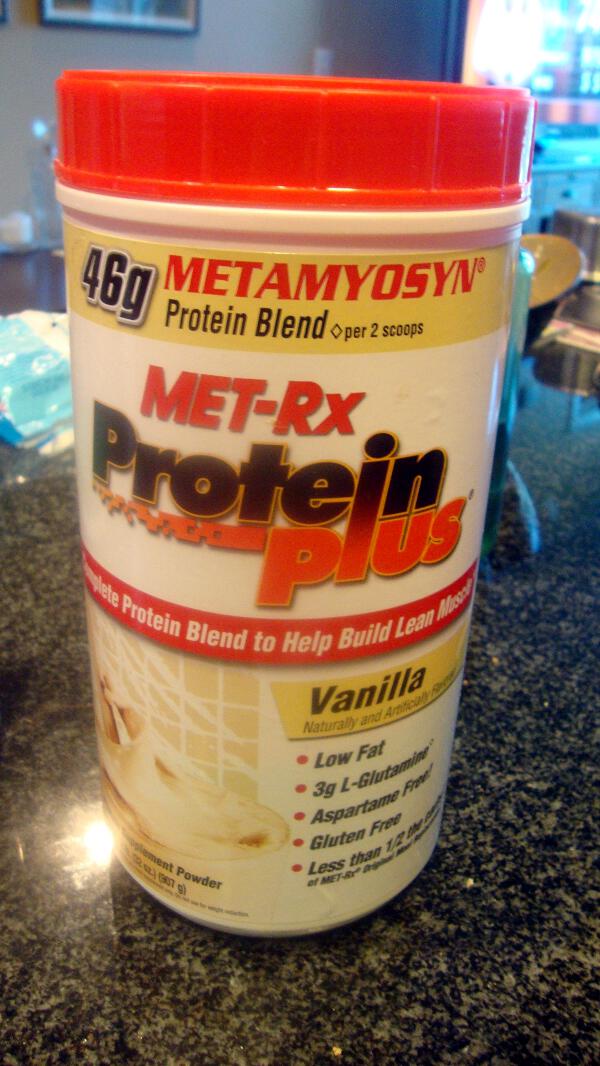 A couple of friends recently asked me what type of protein powder I use.  I like whey best, although the only other I've ever tried is hemp protein, which I didn't care for one bit (had a very grainy texture and didn't make my smoothie thick).  I usually buy the MET-Rx Protein Plus, which is only about $25 at TJ's.
When I first hopped on the smoothie bandwagon after reading The Abs Diet for Women, I bought GNC Pro Performance Whey Protein, which is also really good.  The best value is the largest tub, and since I'm a little short on space around here, I opt for smaller containers now.  I always keep vanilla and chocolate because, although chocolate is my first love, some fruit just doesn't go with chocolate in my mind…like mango, orange, and blueberries.
Rewind to yesterday…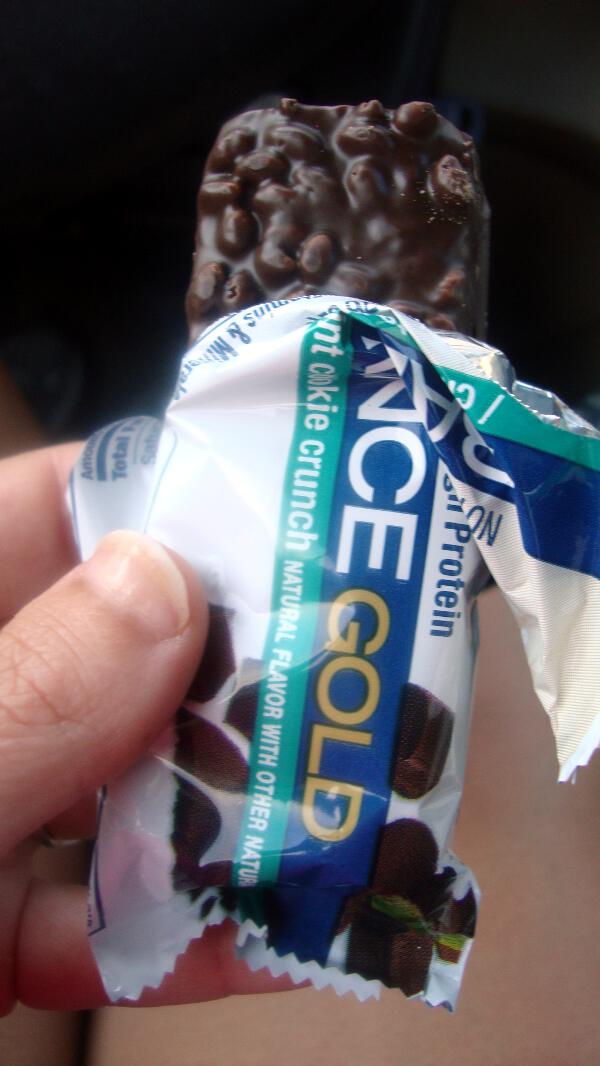 There was some chatter on Twitter yesterday about Balance Bars and although I know they're a glorified candy bar, I had to try one when my stomach told me I needed some fuel before my run.
Our group got a little split up and I never got a photo of the run/walk ladies.
Running with me was Jen, Jen, and Pinque.  We had a walk group going on too made up of Tiffany, Brittney, and Jessie, plus Britt's dog Clyde and Tiffany's dog Lincoln.  Both of which are soooo cute.  I felt bad for leaving my little man at home, but he probably much preferred laziness to the heat.  And I needed to get a run in, which is out of the question for him.
I did a ~2.7 mile loop with the ladies and then took off on my own for a super quick additional loop.  Garmin had a low battery from being accidentally turned on in my purse all day, so I have no idea how quick I was.  But I know I pushed myself and the loop went much quicker the second time than the first, even though I had conversations with my running companions to distract me.
Afterwards Brittney and Tiffany joined me over at the Common Market in Plaza Midwood area, where my old running group meets up after their run.  I feel bad that I have been so sporadic participating in their runs.  But the weather is so hot right now in Charlotte, I much prefer waiting until 7 or 7:30 than running at 6:30 pm.  Even just 30 minutes makes a huge difference when running in the evening.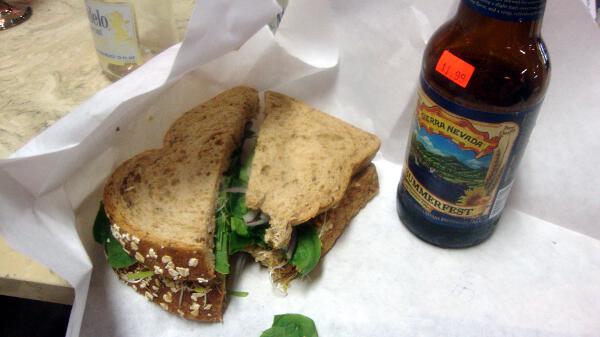 Common Market has an awesome deli and beer selection.  Their sandwiches and wraps are super fresh with the best ingredients.  I had a Middle Eastern on 9-grain bread.  It had tabouleh, humus, red onion, and spinach, which I had asked for instead of green peppers.  I am not a huge fan of raw green bell pepper.  I ate all but about three bites of the crust and a Sierra Nevada Summerfest.
I later had an Italian beer whose name I can't recall as I chatted with my friend Stephie.  Since Brad and I are going to Italy in about three weeks on our honeymoon, I feel the need to try everything Italian that I see.  🙂
I returned home and Brad and I attempted to cram the last of a book we are reading for pre-marital counseling into our evening.  We almost finished it and decided that we could finish it in the morning before we meet with our wedding officiant, my parent's pastor.
I never wait to the last minute for these kind of things.  I think Brad is starting to rub off on me.